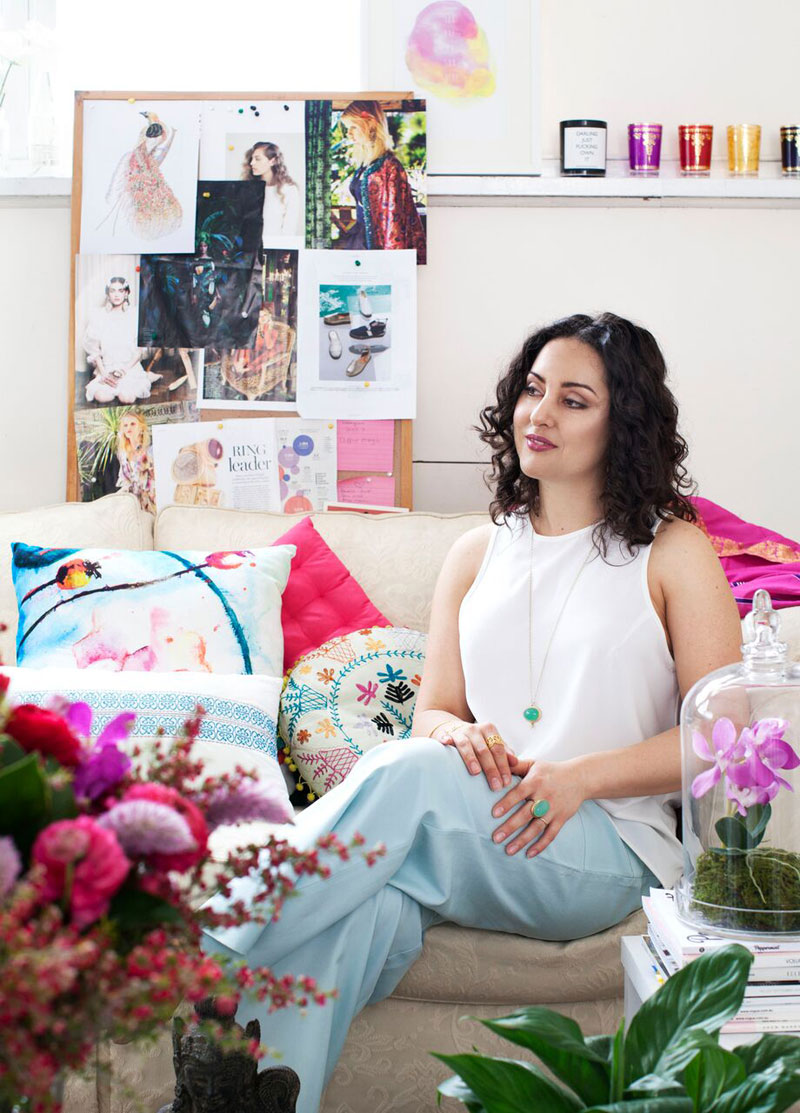 Silver, Substance, and Sustainability.
Three excellent 'S' words that lead me to this chat with Tanya Coelho the designer of Zefyr Jewels. Like many of you out there who have chatted silver and gold on social media, jewellery is my one true weakness! Once upon a time jewellery wasn't on my radar. This may have been due to the fact that the only jewellery retailers I was aware of were chain stores that sold classic gold and silver designs encrusted with cubic zirconia's and/or diamonds. It came as a huge surprise to everyone when mid way through university studies I landed a job working in jewellery retail for a small local chain store and found a passion for silver. Fast forward six years and somehow jewels have become the signature of my style. Unfortunately traditional mining practices are an environmental and social disaster. It is estimated that 20 tonnes of rock and soil must be dislodged in order to produce a single gold ring (to put this in perspective that's around five and a half hippopotamuses), exposing deep layers of earth to the air that can create sulphuric acid and dangerous chemicals like mercury and cyanide are used to extract the precious metals. All of which can cause irreparable damage to environmental flows and landscapes. Ethically, the jewellery industry is linked to forced and child labour (which you can read more about here) and land rights debates. If you want a cinematic look into the way that part of the jewellery industry has traditionally worked be sure the check out the blockbuster Blood Diamond (as mentioned by Tanya below). For jewellery appreciators like myself, labels like Zefyr Jewels that utilise recycled metals and ethical manufacturing practices are a godsend as it means we can invest in quality items that will last a lifetime while knowing that our jewels didn't come at the cost of the environment or another persons happiness.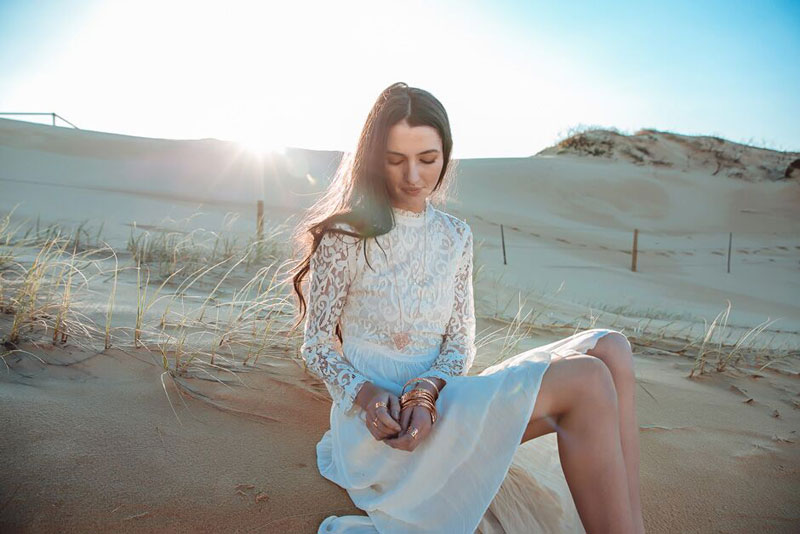 For those readers out there that are being introduced to you for the first time would you kindly shed some light on the woman and the mission behind Zefyr and what it is that inspires you to create?
Zefyr is an ethical jewellery label based in Sydney and I am the founder and director. I do my bit for Mother the Earth by using only 100% recycled metals and materials in my designs. Travel is my muse. I love travelling to exotic places that have a rich history. The past, the architecture, the people and the culture tickle my brain with ideas for new pieces. For example the 2015 MONSOON Collection was inspired by my travels to Northern Laos where I stayed with the Hilltribe people. I fell in love with the patterns in the traditional textiles and worked them into my designs. Zefyr jewellery is feminine, distinctive, and elegant. I love designing jewellery that makes the wearer feel utterly gorgeous. We also try to make our jewellery as beautifully as possible. Artisans in Jaipur hand make our jewels ethically with fair labour practices – fair wages, fair working conditions, free education, free transport, health checkups.
Although most of your large scale manufacturing now occurs offshore, you have a history in jewellery manufacturing yourself! Where did you learn to make jewellery?
I studied jewellery design at Enmore Design Centre. It was a great school and I learned a lot. When I left in 2003 I got a job working for a jewellery manufacturer who used to supply to big companies like Angus & Coote. It was there that I really honed my skills as a jeweler. I learnt precision and I learnt how to work with speed. But the working conditions weren't the best. I once burnt off my eyebrows with the dodgy equipment. I went over to see our factories in Jaipur in April and the safety equipment and working conditions over there were better than the factory I used to work in. I was very happy to see that because I know what its like to work in a factory and wanted to ensure our workers are being looked after better than I was.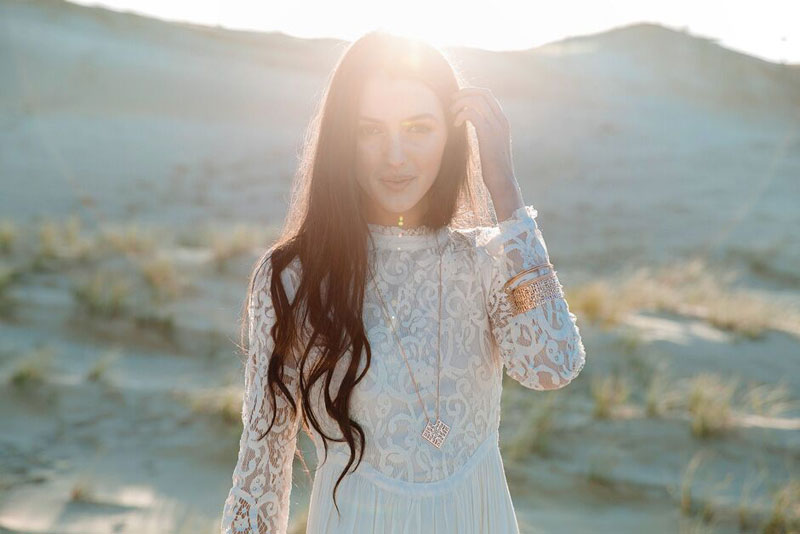 Why do you believe that should consumers wear ethical and 'recycled' jewellery?
The jewellery industry is one of the top polluters in the world. By wearing jewellery made from recycled metals, consumers are helping reduce pollutants and energy consumption. I believe that there is enough metal already on the surface for us to not need to mine for the next hundred years. We like to say Zefyr jewellery is mindful, not mined.
What is it about Zefyr that makes the company worthy of the label 'eco' and do you believe that the ethical/eco fashion idea is a passing trend or part of a movement?
Our use of recycled metal is what makes us an eco label. All our products are 100% recycled. 'Eco' is short for ecological. In the fashion world, if a label or brand says they are 'eco' then they should ideally be all about conserving the environment and making sure their footprint is as small as possible.
It's a big, fast movement. We're part of a community that's growing everyday and it's so exciting. Ethical fashion is much more mainstream nowadays and isn't so restricted to a particular sub-set due to the embracing of aesthetic excellence. Because if it's beautiful and elegant, plus it has a minimal footprint, why wouldn't you want that hanging in your closet or sitting in your jewellery box?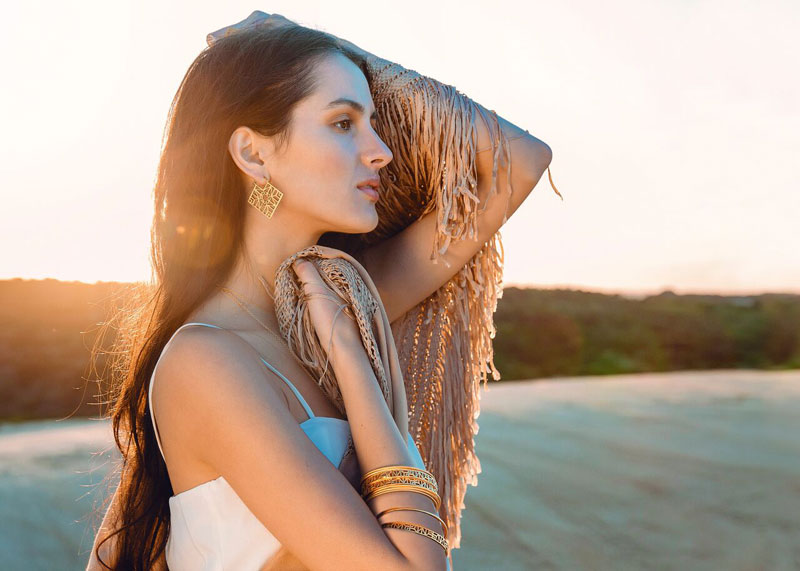 You are obviously passionate about the idea of mindful manufacturing! What made you want to start an ethical and sustainable label?
I was disenchanted with my industry. Early in my career I was able to see the huge amounts of waste that were generated in a bid to make what were in essence cheap, sparkly body adornments. I saw dangerous acids being poured down the sink, I saw corners cut and all this was to keep the costs down – but it was all at the expense of our environment.
All this didn't jibe with my own personal ethos. I became quite depressed and despondent. I even considered at one point giving it up and stopping as a jeweler – which is work I adore – and doing something else.
Luckily I was living in the UK when the second wave of the eco fashion movement was just beginning. It inspired me to have the courage to try to change my industry for the better by doing things the way I think they should be done – to treat the earth and it's people with dignity and kindness.
What is your favourite part of your job?
Sitting at my bench and seeing a new design come to life under my fingers. All the other stuff – emailing, website maintenance, photoshoots, marketing, inventory – are all a means to an end. The end is always to be sitting at that bench and creating beautiful things. This is what makes me happy.
How did you choose which manufacturers to partner with and how do you ensure that ethical standards are followed when working offshore?
I undertook extensive research before I found the artisanal jewellery workshop in Jaipur to create my designs. It was extremely time consuming due to our stringent requirements. I followed many dead ends but finding the right workshop was so important that I just kept plugging away until I found the right people to work with. It was worth it. I visit the workshops myself and speak to the artisans in person to ensure fair and safe working conditions. I also use a system that audits for social compliance and social responsibility within the workshops.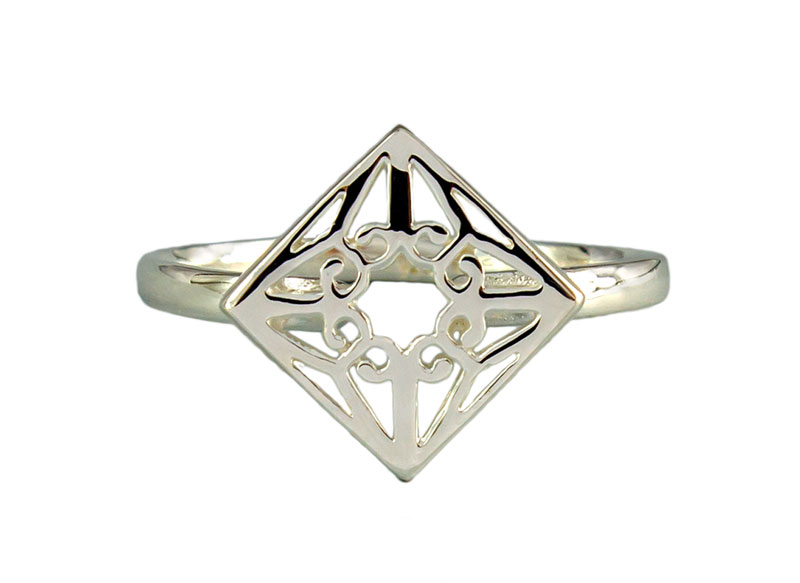 As a huge focus of Zeyr is recycling what is your opinion of Australia's position in terms of meeting international standards of recycling? Do you believe we better or worse than other countries?
Australia is really behind countries like the UK, Germany, and Denmark when it comes to implementing recycling. My friend who lives in Berlin tells me that they have five different types of domestic household recycling separation. The mind boggles. In terms of e-waste we're really being left behind by places like Japan and Northern Europe who are implementing radical new schemes.
In terms of the eco movement as a whole we are being left in the dust. You can see this particularly in our mainstream media where very little accurate environmental reporting is happening. In terms of things happening at a governmental level we've stepped back about 10 years in the past few years. One of the most Googled terms last month was 'why is recycling important'. People just aren't educated enough here.
We need a paradigm shift in OZ. My time in the UK really opened my eyes. It was cool to be eco over there. Olivia Firth was a big supporter of the eco movement and she really gave it some good press – she started the green dress on the red carpet movement.
How do you adapt your label to changes and updates in the ever-evolving eco-industry? 
Previously we only produced jewellery from recycled brass, but we've now expanded to create jewellery from recycled silver due to the expansion of the recycling movement. I was so excited to discover a new source for the recycled silver and I can't wait to start playing with what is for us a new material. We were able to discover this new source due to the wider global awareness of recycling and the environmental movement as a whole.
What role do you think the fashion industry can play in the broader conversations
I think the fashion industry has an obligation, not a choice, to provide greater transparency. The jewellery industry in particular is a crazy, dirty industry and most people are not aware of this. Most people are aware of blood diamonds thanks to the Hollywood film, but what they are not aware of are the mining practices that go into producing the very metal that is holding the diamonds in place. We're talking toxic pollution of the groundwater, mega-tonnes of carbon emissions, human-rights violations within the mines, huge amounts of waste. The list goes on. But people simply don't know about this. Education is key. As eco fashionistas we need to enter the fray and start the conversation. Because if we don't, who will?
A huge thank you to Tanya for taking time out from her busy day to share her experiences in running an eco/ethical jewellery business. Hopefully you have taken something away from this interview. Are you enjoying the 'behind the scenes' looks at how conscious labels are run? Please share your thoughts on the interview series or any other thoughts that have come up from the chat with Tanya in the section below.