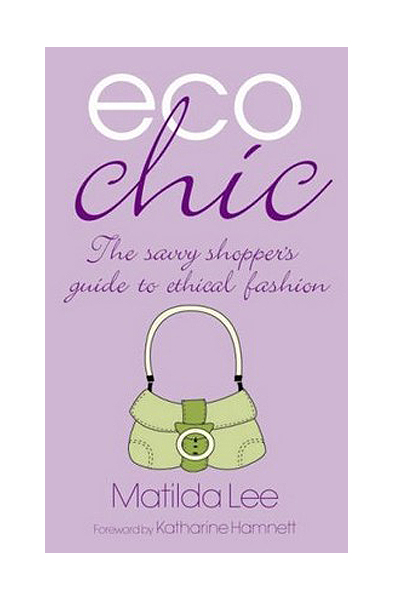 The old saying 'don't judge a book by it's cover' completely rings true when it comes to Matilda Lees' Eco chic: The savvy shoppers guide to ethical fashion. The mauve cover offering complete with clip art 'it' bag is nearly enough to turn away any discerining fashionista (I am not even going to get started on my loathing of the word 'chic' in any context ever), but if you can get past these superficial issues, the book is a fantastic look at environmentally friendly shopping.
Eco Chic provides an overview of the ethics and environmental issues that the fashion industry faces, a brief look at fabric choices their composition, history and environmental impact, economics of fashion and how  demand affects supply, profiles companies and designers that are taking an 'ethical' approach to design and/or manufacturing, and gives the readers solutions and options for making ethical purchasing decisions. My favourite part (there are a few favourites but this is my most favourite) about Eco Chic is the succinct and reader friendly way in which it is written. For what is essentially a book about economics, environment, and social issues of an incredibly complex nature, it is an easy and accessible book for anyone to read, and would serve for a great Sunday arvo pool side read.
Another winner for Lee is that she has presented an overview of all of the issues surrounding the fashion industry in an unbiased and balanced manner. This aspect really shone through in the Q&A sections in chapter 8, in particular the interview with Monsoon chairperson Peter Simon who, from my eco critical read, had the intention of working toward sustainable practice, but most of the schemes they had in place were (fantastic and ethical based) PR stunts, rather than any measurable and targeted attempts to get their business functioning sustainably. This would be an opportunity for a 'deep green' writer to really put him in the firing line regarding environmental practice in manufacturing but Lee presents Simons' words alongside those other, larger corporations, without judgement.
Chapter 10 made me smile as it touched on the issues I am having with my 365 day textiles, clothing and footwear ban. Wardrobe BOREDOM. It has some fun ideas for consumers on how they can revamp their wardrobe without having to hit the shops (or the online shopping cart). It also has a well researched Directory for those who have DIY-ed, swapped, and vintage shopped, but couldn't find what they were after.
I am glad I choose to E-read most of my literature as it helps to have google on hand for immediate research. Around the time I began my studies into environmental science (2007-2008) there was a boom in the availability of 'Eco' Fashion literature. It really felt like the industry was taking off. Eco Chic was one of the (many) gems produced during this time frame, which means that a lot of the information provided is relevant, but a little out of date, however is can be interesting to see how far companies have progressed in this time.  I found the intentions set by Marks & Spencer fascinating and really enjoyed reading their 2013 report on their progress online.
Overall I totally recommend this book to anyone and everyone. It is an easy, comprehensive, and interesting read that will be perfect to discuss with friends over a (fair-trade, rainforest alliance certified) coffee.