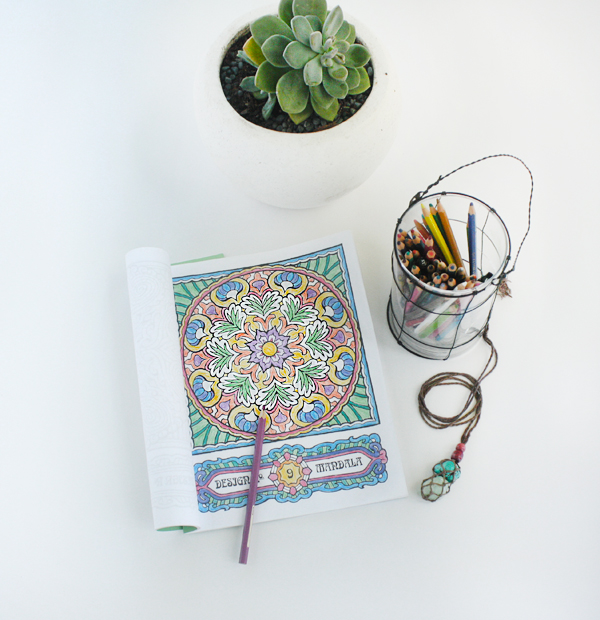 Don't look for peace.
Don't look for any ther state than the one you are in now; otherwise, you will set up inner conflict and unconscious resistance. 

Forgive yourself for not being peace.
The moment you completely accept your non-peace, your non-peace becomes transmuted into peace
Anything you accept fully will get you there, will take you into peace.

This is the miracle of surrender

– Eckhart Tolle
A deep quote to go with a book that has one sentence after its publishing info pages.. A sentence that reads  'Cut out this page to use as backing, to prevent bleed through to subsequent pages'.
Mandalas are circle drawings that traditionally represent the universe. Having been adapted in some way across many different belief systems there is no denying that mandalas are powerful depictions. Mandalas to me are tools of harmony. In adornment (home, clothing or jewellery) they are something I enjoy looking at. When in colouring book format they transform from decorative pieces to a tool of concentration, meditation, and mindfulness practice.
Too often creative pursuits such as craft or drawing are focused on the outcome. We have preconceived ideas about how something should look that force us to live in the future. There is planning and strategy required to achieve the right result.
Sitting down to colour something in is different. The result will always be the same. That picture, but with colour. I have several colouring in books but find that Mandala based ones are the best as there are no 'rules' about what colours to use so you aren't focused on making sure you colour a tree green and brown, or getting Brad Pitt's hair just right. In mandala colouring you can run wild and free with any colour combo you can imagine.
Sitting down for half an hours worth of colouring gives me the equivalent level of bliss as an hour of meditation or yoga. Not only is it a great way to zone out with a cup of tea. Having colouring books and pencils on hand is a great distraction for visitors, young and old! When you finish colouring you can use your designs to wrap gifts, create cards, or decorate the fridge.
The book I am using above is the Mandala Designs Colouring Book no. 1 By Alberta Hutchinson 
Do you colour? It is totally ok to admit it.
Share your favourite colouring in book recommendation below.