Be a Part of The In Crowd: No 'IT' bag required
Ever wondered how the fashion industry works but felt a bit too unfashionable to ask about it? Don't worry, you aren't the only one. Amy Odell a self proclaimed fashion 'outsider' (who is arguably quite the insider nowadays as the editor of Cosmopolitan mag) provides all the mortals a sneak peek into the fickle, fascinating and flamboyant world that is the Fashion Industry in her book Tales From The Back Row: An Outsider's View from inside the fashion industry. This book, (much like the Man Repeller one I reviewed earlier in the month) is not necessarily a sustainable fashion based read. In it you will not find hard hitting facts or statistics. What you will find is a witty, fun, and very readable account of how the fashion industry operates from Odell's personal experience.
Why read about how fashion works?
As much as Sustainability in Style is dedicated to bringing you thoughtful reflections of fashion and sustainable living with a sprinkle of science. It is important that we learn about and acknowledge the reality of the fashion industry. A reality that is frivolous, exciting, glamorous, and sometimes very hard to understand as an 'outsider', and in most cases, not all that environmentally minded. That being said  there are some waves of sustainable thinking happening in the fashion world. One notable recent example is the media coverage of Emma Watson's Met Gala dress made with sustainability at the design forefront. There is also an undercurrent of sustainable, mindful and ethical design that is creeping it's way up on a brand by brand basis. However there is some concern that sustainable fashion is being encompassed as a 'trend' or an 'option' rather than the industry wide overhaul that is required for the fashion industry to continue without destroying the lives of its workers or the planet. Some of these issues are discussed in the video above (however your understanding of sustainable fashion may vary from those present above depending on your specific use of the term sustainability). Another example of the 'trend' of sustainable fashion would be larger labels embracing sustainability for a single collection rather than taking holistic actions to fully reform their business to make their business sustainable (which is spoken about in the video but this is also an interesting read).
The intricacies and quirks of fashion.
Ever watched The Devil Wears Prada? What might seem like fun flick is actually a little slice of life in fashion on screen. Sure, not everyone gets to work at the high end fashion mags. But the speed of design, the 'larger than life' characters, and the image-conscious  nature of the industry are all fairly accurately depicted in this film. Odell's Tales from the Back Row, paints an exciting picture of the fashion industry and one that resonates with my experience's during my (nowhere near as high-end and glamorous) career in fashion. In fact, I actually had my very own Miranda Priestly boss during my fashion days (I won't name names or companies). Through her tales Odell shares the secrets of bloggers, trendsetters, designers, celebs, editors, models, and how these work to make up the fabulous world of fashion. I thought it might be fun to share some of my sustainability based highlights of this read with you.

The Bloggers
Bloggers are folks like myself who spend their days online talking all things fashion. Odell claims that the bloggers are:
Like the Global Warming of the fashion industry- their impact is only selectively acknowledged despite their undeniable existence
Bloggers, unlike the other fashion folk, have come onto the fashion scene from the bottom up. Keyboard warriors who run around with cameras in hand taking photos of themselves (the personal style bloggers, and Instagram celebs) and others (the journalists working for blogs, street style photographers)  and making commentary on the industries top brands and designers (the fashion fans), sometimes to an audience of hundreds of thousands of followers. These bloggers who where once-upon-a-time the 'bottom feeders' of the fashion hierarchy are slowly becoming the front row seat fillers (which If you aren't aware… is a VERY big deal) in fashion land. The big takeaway from this section of Odell's book is that fact that the online pulling power of these web sensations is starting to override the traditional print media. And that many of the people who you follow online are now considered to be as important in the fashion hierarchy (I know I keep referring to it this way but the high end fashion club is a social hierarchy more than anything else, it's the 'Mean Girls Group' cherry on the top of the industry cake). What this means for you as a consumer, is that you should critically assess the information put forth by your fave bloggers as many of them are now hot property for advertisers. If your fave fashion blogger is suddenly telling you all about teeth whitening there is a very good chance they are being paid to do so. This isn't always a bad thing, as they may well love and use the product, but you should always keep the possible money based bias in mind. One of my long-time blogging style crushes is the model/fashion blogger Natalie Suarez of Natalie Off Duty (pictured above). Natalie's style is very inspirational to me but I know from  having followed her for years that many of her posts are sponsored so I always view her posts with the idea that they are advertisements in mind.
Trendsetting
Ever wondered how something totally 'not-you' ended up in your closet. Odell shares how trendsetting works in the fashion world through the story of her Alexander Wang sample sale sweat-pants purchased while shopping stoned. Fashion is supposed to be fun. It is a world where art meets with function. The one place where designers can tell a story, and paint a lifestyle without saying a thing. Runway collections are developed around a theme, a trend, a statement on a period in time, or a desire (just to name a few). They are supposed to be viewed as an art form. Which is where fashion gets lost on many of us. Odell purchased these Alexander Wang tracksuit pants as a slice of the narrative of the Wang brand at the time. A brand that was selling the runway trend that was:
articulating the look of a rich hipster better than the rich hipsters themselves
Needless to say that while Odell (and the select few who knew Wang and the 2008 collection) understood that drop crotch sweatpants were total chic. Her boyfriends parents really did not understand the sartorial relevance of her track pants when worn to a fancy dinner, even when paired with heels. Trend setting is one of the reasons why the fashion industry results in the average American generating 82 pounds of textile waste each year. We buy things we think we understand and will wear, but really we are buying into an ideal that just doesn't suit who we are and what we do. The video above from Style Like U is a really good depiction of how soul-less the design process can be when the industry takes a trend driven focus.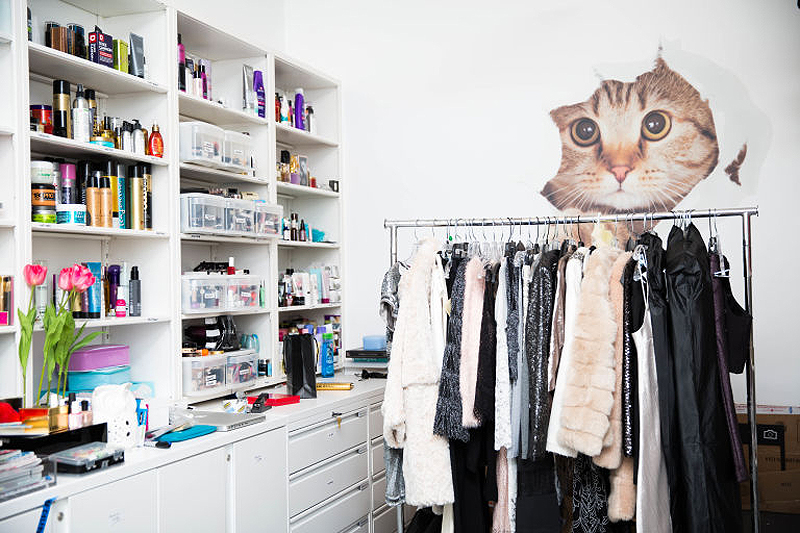 The World of the Celebrity and the Model
The fashion world is full of celebrity endorsements, fancy parties, and glamorous models. This glamorous image is the very reason so many of us a drawn to red carpet fashion coverage, gossip magazines, fashion blogs, street style, and the all important fashion week shows. Who doesn't enjoy reading about a party full of beautiful well dressed people while they wait in the doctors surgery for their appointment? It provides and escape from the reality of sitting next to a person who is sneezing and wheezing into their palms, while the woman opposite you plucks hairs from her chin with aide of a compact mirror and tweezers she keeps in her purse for occasions such as this (possibly speaking from a personal experience in the Dr's waiting room). Celebrities have become a big deal in the fashion industry. Odell has become one herself despite the self depreciating book waiting her experience as an 'outsider' (you can read a little more about her here which is where the pic above was sourced). Just like models, they are used as the 'face' of a brand. The fashion industry front row now  includes a mish-mash of designers, magazine editors, select media representatives, celebrities, and bloggers. Celebrities, like bloggers, align with brands and are paid to promote the brands lifestyle, some even create their own fashion and cosmetics lines. When you align your fashion choices with celebrity endorsements, you can sometimes be blinded by the shiny star fronting the label, and like the 'trendsetting' section above, end up with items in your closet that may embody Beyonce to you, but not translate to your personal style, or lifestyle. These items become a waste of time and money. The Models are quite often one of the most talked about aspects of the high fashion world. Love it or hate it, thin is still industry standard. Odell goes to great lengths to show that the women she meets in the modelling industry (specifically the Victoria's Secret models) are in fact real people (albeit genetically blessed real people)  who have to work extremely hard to meet the industry beauty standards. Brands use these models to sell a fantasy image, one where the clothes are the focus, not the models curves or 'depiction of the real woman' (I hate this take because real women are ALL sizes and shapes and some are naturally thin). The take home? Don't try to be what you see on the catwalk unless you want to spend your life obsessing over your every move in the food and exercise department. Models are paid for it. You are not. If you naturally look like the catwalk models, good on you, don't ever feel like you have to apologise for the way you look. Body shaming is awful no matter what size you are.

Final thoughts
This little look into the fashion world is a really fun and interesting read for people who are in the industry and can relate, those who have never given it much thought outside of buying a sweater they saw in a catalogue, and all those in-between. Awareness of how the pinnacle of the fashion industry works helps us to understand how this drives us 'regular folk' (A.K.A all of us who don't quite make it to Fashion Week, and aren't friends with Karl) to consume the fashion-dictated clothing items that make their way into our closets to help us communicate our values through the way we dress. This exciting and exclusive world at the 'top' of fashion is so important because it directly affects how the entire industry works. If the top ten list of designers got together at a fashion week party and collectively decided that they would only operate in a sustainable way from now on the industry would be changed for the better in a season. Why? Because whatever the top does the rest copies. Whether we realise it or not, every thing that comes through our chain stores has been influenced by high end design houses at some point, it just sometimes evolves at a slightly slower pace. All sustainability stuff aside, this book is a great holiday, weekend, or public transport appropriate read and if you have any curiosity about fashion you will enjoy it.
Have you read this book? Share your fave (or not-so-fave) bits below. Perhaps you work in the fashion industry and want to share a story? Whatever the case your thoughts are always welcome.