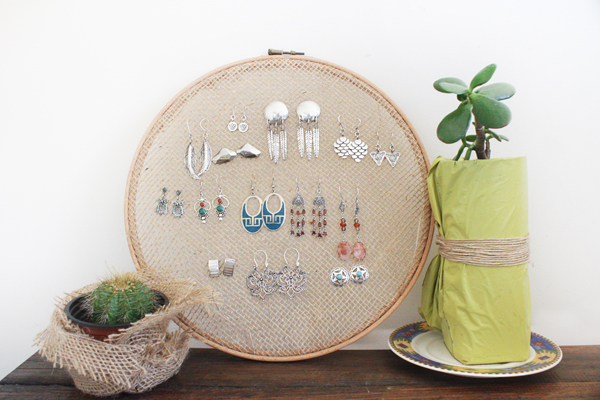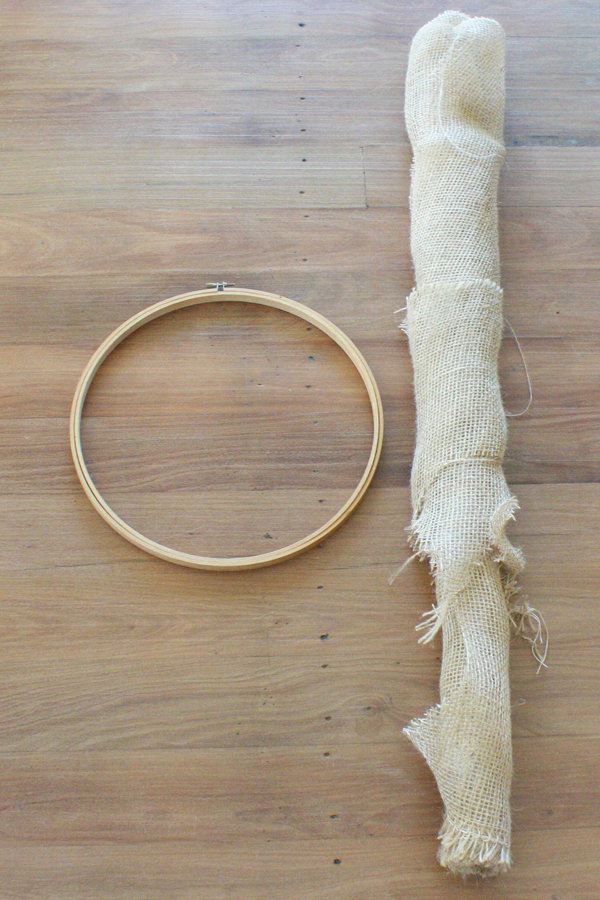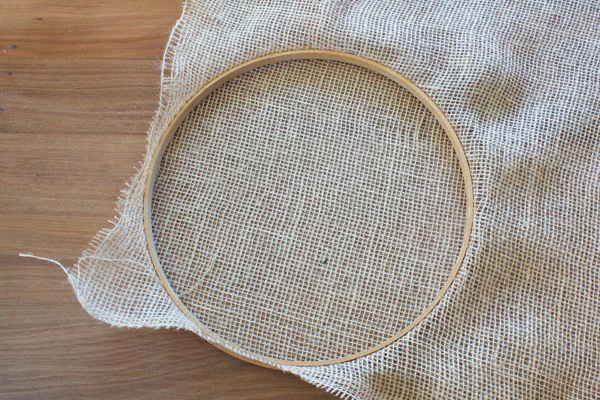 This super easy project requires very little DIY skill and is the perfect way to display your earrings for easy access.
I have a beautiful jewellery box but have found that I keep wearing the same earrings all the time because they are on top of the 'earring pile'. By having my earrings on display I hope to achieve two goals, wearing a variety of things I own, rather than just the same thing all the time, and decorate my home with things I use rather than useless junk (I'm looking at you collection of dusty white rabbit statues). My path toward sustainable living has definitely shifted focus toward a minimalistic existence (if you are interested check out this book). Decorating with items of everyday use is just one little step toward a simplified and clutter free way of living.
To make this earring stand you need nothing more than a pair of scissors, so garden hessian, and an embroidery hoop. I always keep this  hessian on hand for garden and craft related projects. The thrifted hoop(s) had been on display at my previous home with vintage fabrics in them. By using them for earrings you still get a decorative effect but unlike vintage fabrics, this is actually serves a functional purpose. Unroll your fabric and simply lay your fabric down on the top ring and slip the inner ring on the inside to secure the fabric. It will be a snug fit but you want to make sure your fabric it taut. Slowly wind the screw on your hoop tighter (left is loose right is tight) and pull your fabric firm as you tighten. Once it's all done up nice and tight cut away the fabric at the edge of the hoop. Any scraps can be used for craft projects, compost layering or if you have long stands you can tie plants to garden stakes with them.
This could be a cute Christmas gift idea for the jewellery lover in your family and if you were feeling up to it you could always make or buy a set of earrings to gift with it! I am still totally obsessed with the jewellery creations by Nurdle In The Rough as they truly are jewellery pieces with a backstory!