Hi There!
If you've found your way to this page of resources for the first time, I just wanted to say a big (warm and summery) welcome.
Each January here at Sustainability in Style we explore the reoccurring series New Year, New ConsYOUmer. This theme began way back when this site was my personal blog. It was born from my interpretation of the common self-improvement catch cry of 'New Year, New You'. A slogan that's founded in a desire for New Year's resolve to change for the better. As part of my (at the time of inception) personal exploration of Sustainable living, I changed the narrative of the slogan to look at the way I was consuming the world around me, from fashion to waste, to how I was interacting with the natural surroundings on my daily walk. Resources on this page reflect the diversity of this interpretation.
We here at Sustainability in Style believe that you can be a 'new' you this year if you choose to do so. However, we think you're pretty perfect just as you are, and that the resolutions or goals aside, the new year can be harnessed as an opportunity for mindful reflection on how you interact with the world around you.
Welcome the New Year with authenticity and big love. 
Katie
Let's take a craft break from our New Year theme of mindful consideration to contemplate creating your own macrame necklace. 'Make' (for those of you who are new to Sustainability in Style) is one part of our eight-part toolkit for living life in Sustainable Style minus eco-overwhelm. The reason why we've included this DIY in the New Year, New Consumer series is twofold. The first being that it makes an awesome customisable and inexpensive gift that, (depending on the beads you use) is biodegradable.
The second is that we are often told that the path to living life in Sustainable Style means caring less about 'stuff'. While this is true to a degree, we need to stop consuming mindlessly and stop equating wellness and happiness to consumeristic attainments. There is a need to care MORE for the things we mindfully bring into our lives rather than treating our possessions as disposable. A thoughtful and customisable DIY project like this allows the giver or the recipient to add their own treasured keepsakes to the pouch to make it meaningful to them in their own way (you might even be able to tailor it to suit the recipients Values Motivators category).
.
Macrame gemstone necklaces are not only easy to make they can be a very personal present when you choose the specific crystals or trinkets you would like to store in it.
For this you will need:
waxed cotton or crochet cotton- I have made them use both options before and they are equally as good but photographed is crochet cotton option.
beads- optional but good for holding stones in place.
stones or trinkets- gemstones are great options but this project can be used for shells, coral or bone.
around an hour (the four-way braid takes a little while).
First up you will need four equal lengths of cotton, the length is up to you but will determine how long your necklace will be. Remember that braiding and knotting will take up some thread length. Each one of my equal lengths were around 2.5 meters long for this project.
HOW TO MAKE YOUR NECKLACE
First up you will need four equal lengths of cotton, the length is up to you but will determine how long your necklace will be. Remember that braiding and knotting will take up some thread length. Each one of my equal lengths were around 2.5 meters long for this project.
Step one and two-
Holding all four lengths of cotton, tie a knot (base knot) in the centre of all four strands. You will now have eight equal length strands to work with to create your crystal holder (this is sounding just like the pot plant holder DIY because they are virtually the same project!)
Step three-
Separate the strands into pairs and tie a knot in each pair, you will have to keep in mind the size of the gem stone you would like the bag to hold. If the gems are small your paired cotton knots will be tied lower down (near the base knot) creating a smaller weave so stones don't escape.
Step four (and beyond)-
From your paired knots you can tie each individual strand to its neighbour. You will notice as you do this that a 'bag' shape starts to form. You can keep tying neighbouring strands together until you get the 'depth' required for the gemstones you have in mind. Again the size of holes the 'netted bag' you are creating will be determined by the size of the gemstones you would like it to hold.
Once you have the depth required you will take four strands in each hand and tie a knot at the top of the 'bag' on each side. This will leave you with two 'necklace' lengths, each with four strands of cotton. From here you will four strand braid  each side of the necklace together (this is the longest part of the whole project).
When your braids are complete knot the end of each strand so they don't unravel, then slide your bead/s over both strands to sit at the top of your gemstone bag. Then tie both of the braids together at your desired necklace length.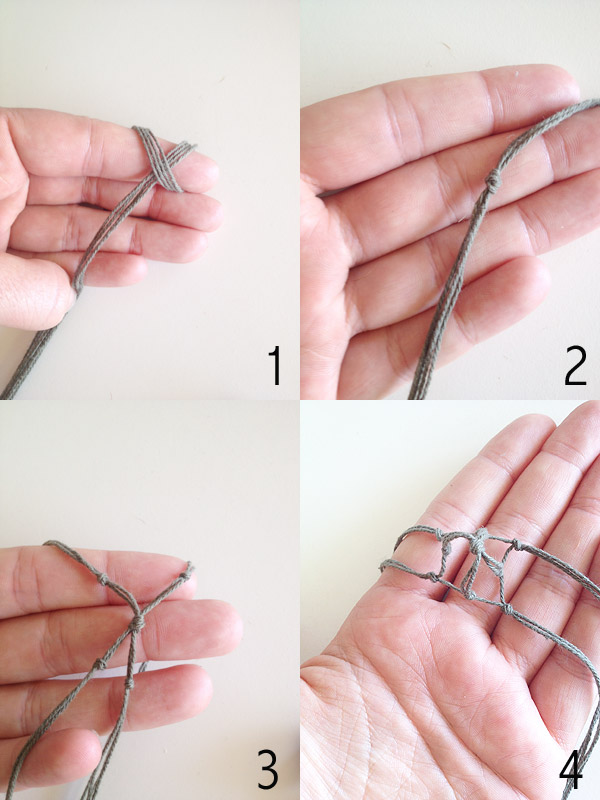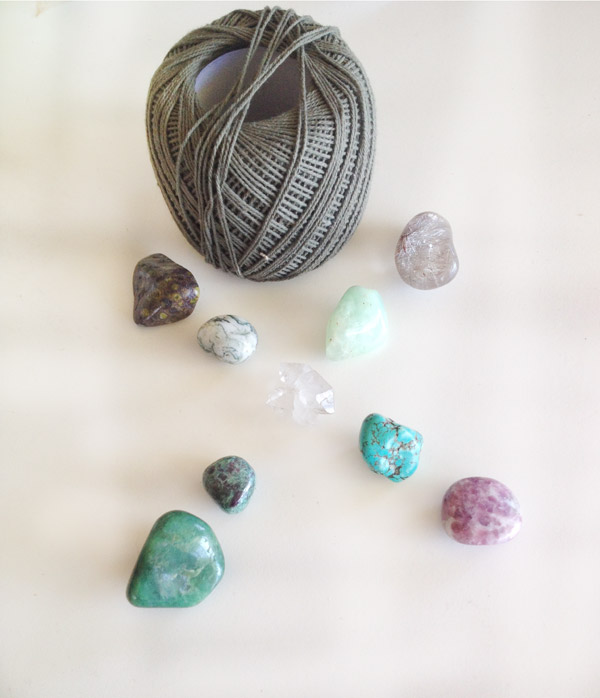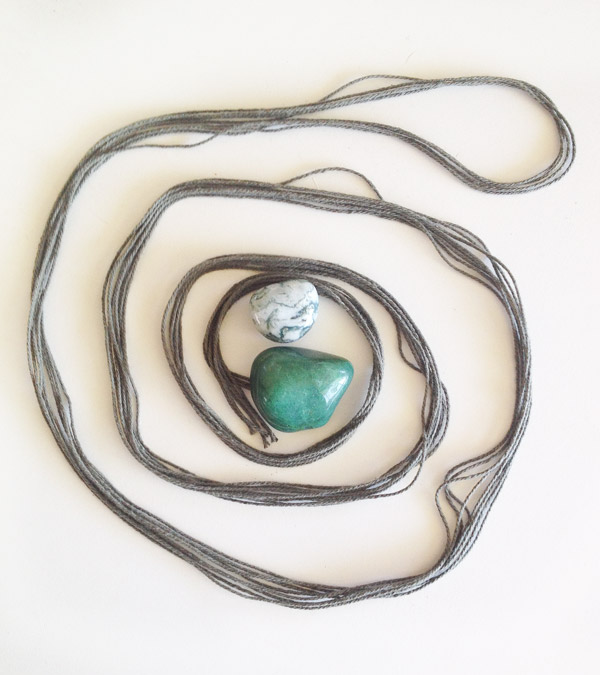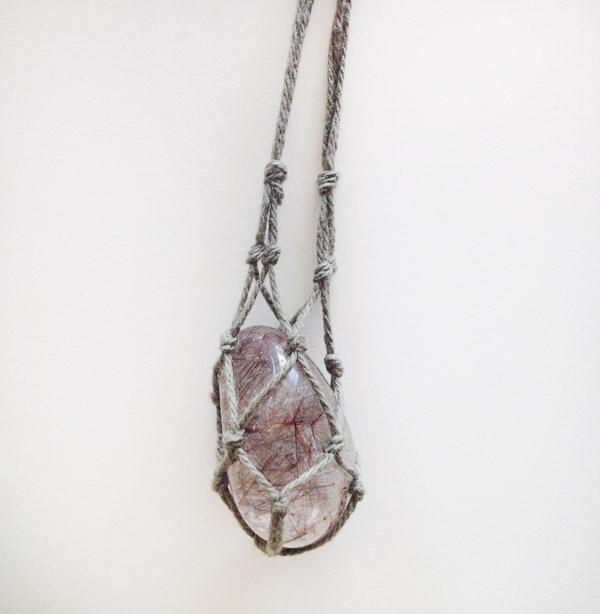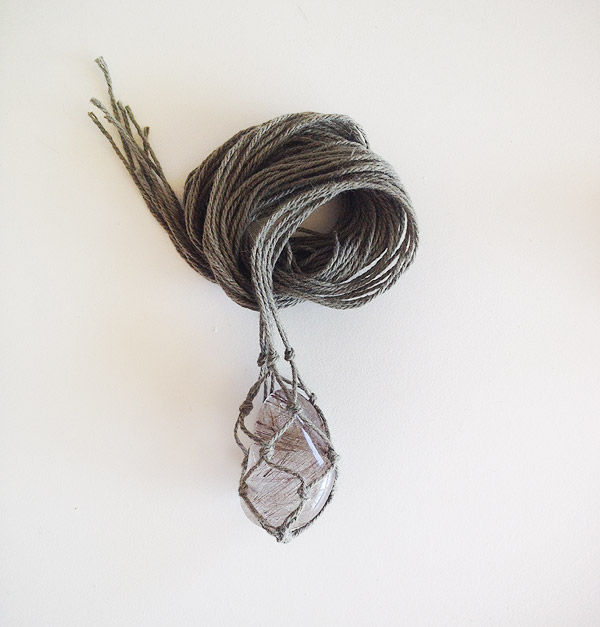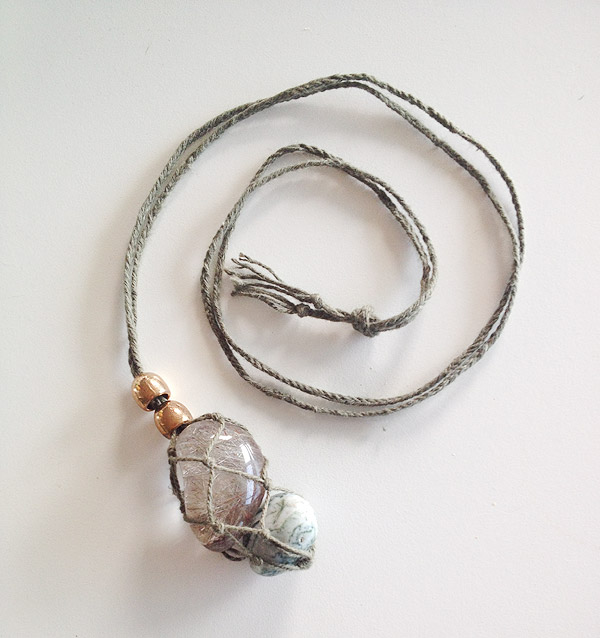 Traditionally the beginning of the New Year is associated with resolutions. We resolve to do things differently, to be a better person, or perhaps we lay to rest a habit or idea from our past. These promises can carry from year to year without true resolve. This could be due to a lack of motivation (consider if your resolutions match up with your Values Motivators), the scale of the resolution being too large, or a lack of systems in place to make our resolve part of our daily life.
We've provided worksheets in the past with our grandiose to go-for-it goal approach, the most recent one is available for you to download (for free). For many of us, the promise to ourselves, combined with the decision to share with others will increase the likelihood of taking steps towards actioning our 'go-for-it' steps.
We suggest that you begin your New Year, New ConsYOUmer journey by checking out out Values Motivators Quiz to work out what you really value.
SUSTAINABILITY SIMPLIFIED
Download our free New Year, New ConsYOUmer worksheet to inspire transformative thought processes when making plans for the year ahead. The worksheet shows you an easy way to break large scale visions down to 'go-for-it' approaches you can action today, for a better tomorrow.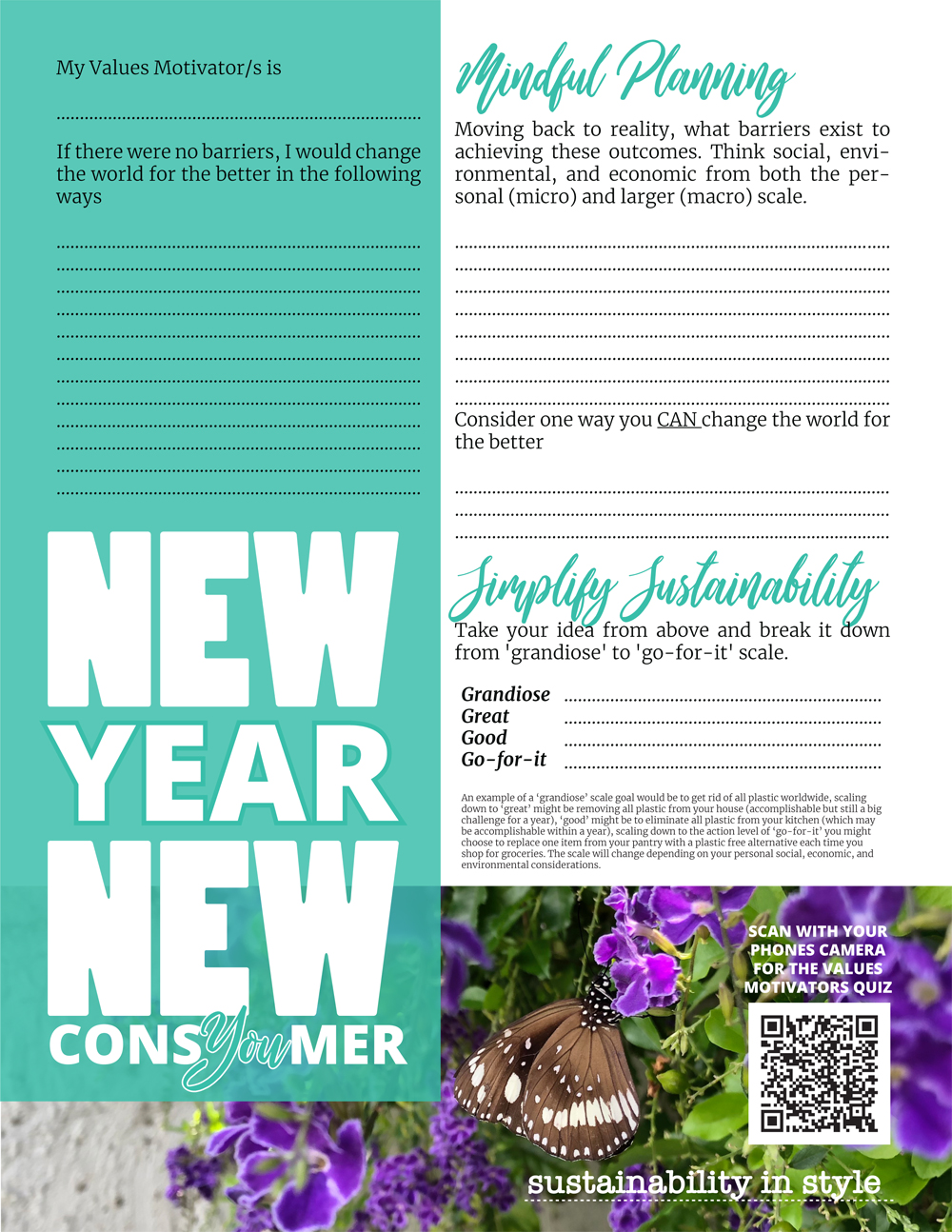 This is your New Year, New ConsYOUmer worksheet designed to get you thinking about how you can take action in Sustainable Style this year. We take your big-picture ideas and simplify them down into smaller 'go-for-it' actionable steps!
LEVEL UP
WITH ONLINE COURSES
Are you keen to level up your Sustainably Stylish learning? We are now offering online work-at-your-own-pace courses based on our popular Sustainability Education workshop events. These workshops have only been available in real life in the past. Still, we've listened and know that Sustainably Stylish folks join us from across the globe, which is why we've started converting these courses to interactive online delivery format. Benefit from Sustainability in Style founder, Katie Robert's years of academic learning, research, and teaching in sustainability education, environmental science, fashion, business, and yoga/meditation with these workshops (with e-booklets). Without time or sizeable financial investments.
LEARN MORE
A playlist crafted to get you thinking about how you choose to participate in our consumer society. Some songs have obvious links, and others are more nuance.
 KISS ECO-OVERWHELM GOODBYE
Has the New Year got you feeling a bit stressed out? We've got you covered with FREE resources to help you combat eco-overwhelm.
Click here to find out about our unique approach to caring for your Sustainable Self (including our eight-part toolkit) as you live life in Sustainable Style.
LOVE OUR CONTENT?
GET ON THE LIST