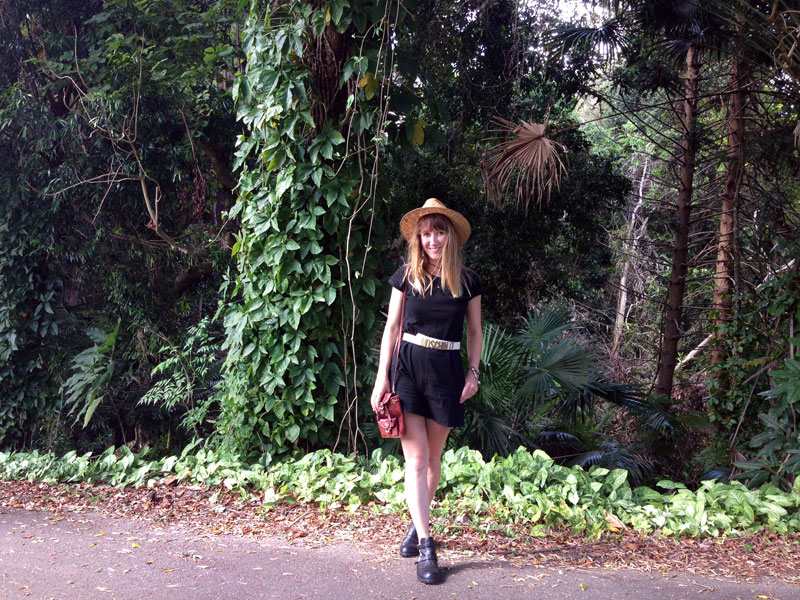 It's bigger than a dress!
For the month of December I will be participating in Dressember because I believe in everyday advocacy. By wearing a little black dress for 31 days  I am raising awareness and funds for the millions of abused women and girls across the globe. The little black dress I am wearing (worn in rotation with another LBD I already owned) is made by and overcomer of sex trafficking who through Elegantees has been provided with secure source of income that reinforces independence, a healthy self image, and confidence that restores lives. You can sponsor my 31 day dress wearing mission to fight enforced labour and human trafficking by donating to the Dressember fundraiser page. The proceeds of the month long fundraiser support the work done by A21 and The International Justice Mission (IJM) who work to fight human trafficking and injustices against the poor on all levels, from top down policy work to bottom up rescues and rehabilitation of victims. Your dollar could help rescue children as young as two years old from cyber sex trafficking, as seen in this recent success story from the IJM. Please give even if you can only spare a dollar, every bit counts!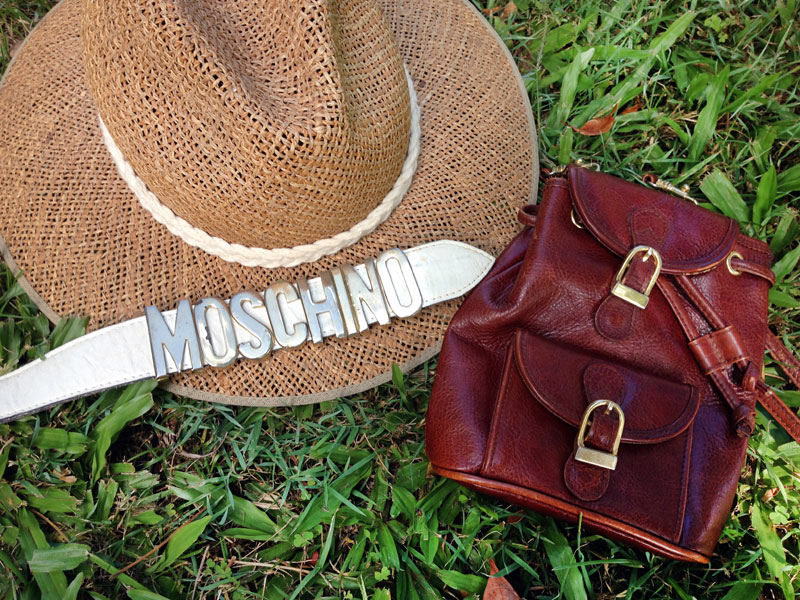 I'm so fancy!
What's this? A Moschino belt? Yup… you bet it is. This baby may look a little fancy but it's actually a lucky thrifted find. It's amazing what turns up in secondhand stores. The backpack and the hat were also bought secondhand. These are my top five reasons to shop secondhand.
You are saving on virgin resources: By shopping secondhand you are not demanding that virgin resources like cotton, water and dyes are used for your purchase. Your purchase of a secondhand goods over new goods is a form of recycling.
Every shopping trip is an adventure: While heading out to the local department store or shopping complex is a small adventure, there is a good chance you know exactly what you will find in each store. In some cases trend fashions can have every store in your local shopping centre looking pretty much the same! Thrift, op-shop and second hand stores are always full of surprises and usually extend beyond selling clothing and accessories. In some you are able to furnish your whole home!
You will always get something different:  Purchases from secondhand stores are unique. You can buy fashion items that are no longer available in stores meaning that if current trends on offer in your high street stores don't suit your taste you will likely find something at your local charity shop or secondhand market. Quite often you will be able to find handmade one-of-a-kind pieces that no one else will own.
Purchases support charity or individuals: Depending on where you shop your money will more often than not go to charity when you purchase secondhand. If you are at secondhand clothing markets or garage sales it's likely that your dollar will go to the previous owner of the item. Which is great because many folks who sell at local secondhand clothing markets are students, artisans, and people who don't get enough money from main stream employment to support their creative and/or educational ventures, or need additional income for bills (plus you also get style tips on how they wore the item in the past)! There is not enough support out there for many creative and educational types so by buying from these people you are supporting the future of creative industries and possibly funding a brain surgeon, nurse, or veterinarian though college.
Saving money: By purchasing items secondhand you can save your money for other more important purchases. You could save up to invest in big ticket ethical and sustainable fashion purchases, donate to charity (like the Dressember fundraising mission), go on a meaningful holiday and volunteer your time on a social or environmental project, or just help out a loved one or friend.
What's your favourite thing about shopping secondhand? Let us know below and keep an eye out for a mammoth charity auction haul from a very wonderful secondhand boho clothing dealer coming up in the next few days!