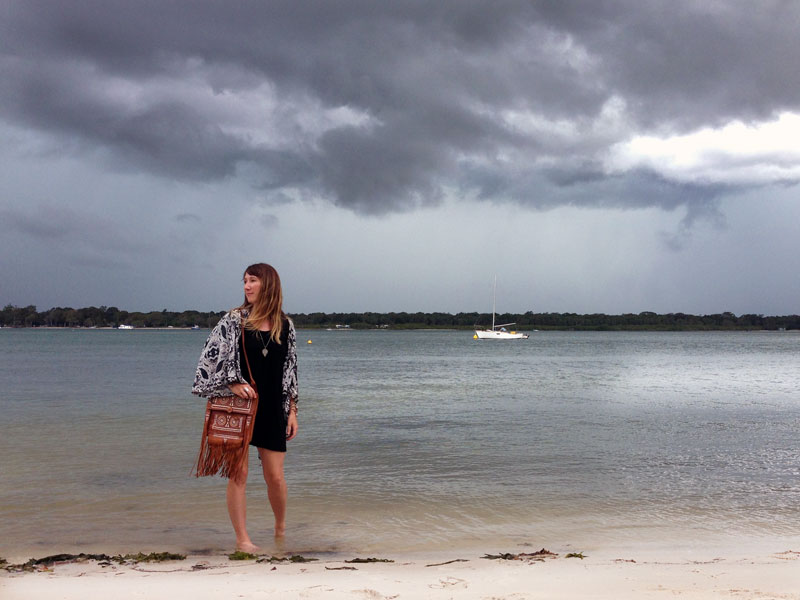 Welcome relief.
On day two of my Dressember 31 days in a little black dress style challenge the rain finally arrived! Unfortunately I am still suffering from an awful heat headache so I will keep today's post short and sweet (the screen is hurting my head). Today I styled my little black dress with a kimono as it was far too hot for much else! Kimonos are great for windy dress wearing days as the extra fabric weight over the dress holds it down when storm gusts pick up.
Fast Facts on Slavery!
Because ending forced labour is what this month of dress wearing is all about.
Let's look as some fast facts from the United Nations International Labour Organisation about modern day slavery.
Almost 21 million people are victims of forced labour – 11.4 million women and girls and 9.5 million men and boys (you will notice these figures change depending on the source this is because all are estimates…people don't often go around openly sharing how many slaves they keep nowadays).
Almost 19 million victims are exploited by private individuals or enterprises and over 2 million by the state or rebel groups.
Of those exploited by individuals or enterprises, 4.5 million are victims of forced sexual exploitation.
Forced labour in the private economy generates US$ 150 billion in illegal profits per year.
Domestic work, agriculture, construction, manufacturing and entertainment are among the sectors most concerned.
Migrant workers and indigenous people are particularly vulnerable to forced labour.
Do these statistics make you sad?
Want to do something about it? You can create change for the better right now from the very device that you are using to read this post. Here's how you can do it:
Sorry to keep it short, my ouchy head will thank me for brevity. Let me know if you have any specifics about what content you would like to see on these Dressember posts. All suggestions are welcome!