Planet Friendly Jewellery
I've been lucky enough to know Katie Johnston- founder of EcoBling– for quite some time now and she is a seriously awesome earth warrior. Not only does this woman run her own jewellery label (designing, making, styling, and hitting up international runway shows) she also spends her time traveling to and working with Indigenous communities, and can often be found overseas in Nepal working directly with the people that her collaborations are designed to economically empower. Just when you thought Katie couldn't be any more awesome it turns out that she makes a wickedly good bliss ball and a cup of tea too! I'm so delighted to have the opportunity to share this insightful interview with the powerhouse of a girl boss with you today. Thank you Katie for taking time out from World saving to chat with us.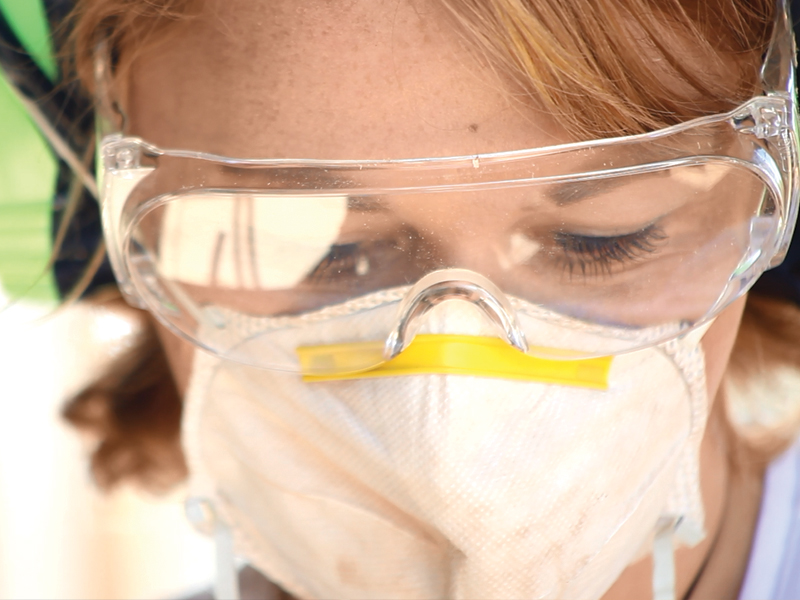 For those readers out there that are being introduced to you for the first time would you kindly shed some light on the woman and the mission behind EcoBling?
 I grew up on a farm near small country town in Central West NSW. It was pretty isolating but great. I learnt many things early in my life; like how to drive a tractor, how to build fences and how to fight fires. Most of my childhood was spent struggling with the drought. My parents taught me to be resilient and self-sufficient. Through their hard work, perseverance and dedication I learnt how to conduct business. After I left school I travelled and quickly (and abruptly) learnt of the inequality in this world.
I knew I wanted to create positive change in the world, it was the only thing that made me truly happy. So, after experimenting with a few different jobs and courses I ended up coming across the concept of "social enterprise". My background in consulting and life coaching helped me assess all of my strengths and assets which I used to design an idea. That idea was EcoBling. Everything I ever wanted to do in the world pointed towards improving the environment, I worked in conservation while I studied psychology so I could better understand how to inspire others to care more about the world and put their thoughts into action. So, I set out on my own to start EcoBling – Planet Friendly Accessories. So the mission of EcoBling is simple, to make the world a better place.
https://www.youtube.com/watch?v=6DJJEFj9pb0
The approach you take to your products is quite unique and holistic. Can you please share some of the multi-faceted ways that your jewels qualify for their 'planet friendly' status?
Yes, so EcoBling has three focus points: materials, production, product and profits. The materials we use were once different waste materials destined for landfill. For the goods not made in Australia we focus on helping groups experiencing different social and environmental issues and set up production hubs in their communities. We make sure our product is unique and beautiful and that the packaging is made from recycled paper. Then what do we do with the profits? Well, for all of our pieces we plant a tree for each piece sold. Those trees are planted in African food forests to alleviate hunger as well as act as a carbon sink, so far we have planted 10,000 trees! Also, with our feature projects we aim to help the communities we work with by raising money to seed fund self-sustainability projects.
The most current example is our Nepal project. Here we work with communities affected by the earthquake (production) to upcycle the earthquake rubble into beads (materials) to create gorgeous red brick beads for our "Shake it Up" range (product) and the profits go to funding the rebuild of their community house (as well as planting trees, as always).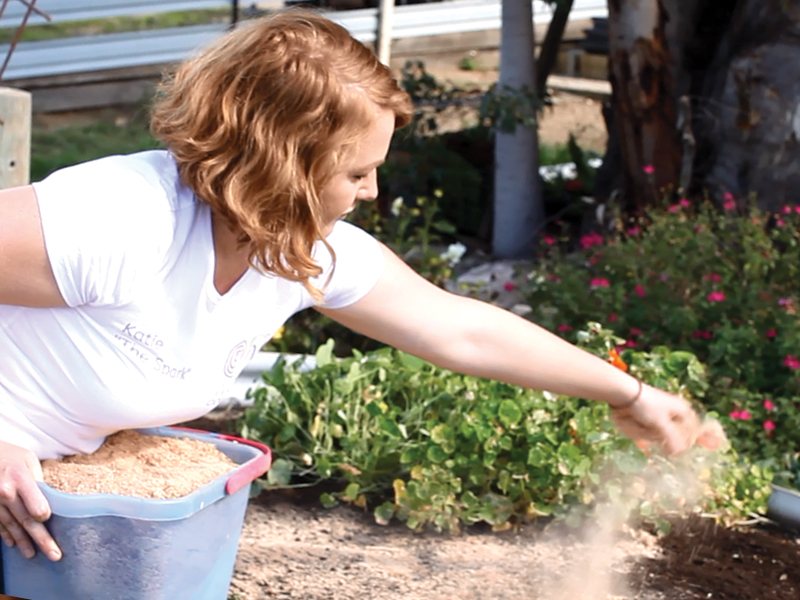 How does the tree planting scheme work? I'm sure there are loads of businesses out there that would love to know more and adopt a similar practice.
I really encouraging ALL business, especially start-ups, to consider embedding something measurable into their work, like planting a tree for each piece sold. Not only is it a great way to see how far you have come but it is also a great way of measuring your own impact, which is inspiring in itself! We use Trees for the Future for our tree planting initiative, they have decades of experience and everything set up to create the biggest impact possible. It also makes it super easy to create positive change!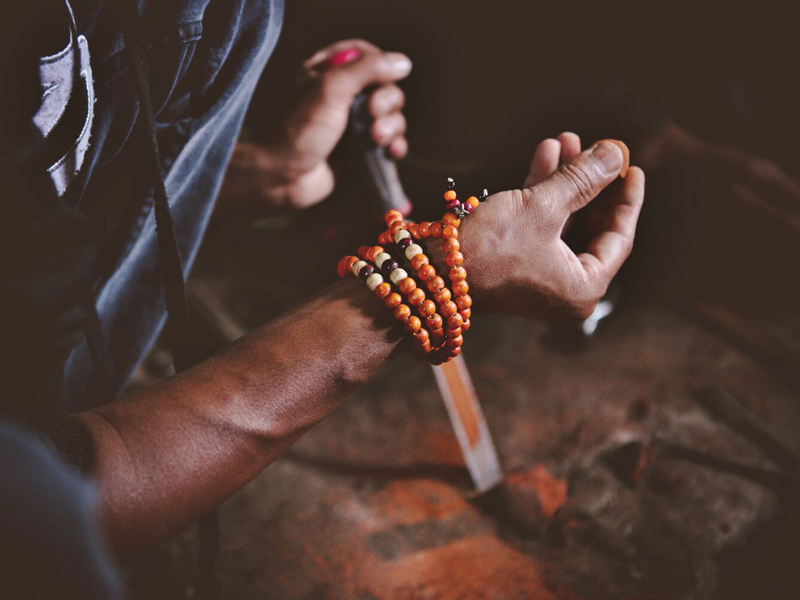 Have there been any challenges in dealing with disaster affected areas? What knowledge or tips would you pass on to brands who would like to work to empower those affected by natural disasters?
 There are challenges everywhere, disaster or no disaster. But my tips on working in developing countries effected by a disaster would be to
Find local partners who have a good understanding of their culture and can communicate their differences to you
Listen to the cultural differences and work with them. Don't think your way is the only way. Be sensitive.
Let the community guide you with what they want and assess, enhance and utilize their already existing skills and resources to get them their – it will be MUCH more satisfying and long lasting for everyone involved
If you unsure about how to navigate the conversation, design your business/idea in a sensitive way and sustainable way then ask someone who has already done it – it may cost you money but it will save you SO much money and time in the long run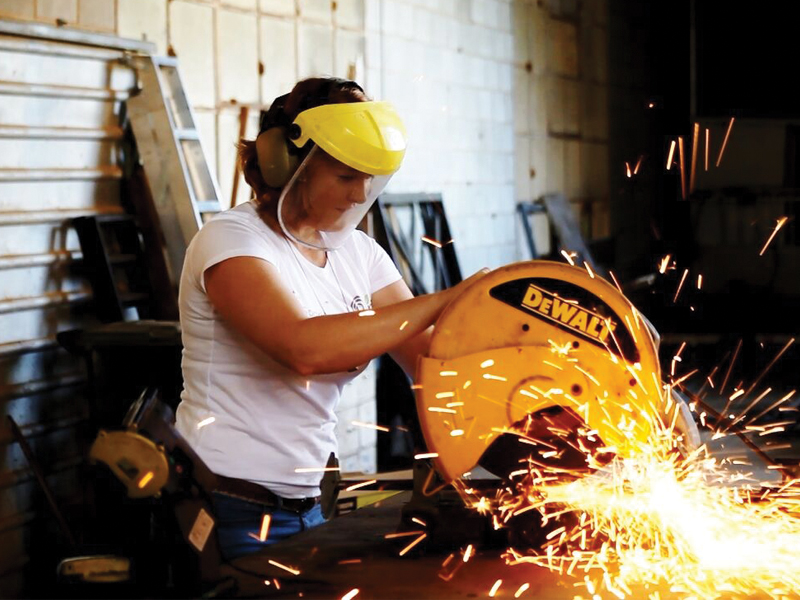 What has been some of the weirdest moments you have had when creating your recycled jewels?
Well, weird moments happen a lot in my life. Just the other day I got back from a business meeting in my suit and had an order that needed to be sent out asap, so I jump behind the drop saw and got it done. My glammed-up power tool moment ever!
My weirdest moment of all was when I was at a wedding and spotted a construction company renovating a commercial kitchen and dumping HEAPS of stainless steel into the skip. I excused myself from the garden reception and loaded up my car. I had some weird looks, from the workers and the guests. Haha.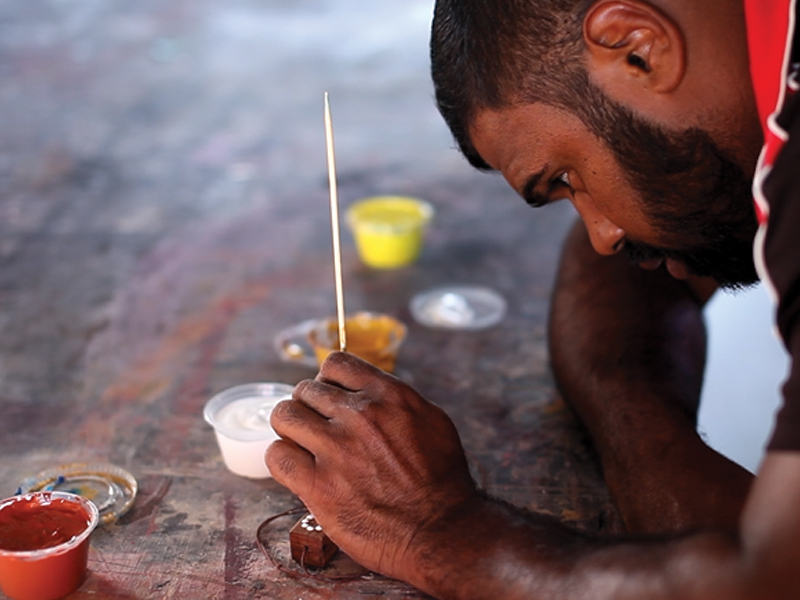 Tell us a little about some of the collabs you are doing with Indigenous Australian artists.
I have been working with Indigenous Australian artists for the last few years where I send our wooden pieces out to communities and they burn their sacred art, stories of dreamtime and their lives, on to the pieces. My aim here was to celebrate and share Indigenous Australian culture. It has been going so well but a lot of the artists cannot afford the burners so I micro finance them a burner and they pay me back in art which I sell as our IndigiBling range. Once they have paid me back the value of the burner they continue to provide pieces and nominate a price for their art work, which they get 100% of.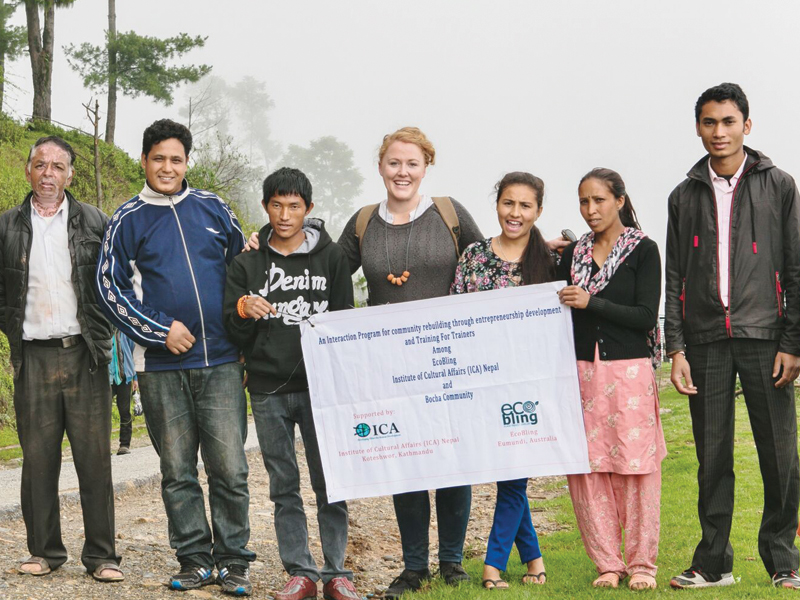 Are you positive about the future of fashion? 
I am pretty skeptical when it comes to fashion. I often swing between wanting to run away from it all to hide in the forest in an off-the-grid cabin and wanting to dominate the global accessories market. I was only thinking this the other day; the people that need to be designing and creating are the people who hate consumption because they are the ones who are going to make damn sure it is done with the earth as a priority.
All the natural, organic and fair trade brands emerging is providing a step in the right direction, which is great. But I really think there is a HUGE shift that is needed. We need to use what we already have and there is SO much available to us. Did you know there are factories near production factories that house all the off cuts and thrown away materials?! As a designer, I think it is our responsibility to use those resources and stop bringing MORE stuff into the world.
What the world really needs is everyday people to be taking those steps by questioning brands on their production processes and materials and going out of their way (however annoying) to support people doing it the right way. Hold yourself accountable and vote with your money. Don't get caught up in the $100k marketing campaign, glammed up models with legs up to their chin and curated scenery in the backdrop with a thigh-throbbing man on her arm. It is all done strategically to make you not give a shit about anything except for wanting what she's got. We need to snap out of that crap and keep our questions flowing.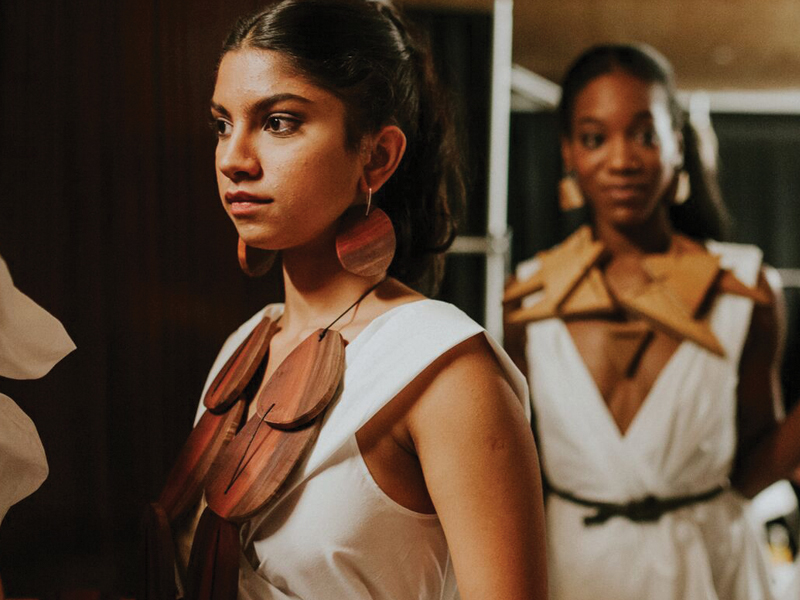 What are some of the issues out there in the current Global landscape that you see as opportunities for change?
Developing countries contribute the LEAST to climate change yet are effected the most. This is a horribly unfair fact. They are losing the ability to be self-sufficient because their homes and crops are being wiped out by "natural" disasters making a huge amount of innocent people extremely vulnerable. Alongside that more and more social inequality issues are being revealed. It is SO easy to get overwhelmed and go into analysis paralysis. However, analysis paralysis can be avoided with strategy, creativity and networks.
As more people wake up to what is going on in the world those people are wanting to be a part of the change. I think that is awesome! Not everyone can drop their day jobs and move to these vulnerable communities to volunteer (nor is that recommended) so that is where environmental and social activist brands, like EcoBling, come into swing.
Having platforms like this provides an opportunity to empower oneself, empower the community they are supporting, bring awareness to issues and be a part of the solution.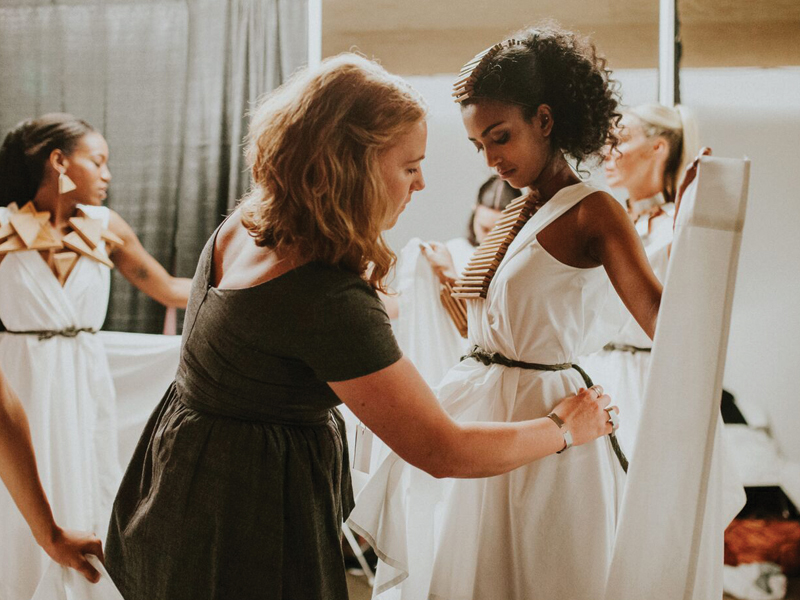 If you could offer three points of advice for those wishing to take on their own social enterprise or similar what would those tips be?
Go beyond the norm – think bigger and think about all layers of your business and how many opportunities you have to create so many good things in the world – if it doesn't scare you it isn't big enough.
Don't scare yourself off – if you have a cool idea that blows your mind loosely reverse engineer it until you can figure out what step one is. Break down step one into A, B and C. Take one step at a time. You don't have to know the exact path to start, JUST START!
Ignore the haters – EVERYONE has an opinion and wants to pretend to know everything. Fact of the matter is, they are usually full of crap. If they get in your way cut them off like a ninja and chuck it in the fuck-it-bucket and move on. Life is too damn short to waste your mental space.
I'm super happy to be an official member of the EcoBling leaf tribe. Want to share the story of this change-makers club with the Sustainability in Style readers?
Yes, #leaftribe is open to all who want to put their words into action and be a part of a global community of earth-caring, nature-loving, equality-building people. The leaf tribe pendent is FREE, always and forever and is a symbol of unity with each other and nature. We call on the leaf tribe to share something that the world needs to hear and most importantly we are just super happy to connect with other people who care! Share and care all the way!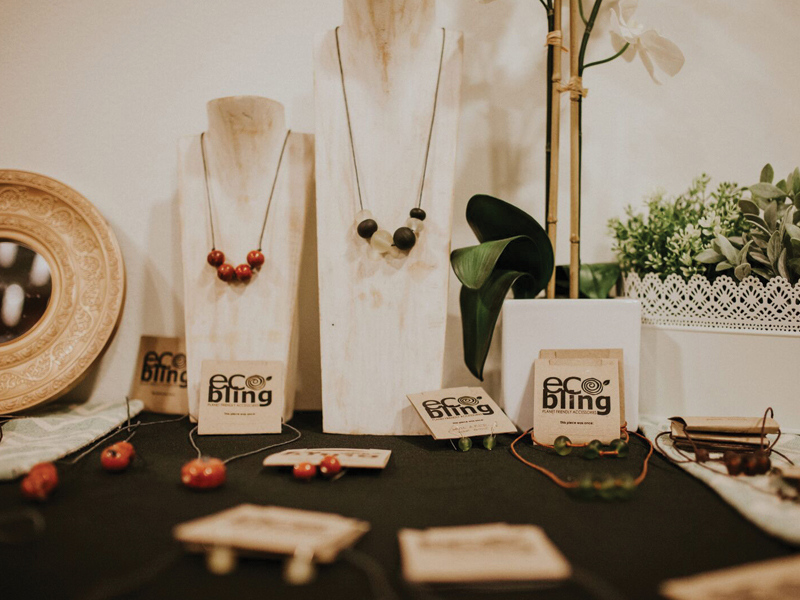 Finally, if you were to make an item of jewellery from anything and have anyone wear it what would you use, what would you make and who would the person to wear it?
Oh wow, this is a big question. Honestly, I would love to see the upcycled wood leaf tribe necklace on the neck of every person in the world because that means every person cares about one another and the environment and that is my life goal – not to achieve it (although that would be insanely awesome) but to strive for it! However, if I had to choose one person to wear it, it would be Leonardo DiCaprio. I think he is a rad human doing amazing things and he really inspires me to step up, be loud and work hard.
 Thank you so much Katie for taking the time to chat. I hope this interview has inspired you to shop EcoBling or change the world for the better in your own way. Got any thoughts, comments or praise? Share it with us. Sharing is caring!