Popping Tags
Macklemore and Ryan Lewis made coined this thrifting dream phrase in their 2012 hit 'Thrift Shop' and anyone who's ever had a successful secondhand shopping venture would agree that the only thing better than poppin' a few tags is the smug humble brag about your bargain-hunting-prowess when someone asks you about your thrifted finds. I'm super proud to announce that Peppermint Mag asked me to share some of my fave op shopping tips for their recent issue. To compliment this article (which you should totally go grab a copy of) I thought it might be fun to share eight easy to find items that might inspire you to go on a secondhand shopping adventure of your own.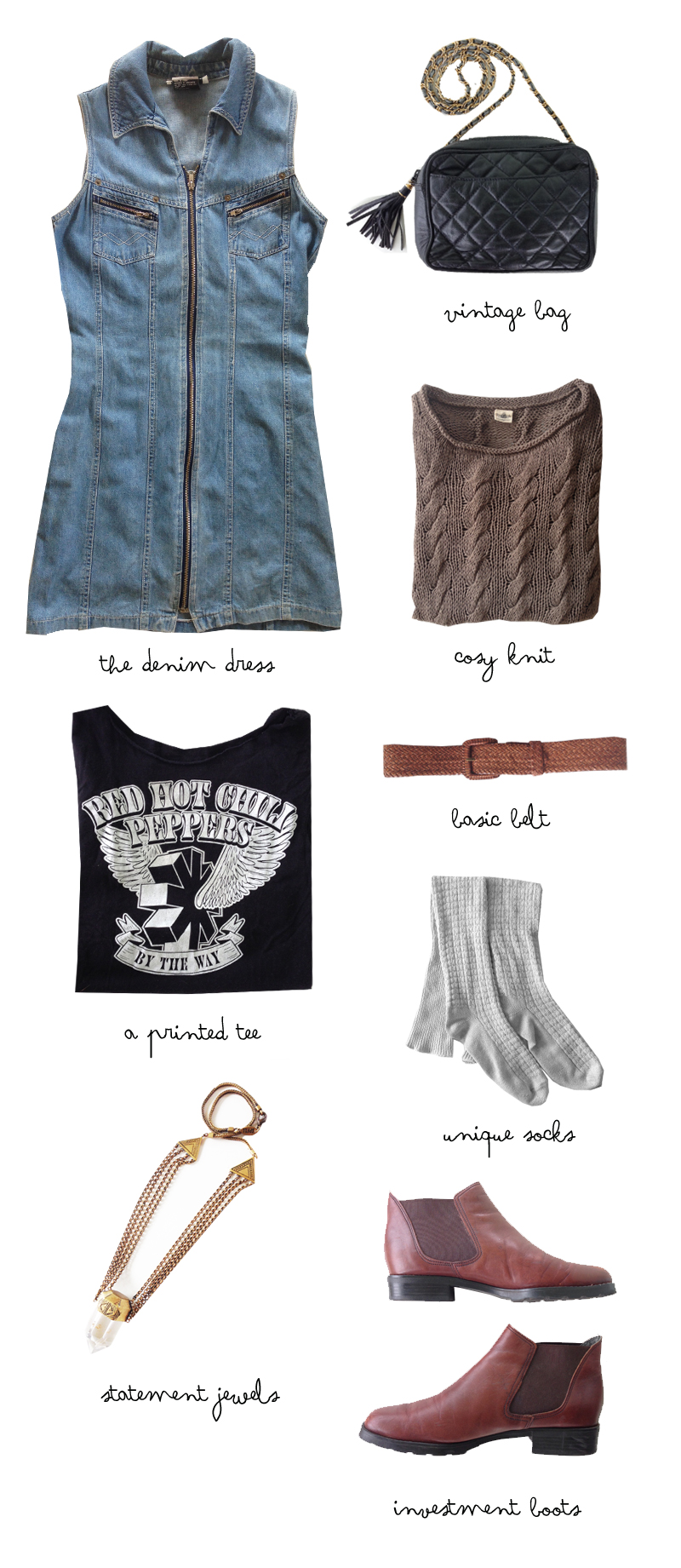 Eight easy to find items that you might like to invest in.
The above items are ones that you will likely find in most good (and perhaps not-so-good) second hand stores in Australia. If you can't find them all in one shop then hitting up a few (with your best friends in tow) should result in a thrifting 'bingo' of all eight. The reason I have selected these items to champion is that they will work into most closets and you can something to suit your style to match the brief.
The Denim Dress: Very 'on trend' at the moment the denim dress can be worn in pretty much any way  you like. Throw a t-shirt underneath for a 90's vibe or wear it with a hat and some lightweight sandals for a beach days. Layered with tights and a scarf this also works well for a winter look. Don't like the idea of a denim dress? Be on the look out for a decent pair of jeans, they are pretty easy to come by secondhand and offer a good denim fix for your closet.
Vintage Bag: Every op-shop or second-hand store has a good vintage bag. Check it for finer details like care labels, fibre type, stitching, and wear and tear prior to buying. Try moving everything from your current purse into the potential newbie to see if it's going to fit all the items you would like to carry.
Cosy Knit: Knitted sweaters are an op-shop staple. Usually found in ALL stores there will be a variety of fibre types to choose from. Cotton will be breathable and lightweight, making it a good choice for people like me who live in places that don't get very cold. If you are somewhere that gets chilly go for wool. Not a fan of animal products? Choose acrylic but know that the fibres from these types of sweaters have found to contribute to oceanic microfibre plastic pollution from your washing machine.
 A Printed Tee:  Expressing yourself with a printed tee is a fun way to say something without having to open your mouth. There are always printed tees at secondhand stores you will just have to match one to something in your life that you care about. If you do find a music related one try to make sure you know who the musicians are to avoid embarrassing conversations with music super-fans on the street.
Basic Belt: Belts can be a really fun way to mix up your look and also do a great job of altering the shape of an outfit without sewing. I would go as far as saying that you will have MUCH better luck finding a belt at a secondhand store than you will a shopping complex. Secondhand stores are inundated with belts of all shapes, styles, and sizes. Pick one that suits your style.
Unique Socks: Like belts there is a greater variety of socks at secondhand stores and more often than not you will find ones that are still new and in their packet. The vintage knitted ones above were new when I got them. Open your mind past the 'ick' factor of sock shopping secondhand and be sure to keep an eye out for them. You will find something totally unique!
Statement Jewels: Quite a lot of people shop for jewellery they don't wear. When they get it home and it sits on the dresser for months it often ends up at a secondhand shop in as new condition. Having a few statement necklaces in your closet can help lift a basic tee or dress to a whole new level for evenings, special occasions, or those times when you just want to look a bit fab. If you can't find a necklace you love you could get a few you like and create one that you love from all their components!
Investment boots: Shoes are hard to find. A lot of the time we buy them only to find out they don't fit quite as well as we would have liked. Which is why second-hand stores have so many as-new shoes in them! Keep a look out for nice boots. Most stores have them and while they are often in the $10-$30 second-hand it's still a whole lot cheaper than buying them new and you get know that your money is donated to charity and that you are recycling. Boots are my number one staple item and most of the ones I own have been purchased secondhand.
What are your secondhand shopping must haves? Is there something you see in every op-shop you visit that you want to add to the list? Share your thoughts or do a thrift humble brag about your finds below!