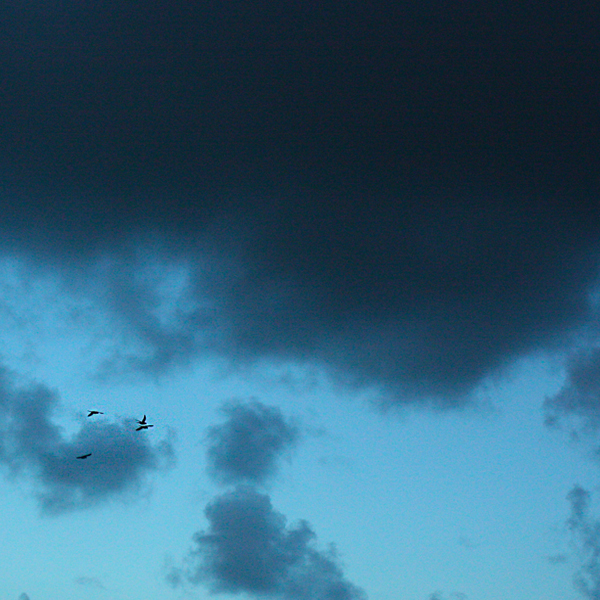 Rain was knocking heavily on my bedroom window.
'Be Quiet!" I said, "I'm trying to sleep". 
The knocking continued. 
"I'm not letting you in. You can stay outside".
And then the Wind started shaking the window frame.
"Calm down Wind, I'm not going to respond to behaviour like that'.
But Rain kept knocking and the Wind kept shaking
and I was not sleeping. 
Then Rain started sneaking in through the roof tiles
and jumping on my bed like it was some sort of slumber party.
And Wind pushed the window open and started rushing through 
the whole house- flapping curtains and tossing papers.
"YOU TWO." I bellowed. "OUTSIDE. WHERE YOU BELONG".
Rain, looking teary, pulled out some sob story
about how wet it was outside
and how far he'd come just to be here.
And Wind started whining about 
all the high pressures he's under
and how hard it is going against the jet stream. 
"But why are you here NOW?" I asked, 
"This is totally out of character for you two,
especially at this time of the year". 
So Rain started raving on about 
the Southern Oscillation Index, 
melting ice sheets and atmospheric carbon levels. 
And Wind chimed in with Al Gore quotes, 
Tim Winton quotes and Bono Quotes
(he loves his quotes)
but I couldn't tell if it was all just hot air. 
"Alright ENOUGH." I said
"I don't know WHAT or WHO to believe. 
Just let me think for a second." 
As I stood there in my boxer shorts
I had to agree this was really out of season, 
even for these two mischievous elements.
And I supposed it was better to do somthing
than nothing. So I said, 
"Rain-you settle in a puddle at the end of my bed
and Wind- you can swirl quietly around the curtains".
Since that night
Rain's tapped at my window for the odd hello
and Wind's breezed by a few times
but I get the feeling
that somehow, for some reason,
the climate between us has changed. 
The Global Dilemma of Surprise Slumber a Poem by Cameron Semmens from the book Ice Skating in the Taj Mahal 
With tropical cyclone Marcia hitting our shores as I type my thoughts and prayers are with my fellow QLD buddies in its path.
Last night as the wind rattled my windows and the rain crept through my ceiling to form a neat puddle at the end of the bed I couldn't help but think of the poem above. For now I invite the rain in to quietly lay at the end of my bed nestled in the bucket I have provided and send my love to the weather god in hope that they keep us all safe.
My thoughts extend past my species to all that inhabit this land, including my plant babies from my revegetation project. Who, at present, are at the mercy of the weather in middle of the cyclones path. After all the love and care they received from my team as they grew strong in our nursery all I can do is hope that they fare well in the wild weather.
Stay safe Queensland.