SUSTAINABILITY
SIMPLIFIED
SIMPLIFYING SUSTAINABILITY
If you've found your way to this take action theme then you're probably interested in demystifying sustainability. Taking the great big wicked complex idea that is sustainability (real sustainability not the green-washed version you see in marketing) and working it from its abstract wicked-complex context, to simple values based actionable plans for your Sustainable Self to successfully enact.
The content we cover this month ties together the approach we take to guide your year of sustainable action in our Self-Coaching planner, with some of the free resources that exist on this website.
Join us now as we start with an exploration of what sustainability REALLY means (in its wicked complex glory), understand how your Sustainable Self fits into the picture, identify what your values are and how they can be used as a navigational system, and scale the wicked complexity back to simple, easy to implement actionable steps for sustainable living success. 
The outcome?
Your Sustainable action plan simplified!
Let's get started. 
This post is your part of our  'Sustainability Simplified' content. If you love it, click the 'back' button for more information about living life in Sustainable Style.
So far, our journey has helped to unpack the complexity of sustainability and identify how you can share your Sustainable Self while still maintaining balance. Now you're invited to use our Values Motivators Quiz to guide your course of action.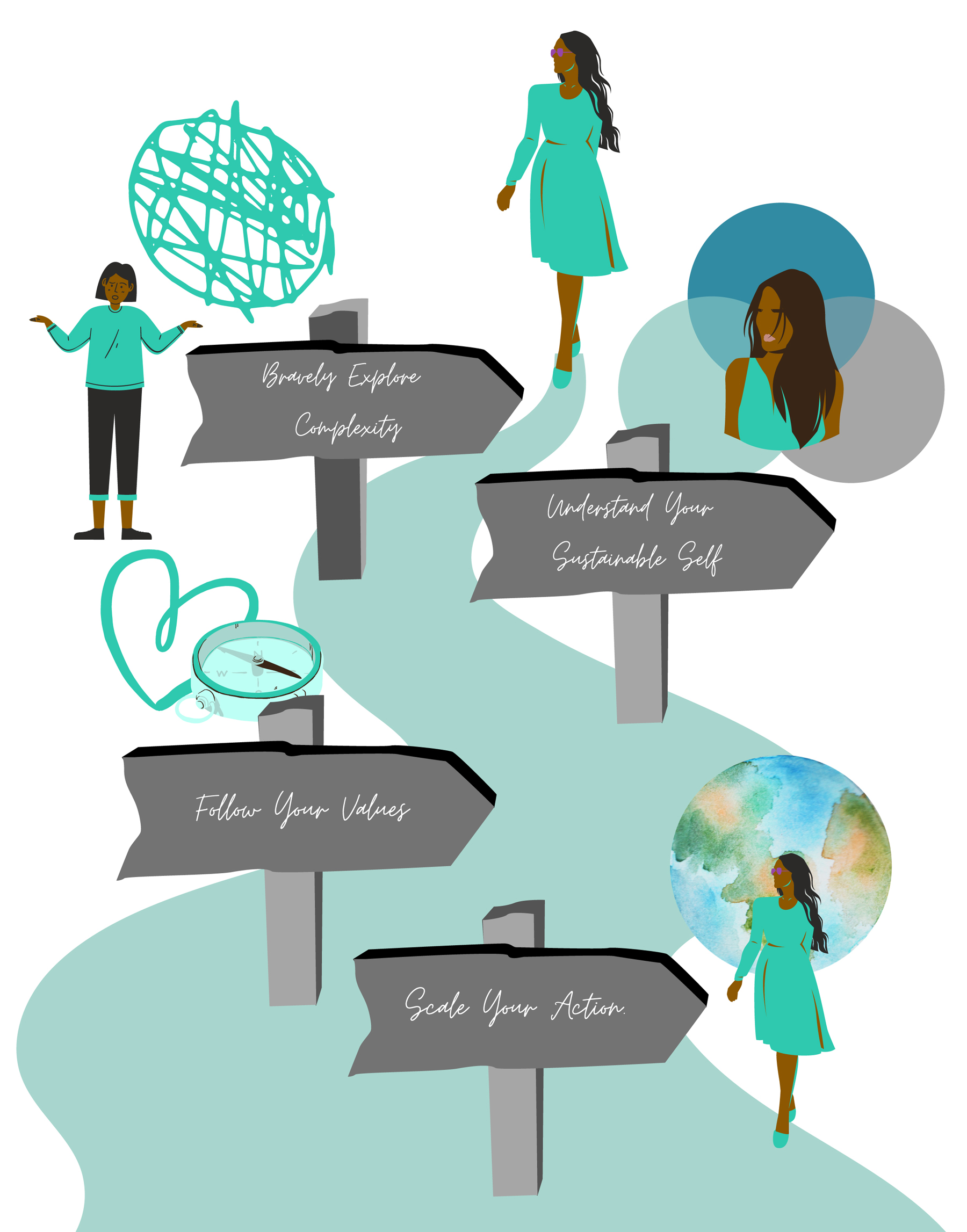 The reason why we haven't seen a one-size-fits-all approach from global governance to the macro scale global issues is that we are all different (and approaches like the Sustainable Development Goals encompass this consideration). Anyone who has purchased a 'one-size-fits-all' garment will know that the one size probably won't fit EVERYONE and definitely wouldn't be to everyone's personal taste. Humanity is complex, and we are a beautiful patchwork of regional ideals, cultures, religions, and governance systems. Each country or culture has its own unique set of values just as each individual has their own personal values navigational system.  

 

The trick to personal success at life in Sustainable Style is knowing what you value and using this as your navigational tool for action.

 

As you've seen, your Sustainable Self is limited by your personal finances, time budget, environments you inhabit, and your social commitments and social norms. Rather than spreading yourself thin, choosing to focus your action on something you are truly passionate about can (and does) result in real-world sustainable living outcomes without wearing yourself out in the process!

 

Translating your personal values into a sustainable action category isn't always an intuitive process. This is why we (after many years of writing, researching, and watching) developed four Values Motivators categories. These categories are based off sustainability education literature, cultural and consumer trends, and qualitative learnings from communications for sustainability.

You will fit into one or more of the following categories for sustainable action.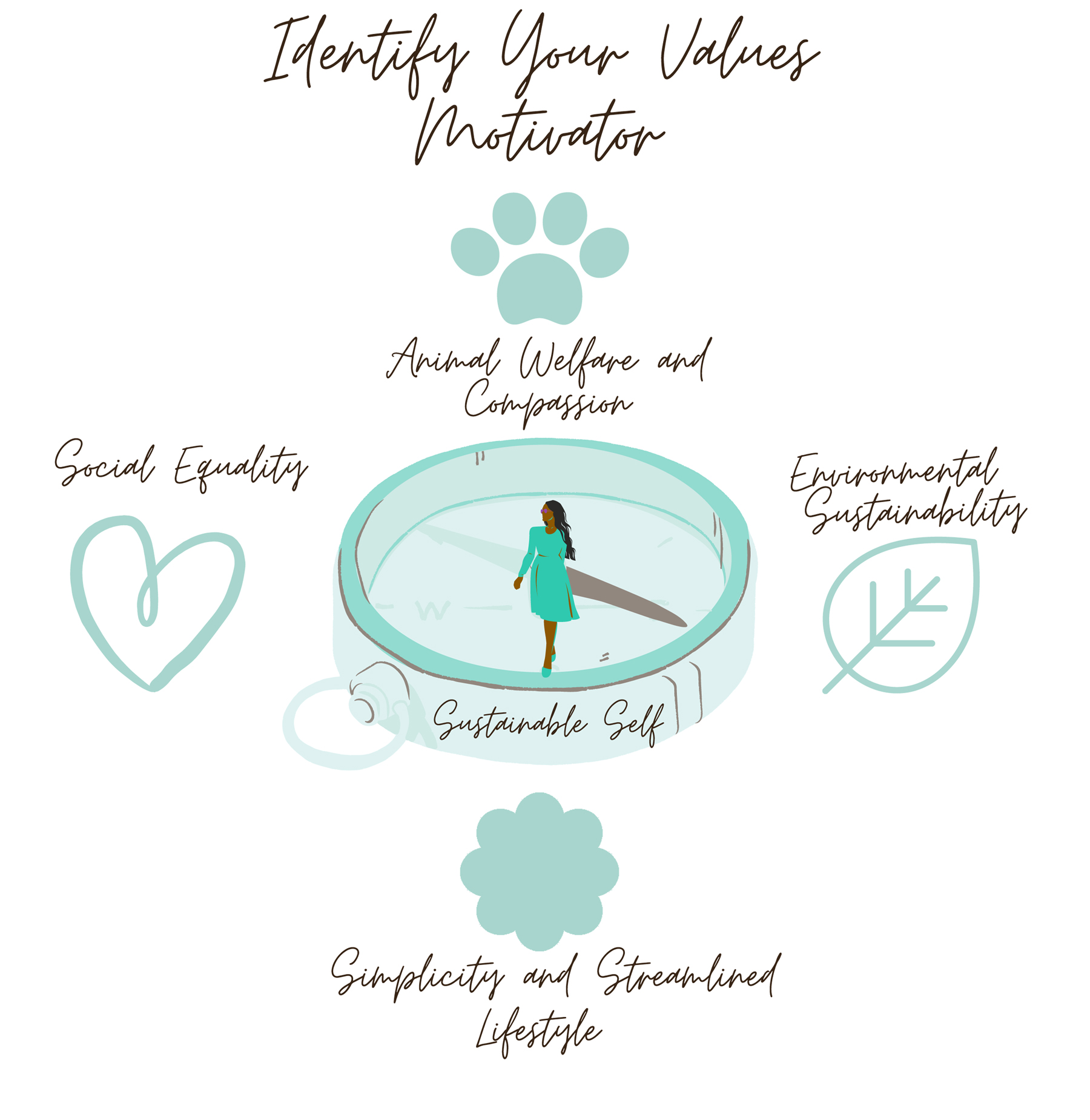 Each of these categories offers you an insight into your degree of passion towards an actionable sustainable living approach. For example, someone who is a busy parent with a streamlined lifestyle values motivator might be inspired to start an organic vegetable garden at home but find themselves becoming frustrated at the upkeep and time that is required to see the garden to harvest. Without understanding their Values Motivator, the idea of an organic vegetable garden (which could appeal to the Environmental Sustainably category) may appeal to a parent who wants to cut costs, get their kids in the garden, and simplify their food systems. Giving up on a grow-your-own dream might feel like a failure, however, the reality is that a busy parent might get a better result from having locally grown organic seasonal vegetables delivered to their home in a delivery box program.
It's these simple shifts based on our inner Values Motivator compass that can guide us to make choices that maintain the balance of Sustainable Self, while still working towards the larger scale sustainability issues that we care about.
Our posts often have ideas that assist in tailoring your sustainability journey based on your Values Motivator's. These posts will have suggestions that look a little like this.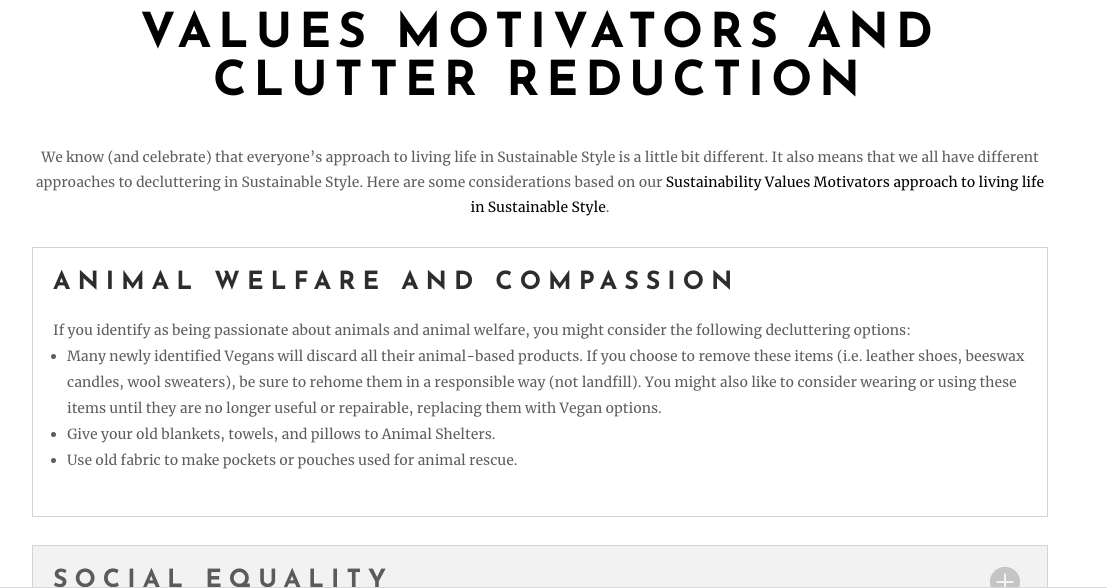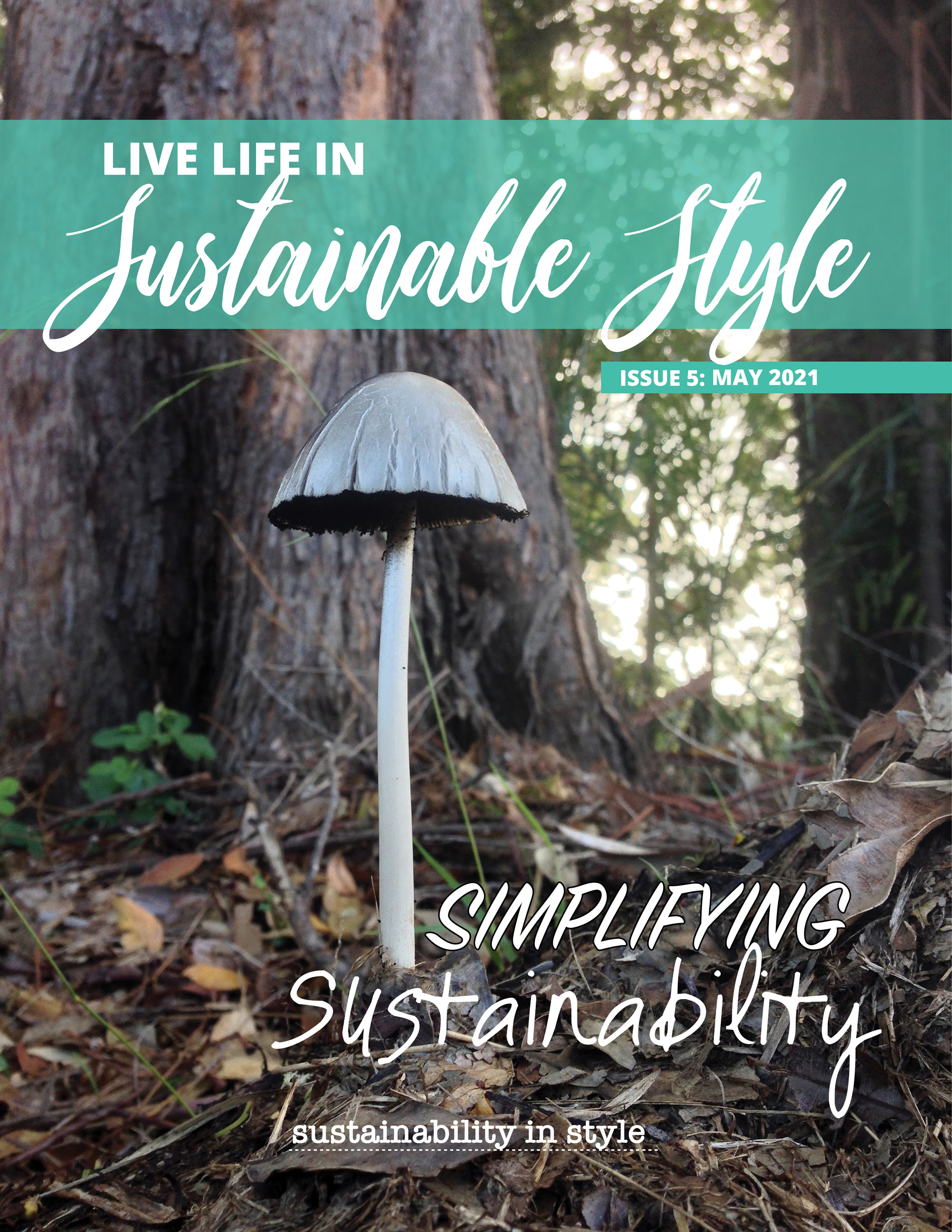 Have you seen our monthly magazine 'Live Life in Sustainable Style'?
It's the comprehensive monthly highlight of the suite of tools we have designed to help simplify sustainability so you can take action on the things you care about (minus the eco-overwhelm). The content ties together our 'Take Action' focus theme. In a fast-paced media-saturated landscape, we hope that this way of sharing will provide you access to all our useful tools, without feeling lost or overwhelmed. Each month the latest copy of the magazine and our most recent resources are sent to your inbox (you will only receive one email a month from us). You will get reminders via our social media channels of what content we're championing throughout the month.
We hope that you enjoy getting your Sustainable Style fix in this easy-to-read format and that it gives you a break from the abundance of social media updates and overflowing inboxes we now navigate daily
.
LOVE OUR CONTENT?
GET ON THE LIST