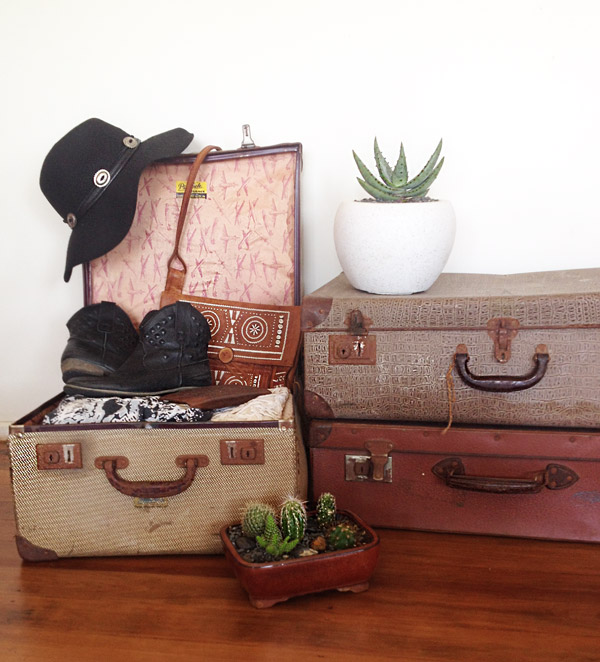 For a long time I lived out of a suitcase.
This nomadic period left gave me some great insights into packing strategies. Since 'settling down' into a life of science and endless summer on the Sunshine Coast I have further honed my packing skills with cheap 'carry on only' flights to visit family and friends down south.
With a birthday holiday on the horizon what better time than now to share some of the important packing lessons, techniques and tricks I have learnt over the years.
Research:
Get online and find out the weather predictions for the area you are traveling. There is nothing worse than turning up in on a freezing Spring day in Tasmania only to realise you have NOTHING at all to wear in your suitcase (this may or may not have happened to me and I may or may not have been slightly intoxicated while packing). Even if you have to suffer through a few hours of wearing inappropriate clothing for your 'home' weather conditions, sweating yourself silly at a QLD airport for a few hours is much less uncomfortable than spending several days straight as an icicle in Hobart.
If heading overseas make check if there are any cultural fashion faux pas you could make at your destination. I remember walking the streets of Bangalore India behind a 'gaggle' of blonde foreign women in short shorts who were getting some seriously unwanted attention from every single male they passed. Some women had reported having stones thrown at them for being scantly dressed. Do your research and no stones will be hurled at your head!
Consider:
What activities do you have planned for your destination?
Your suitcase should reflect the underlying theme of your holiday. Beach holidays should see you packing sundresses, kaftans, coverups, and some 'smart casual' evening wear. No sense in packing your clubbing attire for a camping holiday. These may seem like rookie mistakes but sometimes the hectic nature of packing can be overwhelming and leave you with a suitcase full of unsuitable items.
Go for it: 
With some research and consideration I usually start packing by choosing every item in my closet I would like to take on holidays. Lay each item on the floor (or bed) in categories, tops, bottoms, dresses, shoes, etc. Once you have your 'dream suitcase' of items in front of you the elimination process can start.
I ask myself the following questions to aid in the elimination process:
Have I worn it before? If the answer is no then it goes straight back in the closet. Unless you purchased the item for the holiday, or happen to be going to a specific event (say for example, a cocktail party), it is VERY unlikely you will miraculously work out how to wear something that has remained inactive in your regular closet. In fact you should reconsider whether or not it has a place in your closet if you haven't worn it before.
Does it go with the overall theme of my trip? This question will weed out any weird and wonderful items that you may have pulled out of the closet (fringed leather vest for a business conference, what was I thinking). Your packing should have a story or when you arrive at your destination you will feel like you have opened up a 'dress up box' instead of a workable moving wardrobe.
How long am I going for? This question is important as it will ensure you don't under, or overpack. If the holiday is short (say less than three days) and the weather is consistent you won't require many items (perhaps a pair of jeans, a couple of tops, a jacket, and three scarves to mix up your look). A six month backpacking holiday is a whole other 'kettle-of-fish', and definitely requires a diverse and versatile collection (check out the MOST IMPORTANT QUESTION to work out how to pack for this).
What are my luggage limits? The 'carry on only' trips I have had interstate are always a challenge as you need to pack  between 7kg and 10kg of luggage (airline dependant). Melbourne and Tasmania are cold in winter so this can be hard work. Lightweight and warm layers are essential for these. If you have checked baggage you can pack as much as you like, but need to consider the fact you will have to manoeuvre your heavy luggage. Even with a checked baggage allowance I find myself sticking to just carry on for the convenience if my stays are a week and under. No need to wait at the carousel and no headaches manoeuvring heavy luggage.
THIS IS MY MOST IMPORTANT QUESTION: Does each item I want to take 'go with' at least three other items? This is key for making a diverse collection of looks with small luggage limits. Way back in November last year I ran a packing post on a cold trip to Melbourne. A successful strategy of leggings as pants (despite the fact this isn't my favourite look) allowed me to pack a great collection of mix and match layers, and I successfully stayed warm, lightweight, and non-repetitive for the entire trip.
Can I cut down some more? Once you have eliminated any items that don't pass 'the most important question' test have a realistic think about whether or not you really need to take everything you have left in front of you. Consider ratios of tops to bottoms. You will always need more tops as they tend to get smelly faster than bottoms. If I were off for a week long trip to the city, one pair of jeans, a pair of shorts, a casual layering dress, one going out dress and five or so tops would do. Then you can layer with a couple of cardigans, shirts or jackets (weather dependant), throw in a variety of lightweight scarves or jewels, and a few pairs of shoes; lightweight sandals, some study boots, and a 'dressy' pair of shoes. We usually pack more than we need (perhaps a relic survival instinct) so eliminating is usually a safe bet, even if it feels difficult at the time.
Do I have a long flight? If you are off on an international flight a well packed carry on luggage can be a life saver. Make sure you have a toothbrush, toothpaste, deodorant, a change of underwear, refresher wipes, hydrating serum or mist, rescue remedy (or something similar), some makeup (if you wear it), entertainment (magazines, books, e-readers, laptops etc), prescribed medication, and your appliance chargers. If your luggage goes missing which it does and has happened to me twice, you will be happily prepared for an emergency.
That is my general knowledge on the art of packing for holidays.
So that is me signing off for a week of relaxation! See you on the other side of twenty nine.