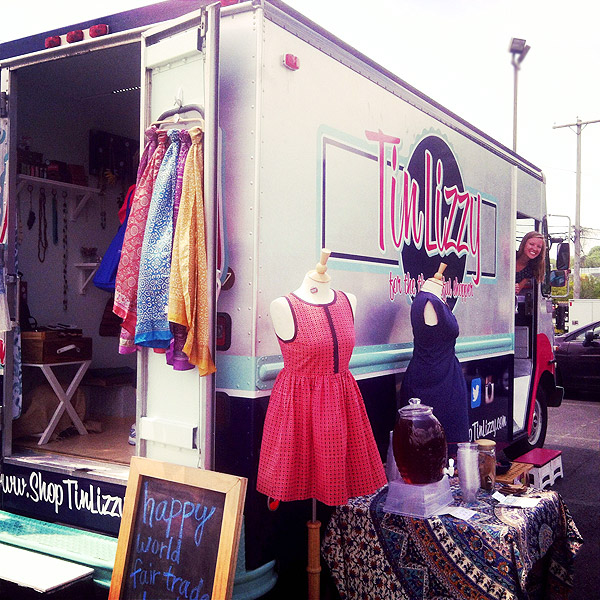 When Tin Lizzy popped up on my Instagram account I was instantly fascinated by the idea of an ethical shop on wheels. Too often do we pass up on making an ethical purchase due to the intangible nature of shopping online (and lets face it, buying ethical in your local department store is near on impossible). The idea that ethical, handmade, and sustainable fashion could come to town in its very own mobile store allowing customers to make a physical connection with their purchase was an idea that compelled me to investigate further.
The gorgeous Laura provided us with some thoughtful insights into the development of 'Tin Lizzy'. Hope that you enjoy her reflections on life on the road and 'thoughtful shopping' as much as I do.
Who is the genius behind Tin Lizzy? Please give us a short introduction of who you are and how you came to be interested in ethical and sustainable fashion?
I am flattered by the "genius" compliment! I graduated from college with a degree in Fashion Merchandising, which was a bit scary because I didn't really see where I would fit into the fashion industry. I couldn't see myself moving to a huge city and after taking a course in sustainability my senior year it was difficult to see myself working for conventional trade methods. After volunteering and working for a number of fair trade organisations and seeing numerous perspectives of the business including wholesale, retail, and non-profit, it was clear to me that I wanted to work to support ethical trade. Having known about so much corruption in the fashion industry and then learning about so many great organisations working for fair trade, I wanted to do my part to support small producers and artisans in impoverished regions of the world.
What is Tin Lizzy all about?
The concept of Tin Lizzy is all about "thoughtful shopping". Everything in the truck is either fair trade, sustainably sourced, or handmade by a local designer. I can tell my customers the "story" behind every item- where it was made, by whom it was made, and the materials it consists of.  In my experience, there is a lot of confusion surrounding fair trade so I wanted to sum it up and also include other great products not affiliated with fair trade with the concept of "thoughtful shopping".
As another way to encourage thoughtful purchases, I try not to respond to trends. I want shoppers to buy unique handmade items that will remain a part of their wardrobe for years.  Thoughtful shopping can be as simple as picking out a gift for a loved one that you won't find at the mall or as complex as ensuring your purchase is not supporting sweatshop labor or the exploitation of people and resources.
Where and when did the idea for Tin Lizzy strike?
I wrote my business plan for a boutique but with rent prices astronomically high and my start-up budget very low, it was clear that it was more of a dream. A friend of mine told me about a school bus converted into a mobile shop she saw in Cape Cod on vacation and it got my wheels turning. A mobile shop solved two major problems with my business plan- finding a small enough space to start and my small start-up budget. I met with Stacey Steffe who opened the first fashion truck in Los Angeles, Le Fashion Truck, and she helped me rewrite my business plan for a truck and totally sold me on the concept of mobile retail.
Why choose a mobile boutique over a bricks and mortar store?
I originally chose to go mobile as a way to keep my start-up costs low but after my first weekend on the road, I realised how much fun it was. Having my boutique in a truck makes my business so versatile. I set up at markets, music festivals, street fairs, vineyards and in driveways for private parties, parking lots for fundraisers, and I can also sell on the side of the street some places. I love being able to bring my shop to my customers instead of waiting and hoping that they come to me.  I think that as big-box retailers make shopping more and more monotonous, consumers are seeking out unique ways to shop and I am happy to be able to provide that experience.
There are definitely challenges associated with the truck and I'm sure I will think it's a lot less fun when I am broken down on the side of the road one day but my truck is a real trooper and I am so grateful every day to be working for myself and doing something I love.
How did you go about turning a 1997 Grumman Step van into a store?
I am very lucky to have a talented and clever carpenter as a boyfriend. We brain stormed for weeks about what the interior of Lizzy would look like. When it came down to start construction we kept it simple and I'm glad we did because it created a clean, fresh feel. The truck was previously used as a board of education truck so it was basically a blank slate that we built on. We framed it with metal, hung walls, installed a previously used floor that was given to me, and installed simple shelving and a collapsible dressing room. My Stepfather is an electrician so he wired the truck for lighting and we installed simple LED strips that are super efficient and put off a ton of light. I made most of the displays from materials I found at yard sales and in trash piles so it was basically one big DIY project.
What is it like having a business on wheels?
Everyday is an adventure! I always have hilarious encounters at gas stations and toll plazas because people are so confused by what Tin Lizzy is. I get a lot of people who think I'm selling snack food, which I wish I were sometimes. I sometimes wish I had a business partner or employee to laugh at all the hilarious things that happen in the truck. I also wish I had someone to help me navigate. Getting lost in the truck is a nightmare! I don't have anywhere to plug a GPS in so I drive with printed out directions under my leg and it's not always the most effective method. The truck can't really go over 60 mph safely so it is probably a pretty funny sight to pass me on the highway. Sometimes I get customers that say "Oh I was behind you on the highway last week" and I always hope that was a good experience for them.
It's a ton of fun being mobile! It's so interesting to take my truck to different towns and cities and see the different reactions to the truck and the products I sell. Some people are so excited to see all ethically sourced products and some are just really excited to shop in a truck.
 If you had magic powers and could change one thing that is wrong with the world what would it be?
This is a toughy! I think for change to take place in this world we really need to change the way we see ourselves- not just as consumers but as part of a supply chain that consists of many individuals, some of which are getting the short end of the stick. If everyone just put a little more thought into their everyday actions like asking where their things came from, how they got to them and what they are going to do with them when they're done, we would be more informed and thoughtful consumers. If we all had the power to see into the future and realise our actions that weren't sustainable and be inspired to make changes to correct them, we could set ourselves up for a bright future.
If you are interested in checking out Laura's beautiful business and aren't in an area to see it in person you can shop her goodies online here.