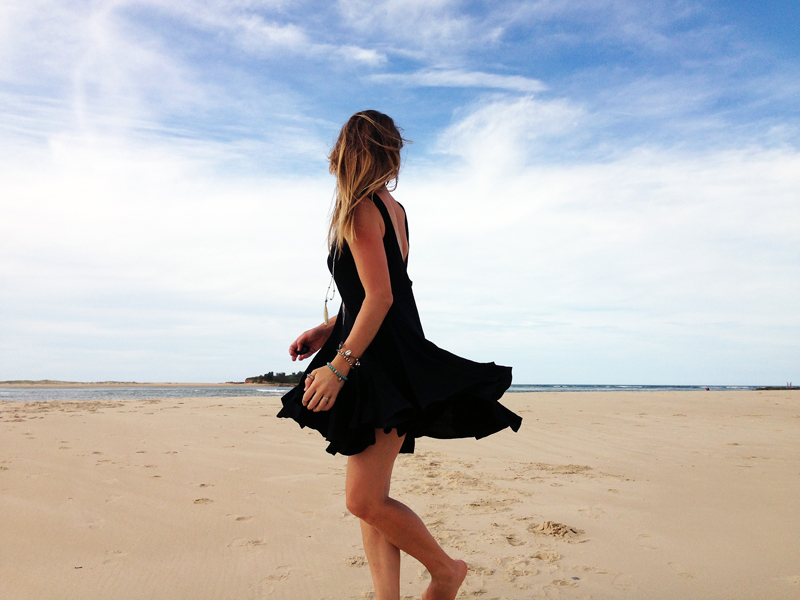 Conscious fashion items can be easy to find!
I promise! As some of you are already aware, the Fashion Revolution is right around the corner and as part of the movement our friends at JUST are running a special campaign that some of you might want to join. For those of you who have yet to 'meet' JUST, their mission is to empower shoppers with data and storytelling to incite change within the fashion industry. Their platform Project JUST (which has been a very popular post on Sustainability in Style) works to shift demand towards positive practices and ethical brands through content and an online catalog where you can search a brand and see its practices on human rights, environment, transparency etc.
The JUST team are are asking stylish, aware individuals from around the world to participate in an Outfit of the Day  ("#OOTD")  contest to promote awareness for Fashion Revolution Day. The movement aims to showcase that dressing in an ethical, sustainable way can be easy and cool. All you have to do is post a photo of yourself wearing an outfit featuring at least one ethical piece of clothing on Twitter, Instagram or Facebook with the hashtags below during the month of April.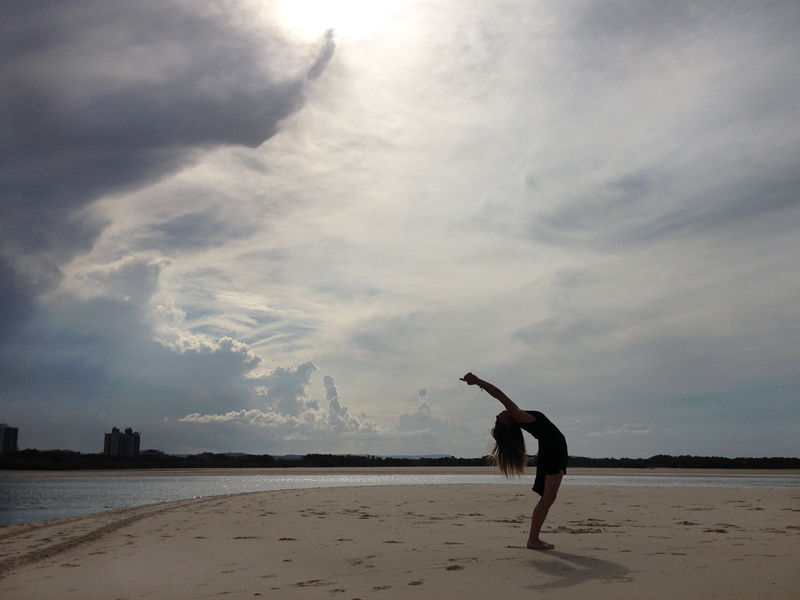 What is ethical and sustainable?
An ethical or sustainable fashion item under JUST's terms could be an item that is vintage, thrifted, consigned, made specially from upcycled or recycled materials, feature an artisan groups work, organic, or fairtrade materials (just to name a few). For Sustainability in Style classification purposes we can call it 'shopping consciously' (as this term can combine both ethical and sustainable because some ethical choices, specifically Vegan leather, aren't all that environmentally friendly in regards to disposal).
The steps to be involved are easy:
1) Pick an ethical outfit. The outfit can be whatever you fancy. Some ideas could include a vintage scarf, upcycled headbands, thrifted skirts, a DIY dress, or even ethical jewelry.
2) Tag @ProjectJUST (instagram), JUST (facebook) or @Project_JUST (twitter) and hashtag #OOTD #ProjectJUST #FashionRevDay #whomademyclothes #ethicalfashion #sustainablefashion #fashrev
The following pictures are my OOTD's for today. I'm always busy (and usually sweaty) so end up wearing more than one outfit per day, today it was limited to two.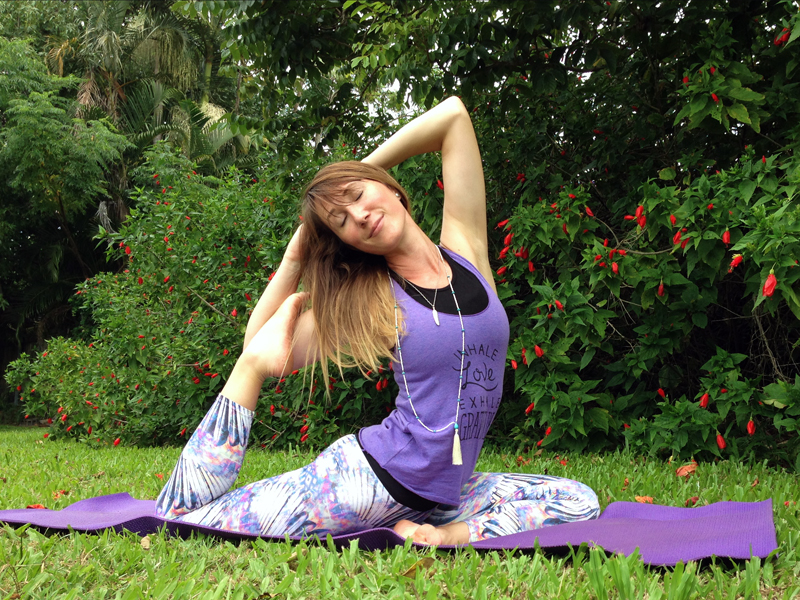 Ethical Yoga
Truthfully I rarely buy my clothing 'new' unless it's something I cannot find secondhand, fall head-over-heels in love with and know I will wear to death, or if it's something that has to perform. Performance and fit is so important for me during yoga which is why I buy most of my athletic clothing, specifically leggings (tops can be found secondhand quite readily) brand new. Because then I get it right the first time! As I knew I was going to take some snaps for JUST today I wore a combo of items to yoga that would be fun to talk about because one of the hardest parts of shopping consciously is finding the brilliant little labels that sometimes get hidden behind the high street marketing chatter. It's all well and good to brag about your thrift shopping prowess on social media but as much as celebrating other's thrifting gems can be fun, it doesn't really help us fill the gaps in our closets (unless you go to the thrift braggers house and borrow their find). It's important to know where you can shop for new, recycled or up-cycled items.
I have a few pairs of leggings like these (pictured above) from a local company called Hatha Clothing. The owner and designer Paula is a wonderful person and when she moved from Brazil to Australia she was surprised to see how few people wore coloured leggings. With that her yoga and activewear line was born. She produces ethically in Brazil (employing people she knew from home to sew for her). The fabrics she uses are high quality and provide great sun protection so these pants take me from yoga and the gym to kayaking all day in the sun without worrying about burns. A tick for ethics and one for function. I personally dislike wearing synthetics but make an exception for sportswear as I've yet to find a pair of cotton, modal, or bamboo leggings that will withstand the content stretch and washing that I put them through.
My top is from a company called Inner Fire, they aim to produce ethically and use recycled materials where available. The fabric for their leggings is made from recycled bottles. This tank is made sweat-shop free (American Apparel) and is printed in house with the brands unique designs. I picked it up at Wanderlust which gave me the opportunity to ask the designers loads of questions about the company. Buying direct from the makers is a good way to learn more about the way your clothes are made! My little black crop top was a bargain find at the op-shop for fifty cents and saves any 'side boob' slips during class. I collect jewellery and most of it has come to me as gifts or mementos of special occasions (and a lot was accumulated when I worked in Jewellery sales). My biggest tip with jewellery is to buy for life! Don't purchase cheap trendy junk, save up and get something you can pass down to the next generation. Wrote a post on jewellery you can see here.
Thank you park near my house for turning on some pretty blooms for the backdrop on my walk home from my yoga class!
Here are some posts that might interest those of you who like yoga and your fashion items guilt free!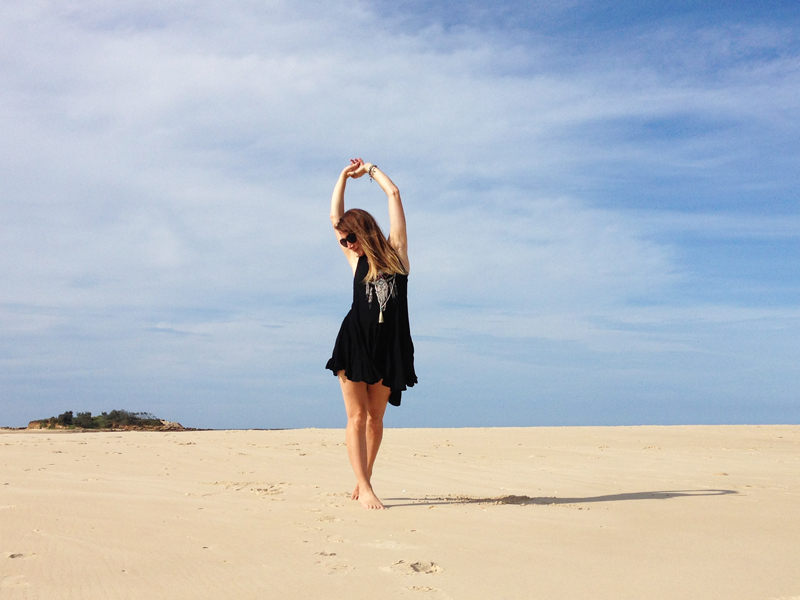 Secondhand is not second-best!
After a morning of boring assignments (which are currently still underway as I type here *ahem* procrastinating) I rode my bike to the beach to get sandy for a little bit. Taking short breaks in nature and getting toes in the sand or grass is a wonderful way to dissolve stress and tension (follow the link in this post to read a great article about the health benefits of nature breaks). I thew on this beautiful secondhand beach dress designed by Wildfox for the ride, and used the Penny in Yo pants trick the stop it from flying up. This dress was sent to me by boho beauty Nat from Second Loves Byron Bay. She was very naughty and snuck it into the parcel of donations that kindly sent to me to sell and raise money for the Dressember mission. This dress came with a note to say that it was a gift for me for all the hard work I had done for the Dressember month and that I can wear it during the LBD challenge. It was my go-to throw on for the hours that my Dressember dress was on the clothesline during my month long one-dress styling mission. Buying secondhand is a fun and easy way for most folks to shop and it diverts unwanted items from landfill and gives them a second chance at life. It's usually pretty easy to find what you need secondhand. But if you do struggle to find things for yourself, stores like Nat's (and the one I will be launching soon to help fund my studies and keep Sustainability in Style advertising free) take the hassle out of hunting for the good stuff.
If you want some tips on thrifting here are some posts you might enjoy
What is your favourite way to shop conscious? Will you be sharing your OOTD for the JUST fashion revolution initiative? Share with us in the comments section.