Back to school!
For some of us Uni students here in Australia August is generally the time of year where we start to get back into the swing of things and knuckle down for another 13+ weeks of hard-thinking-yards. While study can be a great way to expand your mind, it doesn't alway result in an expansion of horizons. In fact most of the semester is spent hunched over a computer or slouched in a lecture chair. The good thing is that while classes and computers can be pretty dang boring to look at, your stationery doesn't have to be!
Flora Stationery
Flora Stationery blossomed from a study abroad trip co-founder, Ashley, took to Kosovo. While there, she met an inspiring young woman who struggled to afford a college education due to means outside of her control. Determined to create a sustainable solution for funding access to higher education for young women in developing countries, Ashley and her twin sister, Victoria founded Flora Stationery. Utilizing a portion of the proceeds from Flora Stationery product sales, the team cover the tuition fees for young women in Kosovo to enroll at the University of Prishtina. In the past 18 months Flora Stationary have supported over 70 scholarships. For the Spring 2016 semester, they will be dispersing 26 scholarships supporting both tuition+book fees.
After hearing from some of their scholarship recipients as to their needs outside of books and tuition, the team realized that the simple act of getting to school can be a struggle for many of the women they support. Because of this also offer bus fare stipends for the students they support who need them the most. According to Flora Stationery's research, Kosovo has the highest unemployment rate in all of Europe and holds a female unemployment rate of over 41%. Yet women with a university degree are over 28 times more likely to be employed than those with a basic education. Kosovo is also the poorest country in the region, with approximately 30% of the population living in poverty and another 10% who live in extreme poverty, living off less than one dollar per day.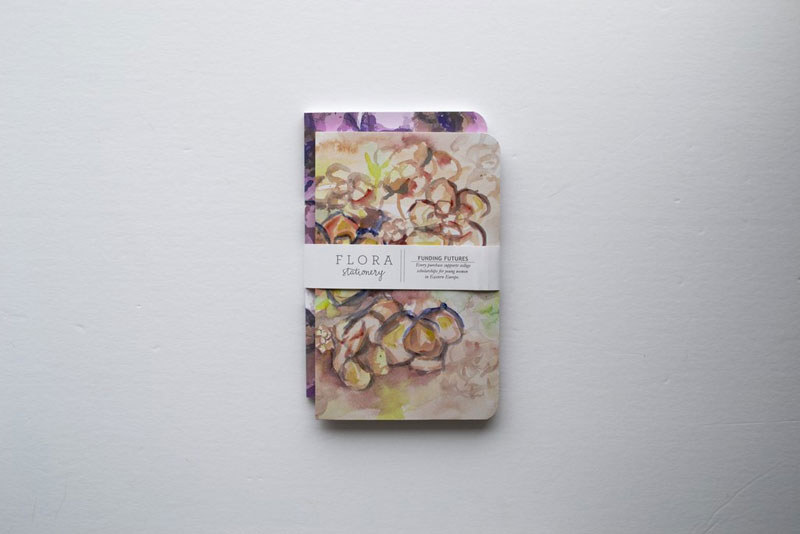 What goodies are on offer.
 Flora stationary have a gorgeous collection of notebooks that would brighten any uni students day (even when the assignment deadlines start hitting home). They also have some pretty prints to encourage you to actually want to spend time at your desk. And when all fails and you can't take the study any more they have the perfect procrastination mindfulness tool, a colouring book of hand lettered quotes.
Are you headed back to school? What are you studying? Any other questions, comments, feedback? Sharing is caring.