We all want to live our best lives and most of us would like to do so without costing the Earth. Sustainability in Style's toolkit of resources provides a unique blend of yogic philosophy, mindfulness and science to help you navigate living life in Sustainable Style.
Our content and events fit into eight categories: grow,stretch, breathe, style, make, play, read, and share, to help you find the right fit for your current needs on the path to being your most Sustainable Self. 
You've found your way to our Make section, where the focus is making less waste and a smaller environmental footprint with Eco-minded DIY projects and sustainability focused ideas, tips and projects for Sustainably Stylish living.
Katie
Kitchen Beauty right from the pantry, garden, or fridge.
Are you feeling the mid summer (or mid winter for the Northern Hemi peeps) blues? Mid season can be a pretty tough time for skin and hair and it's only fair to indulge in a bit of a pampering from time to time. The following are a collection of super simple ways that you can get your glam on without having to spend a fortune on skincare or haircare products or procedures. Hopefully you can swing at least one of these recipes without having to leave the house. Beauty might just be a refrigerator or pantry away! If any of the recipes below don't work for your skin don't use them- just because it's natural doesn't mean its zero allergens.
250g of sugar
250ml of coconut or avocado oil.
2 tsp of aloe vera gel (break a leaf off a plant if you have aloe plants in the garden.
2 drops of essential oil if desired
Combine the ingredients together in a bowl. Using your hands grab generous scoops of scrub and massage gently all over your body. Gentle is a key word with this process because sugar is very abrasive and you don't want to go too hard or you might scratch rather than lightly exfoliate. Leave the mixture to sit on the skin for two minutes before rinsing. Remember this is an exfoliation treatment so you might look a little 'scrubbed' and red afterwards.
200ml of filtered or mineral water.
3 tsp of green tea leaves
7 mint leaves (chopped or crushed)
1 tsp of lemon juice.
This toner will refresh your skin on hot days or if you are dealing with indoor heating or air conditioning that leaves skin parched and dry. Boil the water and make a 'tea' with your tea leaves, and mint leaves. Allow to cool, add the lemon juice and then strain to remove all the leaves. Pour into a spray bottle (recycle one that you already own) and then spray onto skin as required.
1 large Avocado
1 tbsp of olive oil or coconut oil.
HUGE DISCLAIMER HERE. This process can be VERY messy if not done right. Mash your avocado into a very fine paste. You want to remove all the lumps or you will spend a long time trying to pick them out of your hair. Once you have smooth avocado paste add your oil and apply from root to tip. Leave this on for 30 minutes. You can cover with a towel or shower cap if you want a more deeply penetrating treatment. Rinse out and then shampoo and condition as usual. The results should be salon-shiny and with hopefully no avocado chunks 🙂
FOR THE LOVE OF SUSTAINABLE SELF
This post is part of our  'For the Love of Sustainable Self' content. If you love it, click the 'back' button for more information about what Sustainable Self is, and how you can use the tools we have available to take a holistic approach to self-responsibility and support when living life in sustainable style.
To other content in our 'For the Love of Sustainable Self' series. 
What does Sustainable Self really mean? Is it all about pampering yourself with bubble baths? Is it a marketing buzz term? Or is it a considered and holistic approach to living life in Sustainable Style minus the eco-overwhelm? Sustainable Self is…
.
Keep Reading
Many of our tools for living life in Sustainable Style minus the eco-overwhelm involve mindful reflection- which can be helpfully done using a handy notebook! We've got a popular Make post that shows you how to personalise your notebook with a fabric cover….
Keep Reading
While our Sustainable Self can't be happy, healthy, and whole from a makeover or a foot-soak, these DIY beauty tricks might be ideas to trial when you experience mental, physical, emotional, or spiritual fatigue, stress or exhaustion.
..
Keep Reading.
This musing from our founder Katie is an open and honest exploration of self-worth and sustainability. This post is shared to help others consider taking a deep dive into their psyche to understand better how our past can open doors or create gridlocks...Keep Reading
Does your budget prevent you from taking action in Sustainable Style? Eco-switches can seem expensive or inaccessible. Especially if you're on a student budget, live in a rented home, or struggle to pay your bills on time, however they can be affordable… Keep Reading
Sustainable self isn't static. As we move through, our life change is inevitable. To be responsible citizens of earth, critical thought, mindful reflection, and self-assessment are essential for change in the right direction. This means continually…Keep Reading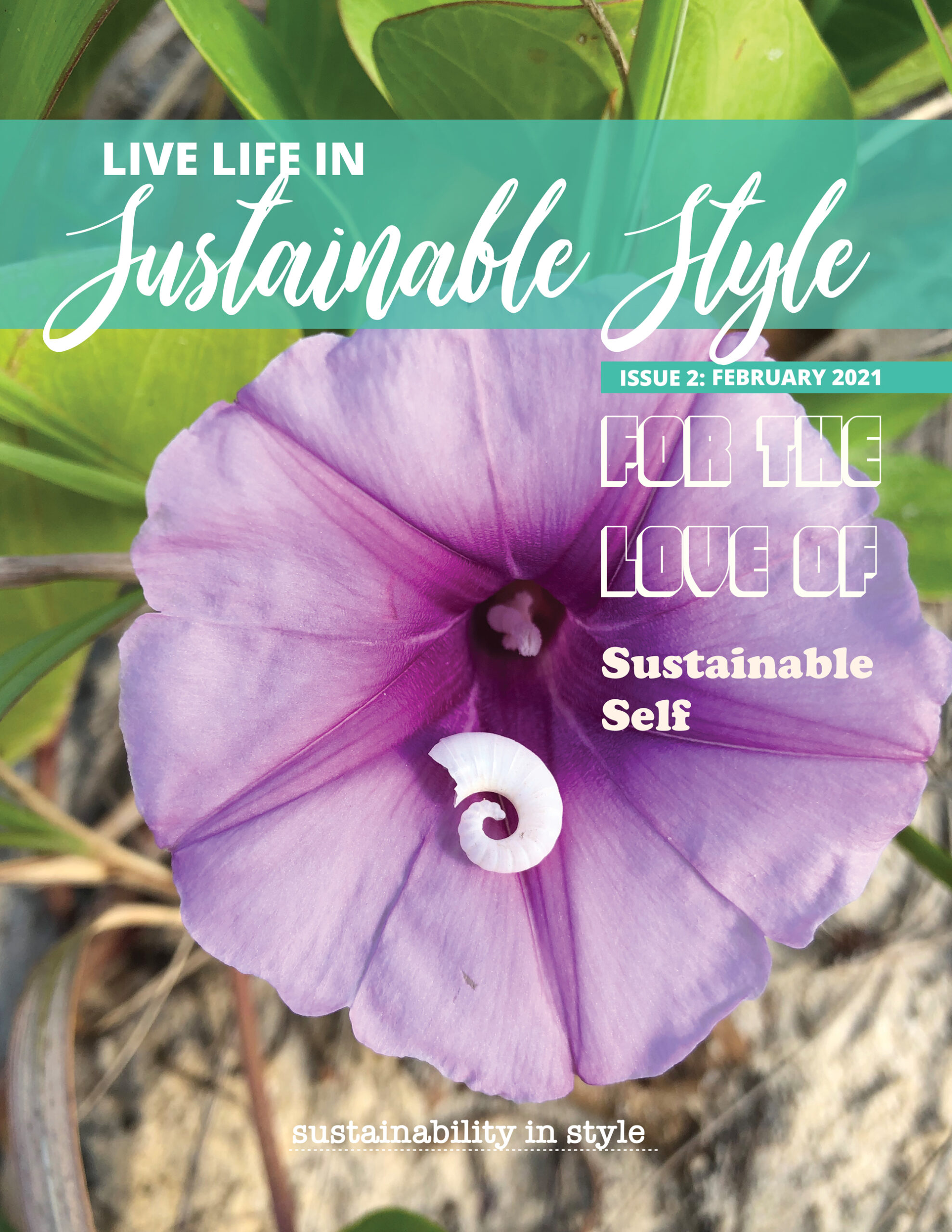 Have you seen our monthly magazine 'Live Life in Sustainable Style'?
It's the comprehensive monthly highlight of the suite of tools we have designed to help simplify sustainability so you can take action on the things you care about (minus the eco-overwhelm). The content ties together our 'Take Action' focus theme. In a fast-paced media-saturated landscape, we hope that this way of sharing will provide you access to all our useful tools, without feeling lost or overwhelmed. Each month the latest copy of the magazine and our most recent resources are sent to your inbox (you will only receive one email a month from us). You will get reminders via our social media channels of what content we're championing throughout the month.
We hope that you enjoy getting your Sustainable Style fix in this easy-to-read format and that it gives you a break from the abundance of social media updates and overflowing inboxes we now navigate daily
.
LOVE OUR CONTENT?
GET ON THE LIST