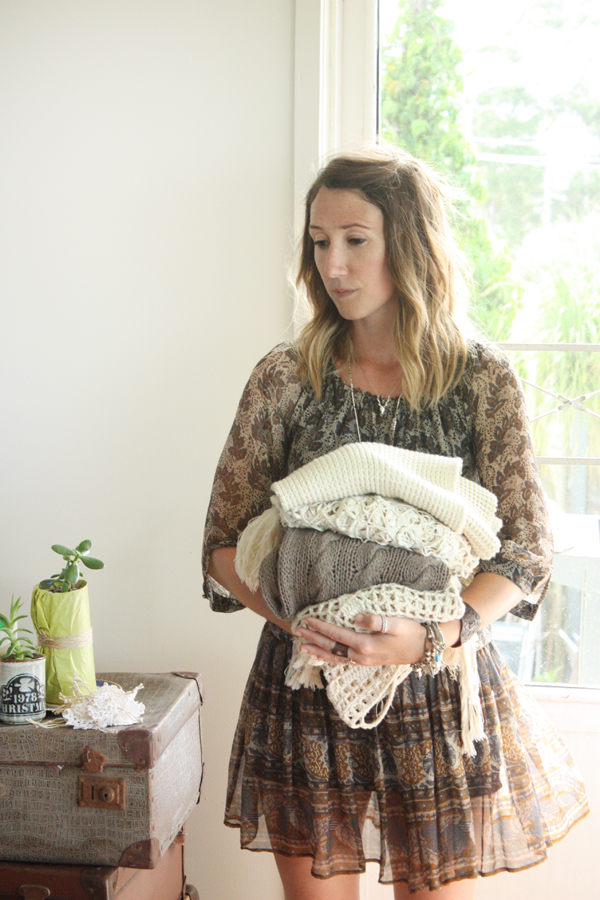 After a month of looking into personal styling ideas I now have a good idea about what should and shouldn't be in my closest. Now for the big clean up!
Like I mentioned at the start of the month, goals need to be of an achievable size. If you have a large closet full of clutter a goal of  'I want an orderly well curated closet by this afternoon' is only going to result in a whole lot of confusion and tears. Start small and work bit by bit. Perhaps you could tackle shoes today, then start on bags tomorrow.
For a clean up you will need.
*containers or bags
*your lists of how many items you need
*an appropriate sized storage space for the items you want to keep
*cleaning tools
Now you are ready to go. For each item you pull from the closet look at it with fresh and educated eyes and ask yourself.
When did I last wear it?
If you can't remember or the answer is more than a year ago then ask yourself:
Why haven't I worn it?
If the item hasn't been worn because it's too small you will have to re home it either by donating or giving to a friend. If it's too big or needs an adjustment of some kind and it fits one of the categories you looked at through your closet analysis then you could take it to a tailor, or tackle it yourself. If it's neither of these issues ask yourself:
Is it the wrong colour?
If you have taken the time to look at what 'season' you fall into perhaps this colour isn't part of your pallet. In my wardrobe workout challenge I realised early on that many thing I owned weren't  being worn because the colour didn't suit me. Dyeing is a fun way to open up a whole new wardrobe of stuff you love. I still dye at least one item every couple of weeks.
So the colour is ok and you love the item, but you still can't work out why it's not being worn?
Do a style workshop with the item. For this I start by Googling. Let's say 'green jeans style'. It is surprising how many ideas you can get from this. Websites like lookbook.nu are great tools for seeing how others have styled items. If you already have a clear idea of a theme you want in your closet google brands that have the same aesthetics and look for a similar item. For example, my closet is a little bohemian due to my beach location so I would look for green jeans on Free People and see how they have styled them. Either Pin or print the ideas and give yourself a time frame to try them out. If you still don't get around to wearing the item, or wear the item and feel unhappy while doing so then they should be re homed.
Once you have removed all the items from your storage space give the area a clean then start putting items back in.
Now you should be left with a container of items to mend or alter and a container of items to re home. If anything in your re home box looks like it's seen it's last days have a look at the fabric content. If it is a natural and absorbent fibre like cotton you could reuse it for rags, cut it into smaller pieces and compost it (as long as it's not coated) or reuse as scraps for quilting or craft projects. Synthetic fibres are around forever so no composting! You can reuse synthetic fibres as ties (cut them into long strips), for stuffing footstools and cushions, have a Google for your specific fabric and find out if there is a facility in your local area that can make use of them. In my locality Endeavour Foundation not only takes clothing for resale at their chair stores, they also employ people with disabilities to turn damaged items into cleaning rags for industry purchase.
Before putting your clothing back in your closet be sure to give it a good clean and dust so that your precious goodies don't go getting dirty. Once you are sure it's clean you can start organising your 'dream' closet. Working with what you have try to identify if any areas aren't functional. For me, my lingerie has been a bit pesky for a long time. I am currently collecting a enough toilet roll holders for all my underpants for my Up-Cycled storage solution DIY and am yet to work out a good solution for bras but will share when I find one.
It may take a while to really personalise and streamline your space but small steps and continual evolution is the best way to get there without too much stress or time commitment.
Do you have any great ideas on how you have gone about streamlining and re-organising your space? Would love to hear them.