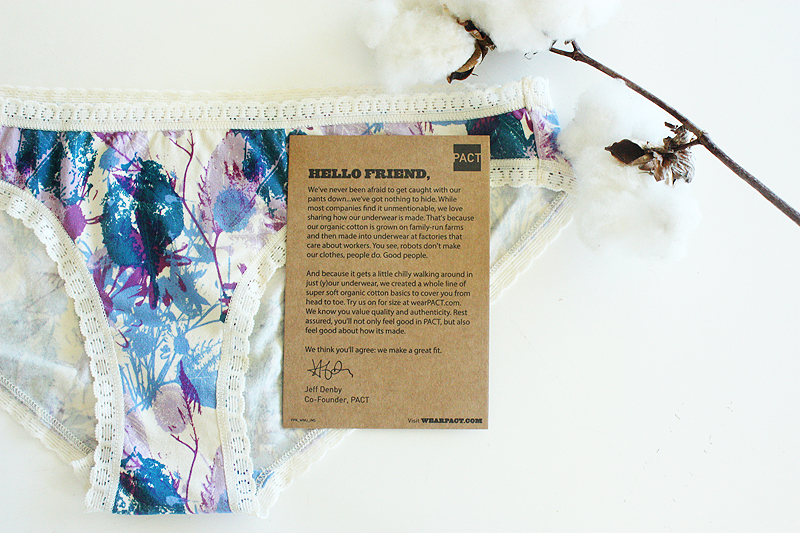 Well it is the end of another Fashion Revolution Month competition week and the lucky winner (selected at random) of last weeks organic cotton socks courtesy of PACT is @grace.sketcher who was kind enough to share with us the story of her most loved favourite cotton item.
This week we have a stunning pair of organic cotton fair-trade bikini briefs in a size Medium up for grabs. To go into the draw to win these beauties all you have to do is comment with your favourite place to shop for organic cotton items in the comments section below or on the social media threads.
Obviously PACT apparel is a fabulous place to start looking for your organic cotton basics. They offer a wide variety of products that cover the whole families organic cotton needs. I cannot even describe to you how beautiful their products feel and how much I would love to keep them all to myself. Alas, my closet is well stocked and I would much prefer to share the organic cotton love with you guys <3 <3
Now for that list (in no particular order) of Organic cotton loving companies that I promised last week but got too busy doing assignments to get to.
This list is obviously not exhaustive and I have mostly focused on brands that tick several eco-goodness boxes (that I could remember off the top of my head all this Uni research is making me lazy).
I would love for you to add your favourite place to buy organic cotton below!
Sharing is caring.
xx