Making a shirt, a living, or both?
Many garment workers are faced with the question above. Like most of us, they are at work to make a living- not because they prefer to hand bedazzled your $40 cocktail dress at 6pm on a Friday than hang out with friends and family. A living wage is one that enables them to pay their way through life. In some cases, garment workers are the sole wage earner for their household, putting extra pressure on them to bring home the 'bacon' (which is probably Vegan bacon for many readers and actually rice-not bacon for most garment workers) and forces them to stretch their earnings further. With an estimated 80% of garment workers being female, making ends meet in our fashion supply chain has very much become a women's business.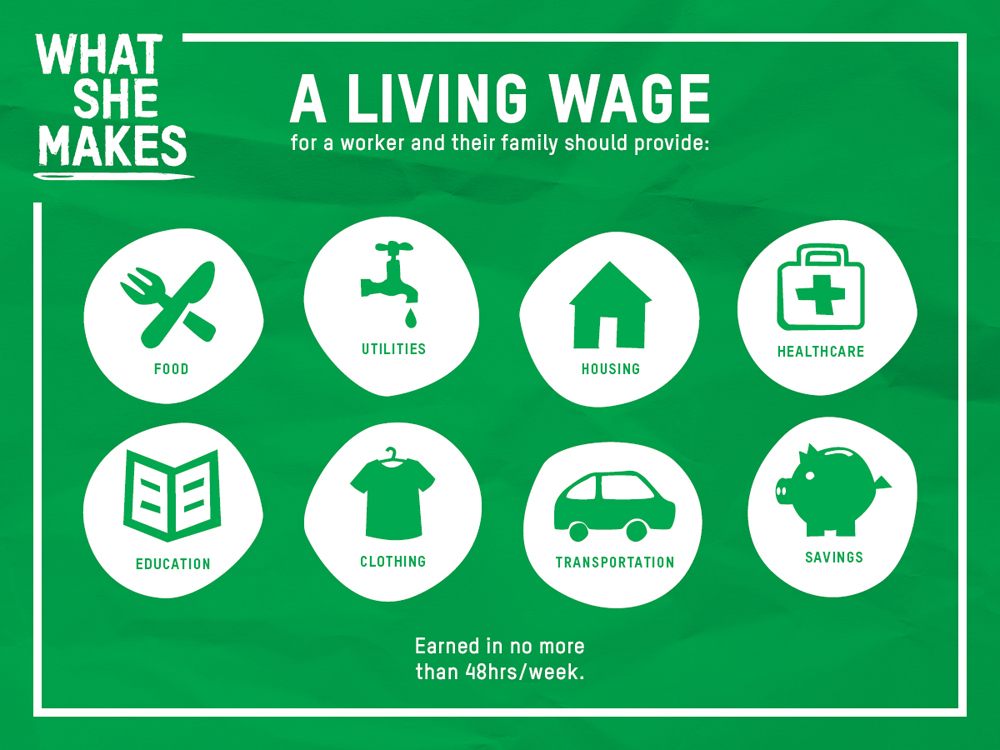 Living wages provide more than food and shelter.
OXFAM  (a charity that is held dear to my heart for reasons explained later in this post) have championed a consumer powered campaign to get us asking big business to step up and take responsibility for ensuring that the people who make their products are paid an ACTUAL living wage.
So what is a 'living wage'? Great question! OXFAM knew you (and the businesses in the firing line for questioning) would be asking the same thing, so they have outlined if for us as:
A living wage should be earned in a standard work week of no more than 48 hours. It should provide,
for a worker and their family, a decent standard of living. This includes food, housing, healthcare,
clothing, transportation, utilities (energy, water) child care and education with some money left over
for emergencies / savings.
They believe that a living wage is not a luxury or privilege; it is a universal human right – for every person around the world-  including the women who make our clothes!
A Living Wage enables power and Knowledge.
Women in developing nations are statistically likely to have more children than those in developed countries (a fact you can read all about here). This is mostly due to people in developed nations having access to contraception and education, a phenomena that has sparked years of studies into the education of women and fecundity rates (the fancy word for how many babies a woman has). When women (often as sole providers for the family) are paid wages they are usually spread across the basic needs of food, shelter. The more dependants a woman has the less money is left over for education and savings. If wages don't cover the cost of education for a woman children, these education-less young people are more likely to be trapped in a vicious circle of poverty, which ultimately leads to a similar lifestyle as their parents (living at or below the poverty line with lots of kids to feed).
The good news is that fertility trends are seeing a decrease in fecundity. There are lots of factors to consider when looking at a simplified graphic like the one shown below (like low birth rates in the west, ageing populations, gender equality etc.) but one of the strong factors in keeping birth rates at replacement or lower (which is two kids- one to replace each parent- or below) is access to education and contraception. Which puts less pressure on our globe (because let's face it the real sustainability issue is that we have too many people) and less pressure on families to make ends meet.
Providing living wages to families helps families, communities, consumers, and the planet because it enables people to break the poverty cycle, be more mindful of their impacts on the planet, have less offspring, increase quality of life for themselves and their children, and stop creating so much pollution!
Sounds like a pretty amazing flow on effect right?
What She Makes.
Because OXFAM really see real World Changing benefits in financially supporting the women who make our clothing they developed a campaign that will (with our help to drive it) get the message across to many of the places we shop that transparency and fair wages is a must. The What She Makes action has researched some of Australia's favourite places to shop (providing you with the results to peruse) and found that -on average- just 4% of the price of a piece of clothing sold in Australia goes toward workers' wages in garment factories. And, it would cost just 1% of the retail price – that's 10 cents for a $10 T-shirt – to ensure living wages are paid to the women who make our clothes.
Not content to just provide these shocking facts, they developed a pledge- that you can sign- to show that you stand in solidarity for these women. That they are cut from the same cloth as you and that you care about what she makes.
I Care About What She Makes
By not paying a living wage, big brands are keeping the women who make our clothes in poverty. But this can change. Together, we can hold big brands to account for what she makes.
We're all cut from the same cloth. I will:
Stand in solidarity with the woman who make our clothes
Let big brands know loud and clear that the women working in their factories, making my clothes must be paid a living wage.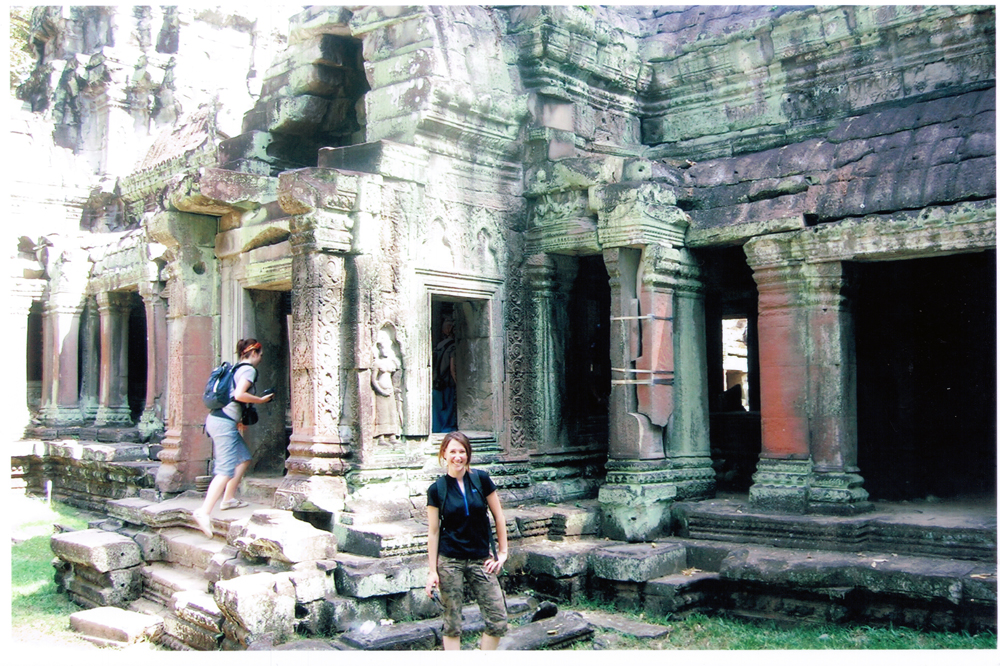 Why I Support Oxfam.
Well you might have read a couple of posts ago (if not here it is) that Sustainability in Style is putting leadership in action at front and centre of these blog posts. It started with the story of Daniella the Penguin Protector. This post is a little about my own adventure of sustainability leadership in action with Oxfam's Challenge.
In 2006, spurred on by the death of a soul sister of mine, I decided to ride across Vietnam and Cambodia as a sign of respect and to raise money for a charity we both loved (and spent many hours shopping at their fair trade stores) in her honour. The idea came about through a page I stumbled across while browsing the Oxfam website. Within half an hour I had talked myself into the bike ride and had rang my parents to tell them of my plan. Obviously, like all good parents, they responded with:
'ummm…. it is safe for you to ride a bike across countries you haven't been to?' and

'have you really thought this through?'.
To which my response was:
'of course I'm safe I'm going with a group of strangers', and

'yes, I've given it a solid 45 minutes of thought'.
And from there my (what would be a life changing) Oxfam challenge adventure was born.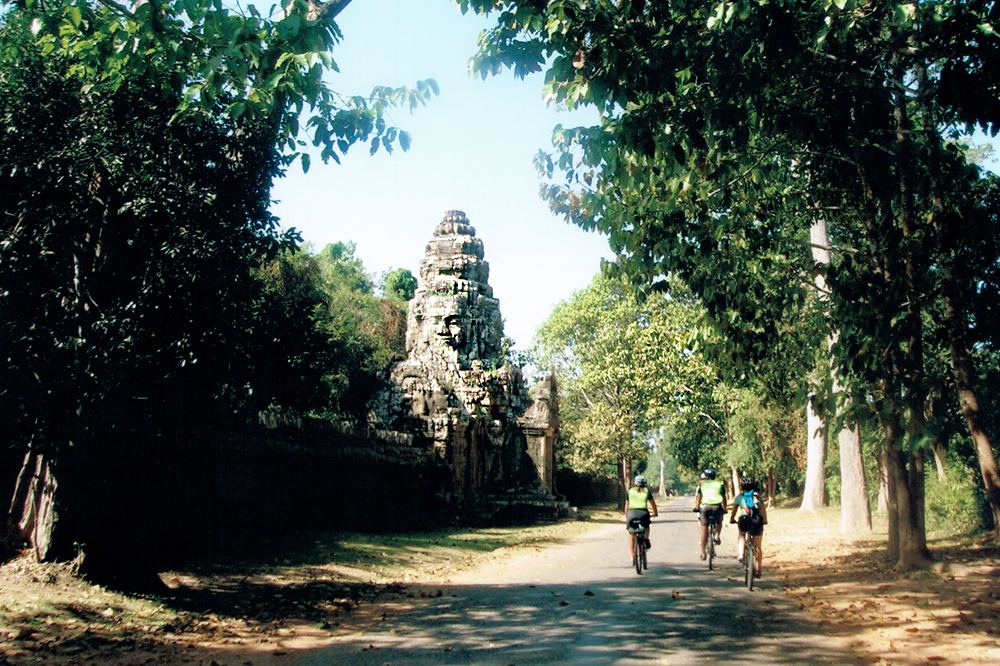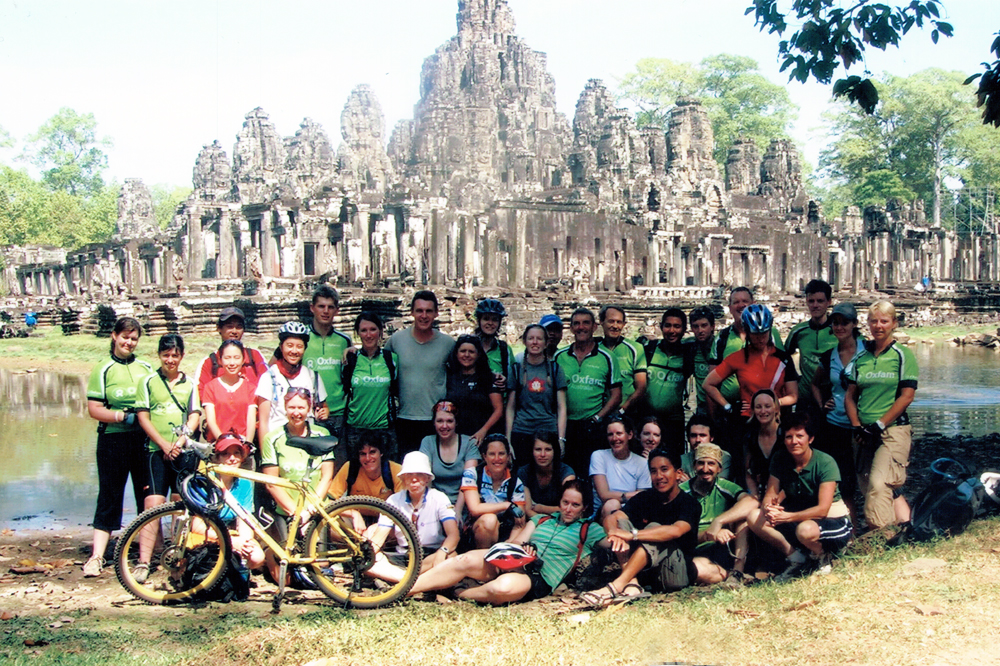 The Pre-Cycle Challenges.
The Oxfam challenge- at the time- was a fundraising challenge and a physical challenge. The goal of participants was to either pay or raise funds for their cycling trip (I chose to pay my own way) then raise an additional $2500 AUD to be able to participate in the cycling trip. Through people sponsoring my crazy decision to ride-cross-countries I was able to visit projects that are directly supported by Oxfam and report back to those who financially supported my memorial ride.
As 2006 was a little pre-social-media-boom and a time where online crowdfunding wasn't even a twinkle in a computer programming nerds eye, fundraising and awareness had to be done the old fashioned way! It was a serious challenge getting word out about my journey, but thanks to the backing of the local newspapers, schools and community clubs I was able to get a few events together with different levels of success. Most successful? An Asian food cook-up at the local school that had my amazing family working around the clock for a couple of days to prep for. Least successful? A trivia night that no-one attended but the crickets and the tumbleweeds.
The most creative was my 'un- birthday party' (inspired by the Mad Hatter in Alice in Wonderland) where I declared a day  my 'un birthday' (of which we have 364 of every year) and asked people to donate to Oxfam to help me celebrate. It was a more creative way to ask people for money that made many Lewis Carroll fans smile.
All the hard work and kind donations of time and money from friends meant that I made my $2500 fundraising target and was off to explore Vietnam and Cambodia on two wheels.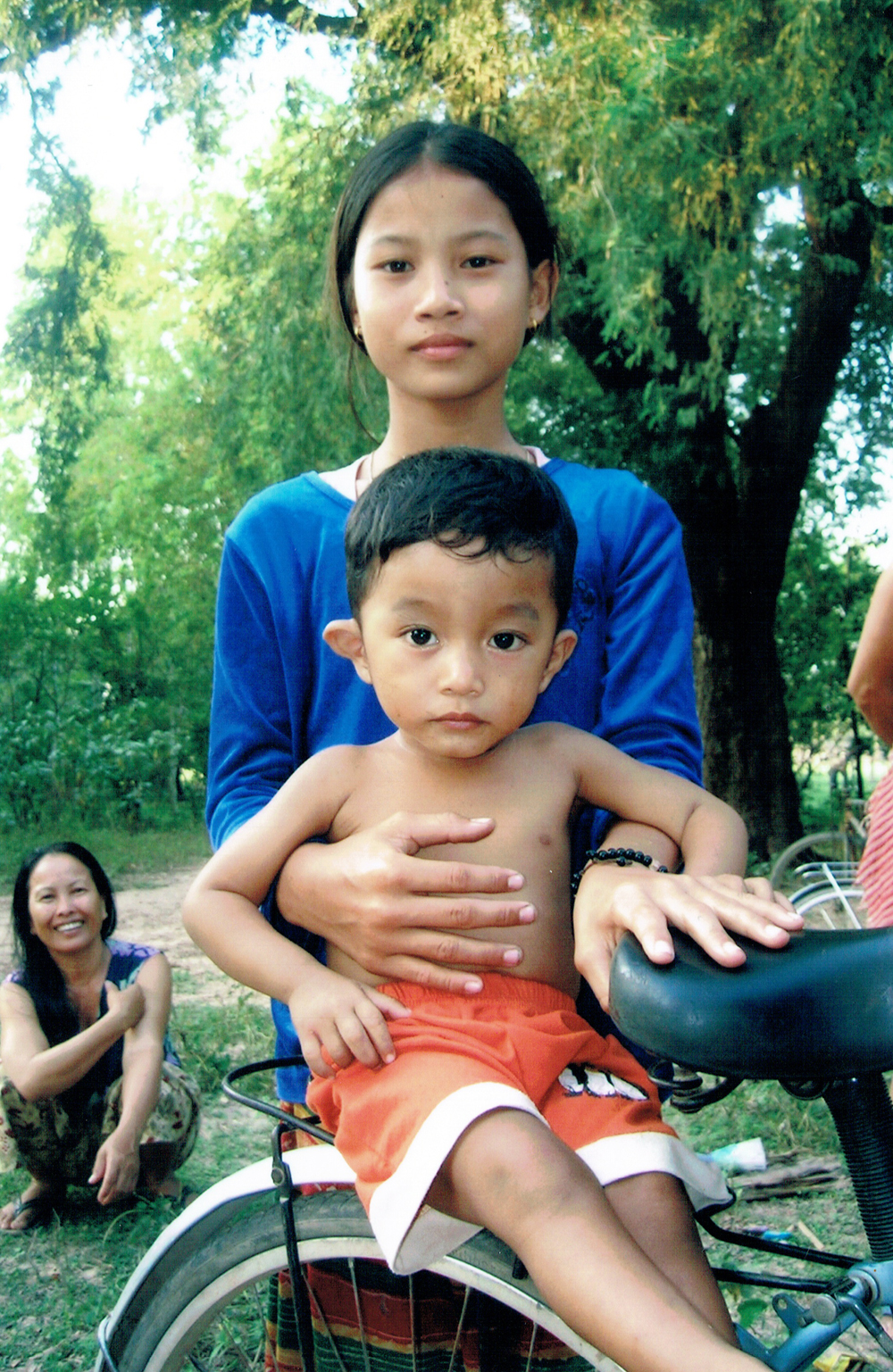 The journey is the destination.
At the time of the trip I had only ever been overseas to see my lovely boyfriend in his home country. So there had always been someone I knew at the airport to greet me. Heading off on a cycling trip through the unknown with people I didn't know was a little daunting. Day one was hard, as an introvert and the least likely person to be named 'life of the party' I felt like a bit of an outsider in my new little group of Intrepid travellers.
The trip got off to a bit of of a rocky start, my relationship with said lovely boyfriend of three and a half years had dissolved just before I left (due to distance and visa issues), so I guess you could say my mind was a little distracted. Day two it had taken such a leave of absence that I somehow managed to depart a hotel in Ho Chi Minh without my backpack. Which, after a 93km bide ride to Tay Ninh wasn't something I could easily go back for. Fortunately we were able to arrange for a cab to rectify my mistake and ensure I didn't cycle for another nine days in just one pair of shorts (that stench wouldn't have made me any friends).
Over the course of the trip we traveled across the boarder of Vietnam to Cambodia. Making our way through rural Cambodia was an incredible experience filled with friendly locals, dogs that like to chase bikes, kids on beaten up fixies that somehow managed to out cycle even the fittest of us- which I somehow ended up being part of thanks to my training sessions around the 'block' (which was actually a minimum 10km ride in any direction) on a rusty secondhand  k-mart bike.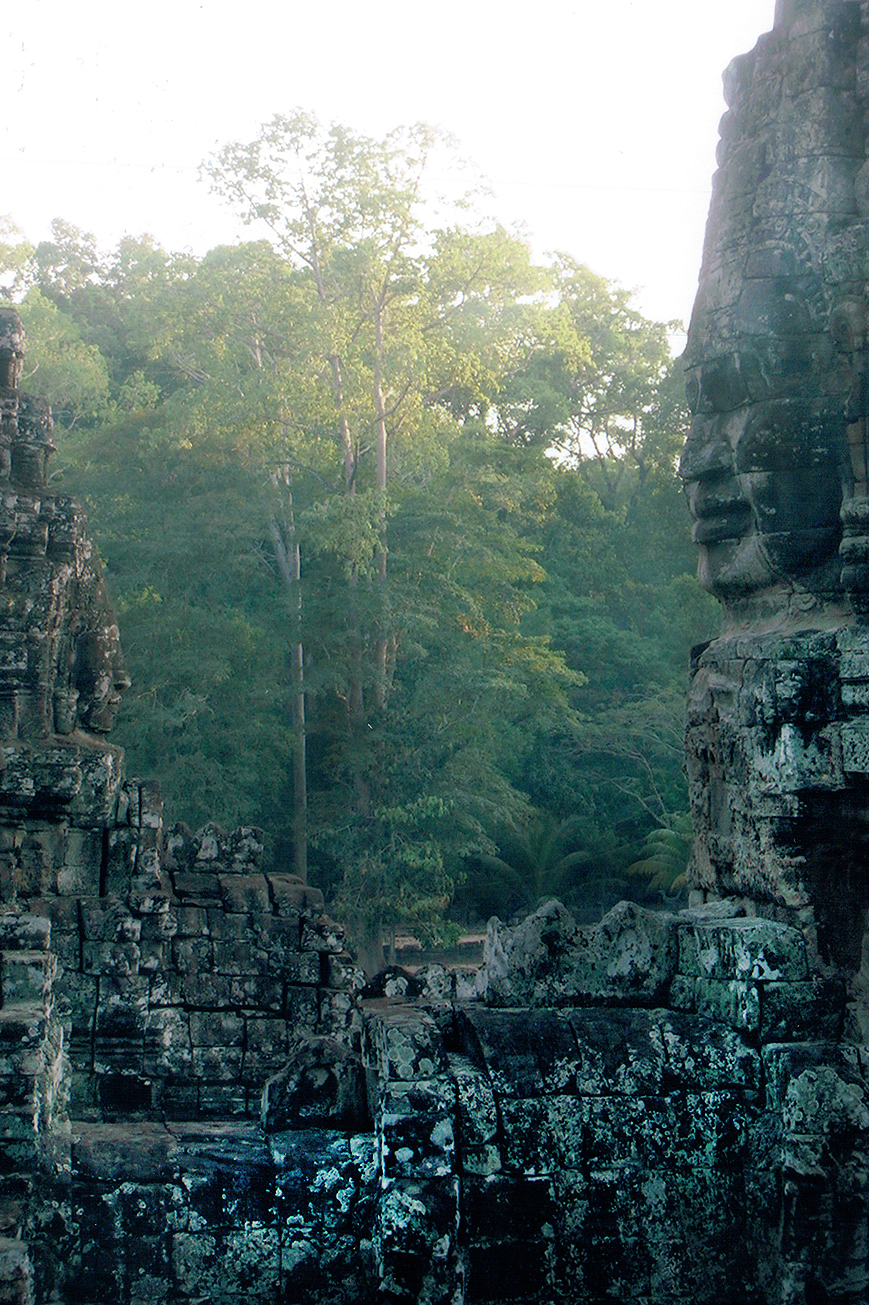 A lesson in presence and happiness.
Anyone who has been to these places would wax lyrical about the beauty of the landscape and the temples. What I found more fascinating was the people. For those not up to speed on their Cambodian history- they are a people who have seen mass genocide in their lifetimes. Where the Khmer Rouge killed around 2 million civiilans in their reign of Cambodia between 1975-1979. Under the guise of social engineering, and self sufficiency, the Khmer regime targeted those who opposed their communist movement- seeing the killing of many of the countries most educated and influential people. For the people of Cambodia, 2006 wasn't far removed from these incidents, and they were still recovering the knowledge and skills bases lost with the death of doctors, teachers and the like.
With death literally all around (land minds, victims of land minds, remnants of mass graves, torture sites, and the legacy of lost loved ones) it would be easy to forgive the Khmer for if they didn't have it in them to be friendly to a bunch of weirdos in lycra on push bikes. The love, support, caring nature of the residents of Kâmpŭchéa was overwhelmingly positive and infectious from day one. While I would love to tell you all about the places I visited and stayed, they weren't what stuck in my mind (I do have them on paper). What I truly love to remember about this trip was the faces of people I met. Every time we stopped for a break people would bring sugar cane juice over, give you babies to hold, or try to mime out a conversation with you. There was never an awkward moment and where mime failed sport and play could fill the gaps.
My favourite moment was stopping to play in a field with some kids. Alex Dyson (yes.. the one you may know from Triple J who happened to be on the same trip as me pre-Triple J) and I were encouraged to climb on a slide with some locals. However the slide wasn't a slide, it was a vertical drop on metal that had been roasting in the mid day sun. After a few attempts to photograph the sheer drop (and fear) we just went for it. Crashing down at the bottom with a thump and giggles of glee from the children (who probably never actually used that slide themselves… they likely knew better). From there it was the universally spoken language of soccer, were large sweaty cyclists tried desperately to keep up with nimble rural kids. This moment- with the stark contrast of the genocide museum and the killing fields, will always stick in my mind as a reminder that life is what you make it- every day is an opportunity for fun and adventure and the past is gone (even it's it's potentially explosive nature still exists in the corners of your mind… or your field in the Cambodian example).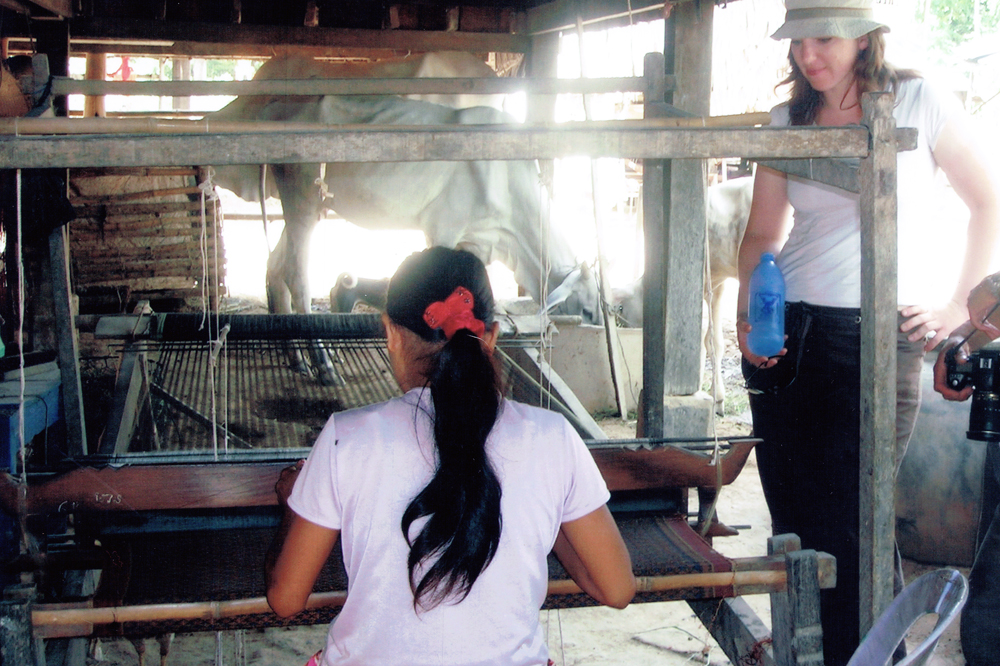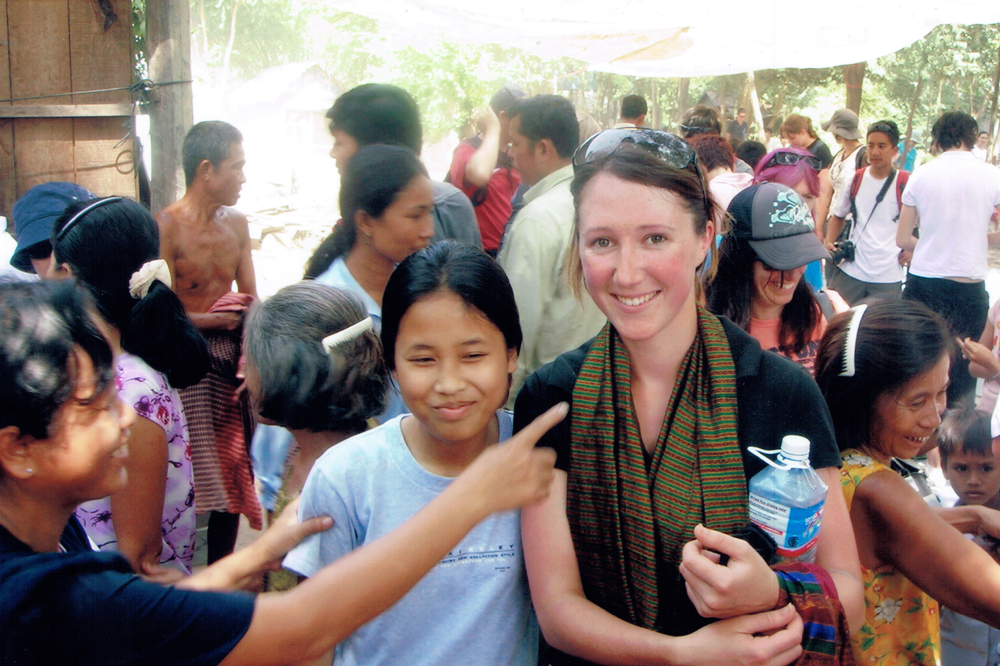 Oxfam's work in action.
Unfortunately- despite the idea of the trip being based around cycling- we were all piled into a bus for a three hour drive to the Tako provence to see an Oxfam project in action. The ride was bumpy, quite isolated, and a little bit difficult to navigate at times, so it was easy to see why Intrepid and Oxfam didn't want to be liable for our lycra clad (and very much heat rash affected) backsides on two wheels. The project was a micro financed loan to build a weaving facility for rural villagers.
The loom had been established in an open aired shed (complete with cows and chickens for company) and enabled villagers to weave silk fabrics to sell. The idea of the Microfinance loan over a straight handout is that it inspired villagers to develop this weaving industry as they required money to 'pay back' the money used to invest in capital. The idea isn't to exploit the villagers (Oxfam is a charity not a member of the Shark Tank tv series), but to give them the skills required to set up and run their own business. The proceeds of which help them send their children to school and support community development projects.
While there we were given the opportunity to watch a weaving demonstration and buy scarves from the people who made them. I selected two and the mother of the weaver spotted me wearing them. She dragged her shy daughter over and was pointing at the scarf, her daughter and myself and insisted we meet and share a photo. It was only a simple example of how people can be inspired through business education NOT charity hand-outs to better their own position, but it was one that had a lasting effect on me and my closet (the scarves still look as good as new).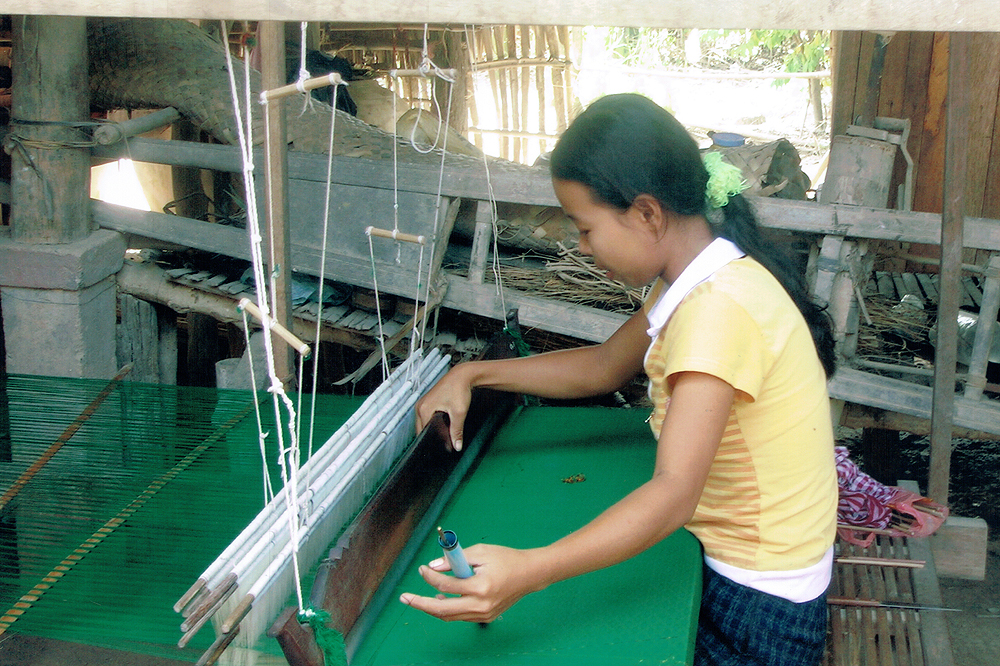 Inspired?
This story is a slight deviation from the Oxfam 'What She Makes' action, but I hope that it has shown you that having a leap of faith in your own leadership skills can really help you make a difference in areas you value. Problems in the world might seem huge, but it can be surprising how one idea can leap forward to start a lifetime of positive changes. The Oxfam Challenge for me aided in healing some personal ill's. The loss of a friend, the end of a fabulous relationship, and the movement from one stage of life to another. It inspired me to take action in other areas. Enrolling to a Sustainable Tourism degree and moving interstate didn't quite pan out in the World-wide adventures I had planned. But the closure of my tourism degree did see me shifted into my current career path in science and sustainability education. The love for sustainable enterprise, witnessing the Oxfams work, and my background in fashion resulted in this blog!
While your little actions, like deciding to pledge to the What She Makes action might not seem like it will move mountains at the time. It can start that snowball effect inside you. Moving your sustainability desires from thoughts to actions and before you know it you will be wearing natural deodorant and consider an aluminium straw this seasons 'must have' (well that's what happened to me anyways).
If you are interested in a physical challenge to support Oxfam, you can take part in their Trailwalker events. It's not quite the same format as the Challenge I took part in, but it's every bit (if not more) difficult rewarding.
Tools for Keyboard Activists.
Not all of us can afford the time, money, or energy to take on large-scale projects like a trail walker event. The digital age has however, make it increasingly simple for us to take action from the quiet corners of our living room, on the commute, or during our cycle session at the gym. If you want to take big action in a small way why not repost and let people know that you care about what she makes. Oxfam have make it super simple by providing you with graphics and captions!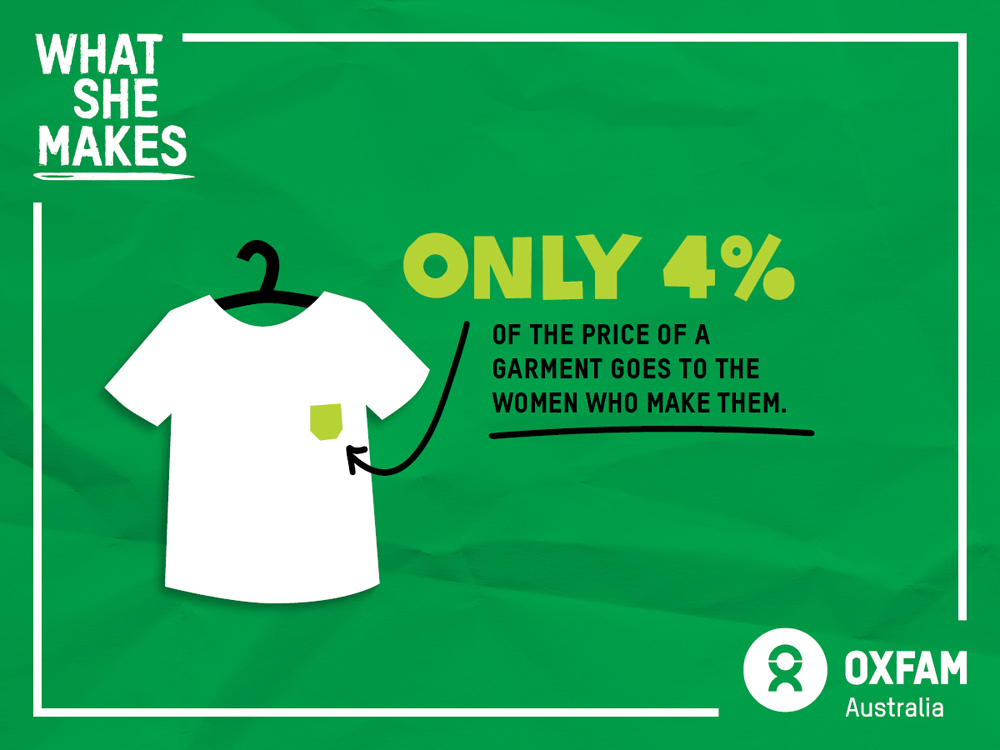 Research shows that just 40 cents of the price of a $10 T-shirt goes towards the wages of the women who made it.
Sign the pledge to demand big brands to commit to paying a living wage.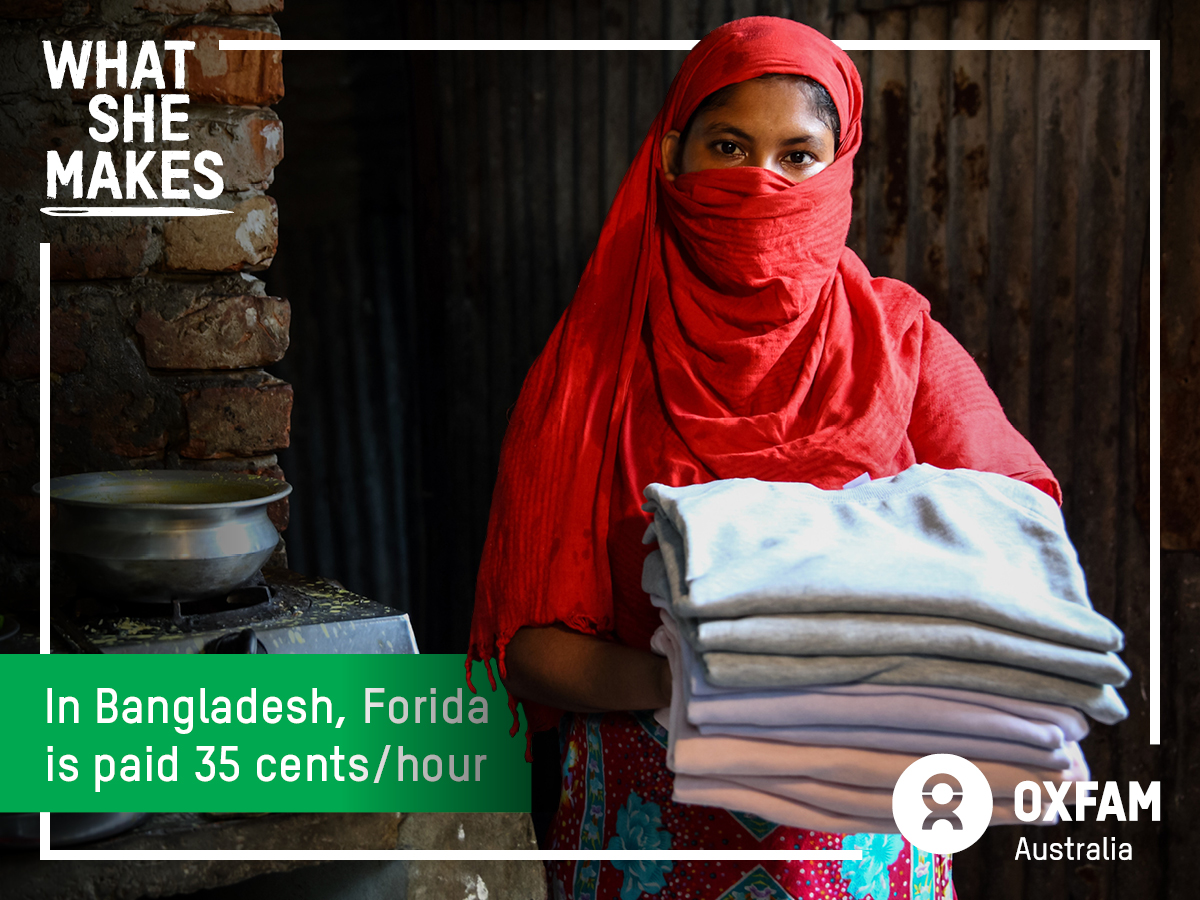 The women who make our clothes do not make enough to live on. Share to show you care about #whatshemakes and demand big brands pay women like Forida a living wage. While big, powerful brands make big money, women like Forida are struggling to survive on poverty wages.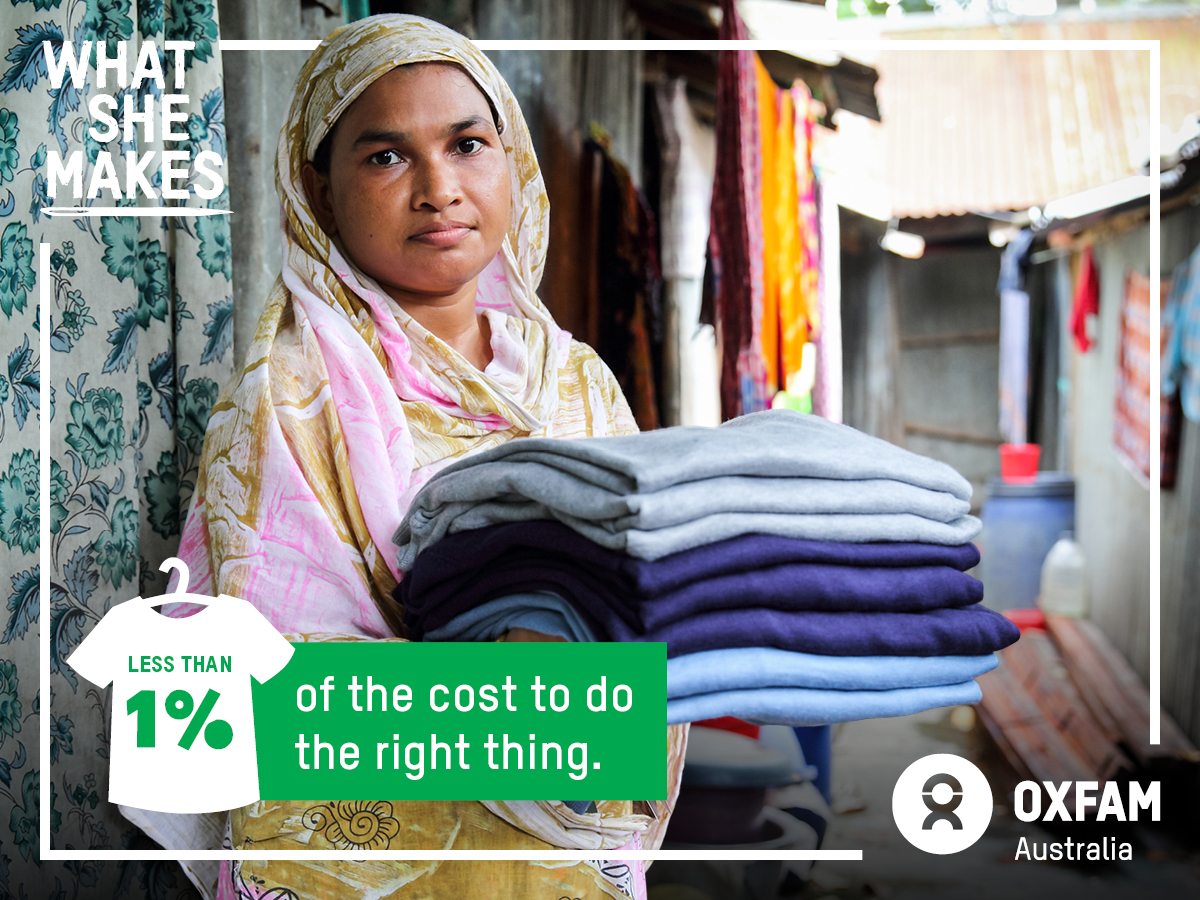 Hey Big Brands! It would cost you less than 1% of the cost of a garment to do the
right thing and pay a living wage to the women who make our clothes.
It would cost less than 1% of the retail price – that's less than 10 cents for a $10 T-
shirt for brands to pay a living wage.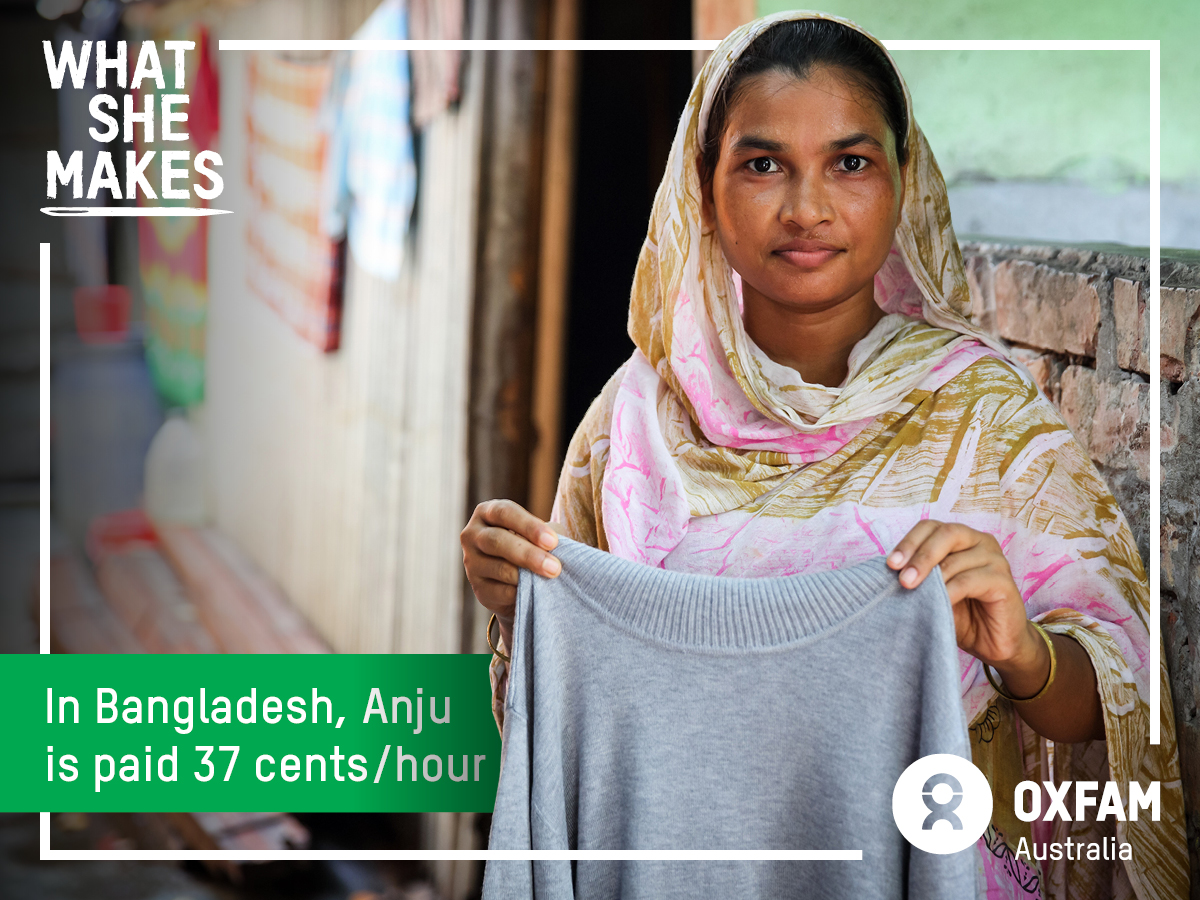 The women who make our clothes do not make enough to live on. Share to show you care about #whatshemakes and demand big brands pay women like Anju a living wage.
Or
We're all cut from the same cloth. We are people who care about how our clothes are made. The women who make our clothes are not paid enough to live on- keeping them in poverty
Make big brands rethink #whatshemakes – sign the pledge to demand a living wage.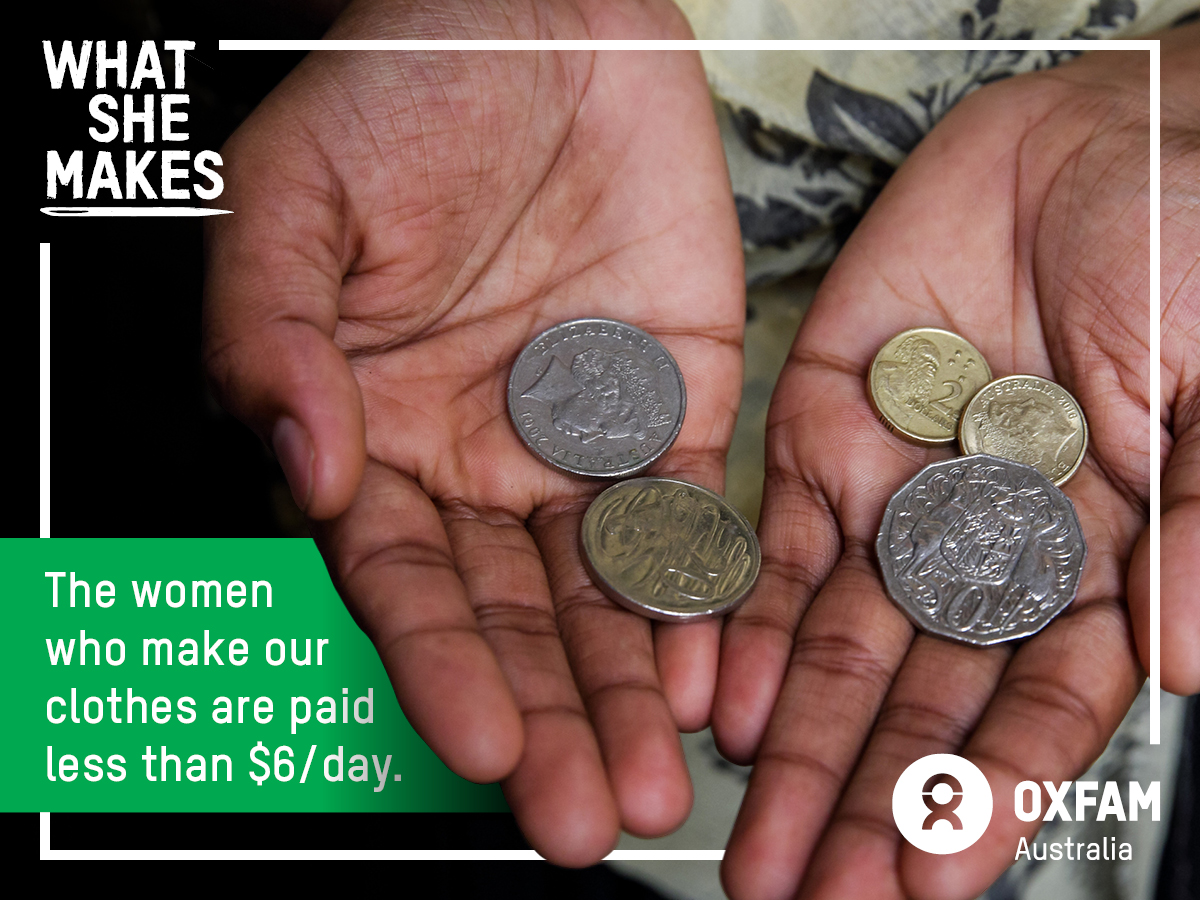 The women who make our clothes aren't paid enough to escape poverty. No matter how hard they work, they can't afford basic food and shelter for their families – wage are just too low.
This rigged system's gross exploitation of the women who make our clothes must stop. We all buy clothes and brands listen to us. Sign the pledge to demand big brands pay a living wage.
Got some thoughts about the campaign? Perhaps you have participated in an Oxfam fundraiser? Just want to chat? All is welcome below.