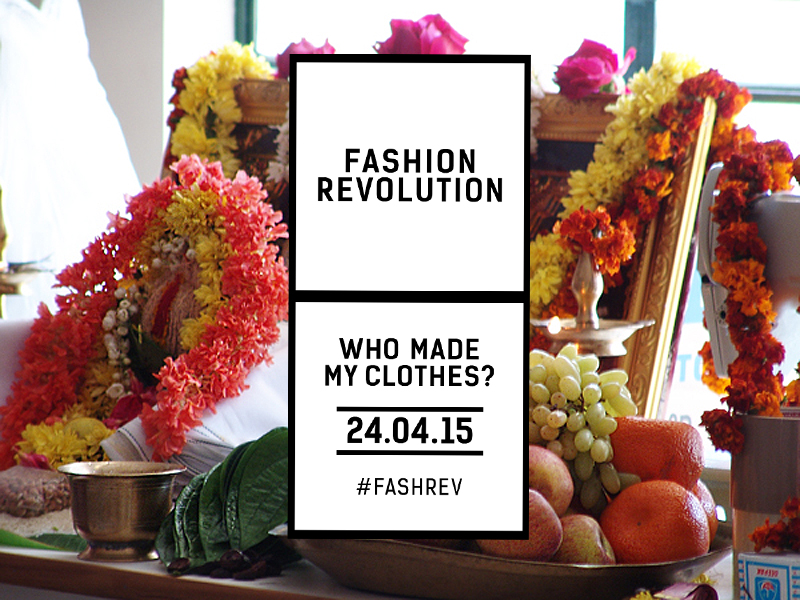 It's April which means countdown the countdown to Fashion Revolution day is on!
For those of you who aren't yet aware of the Fashion Revolution Day let us introduce you. The revolution began on April 24th 2014, one year after the Rana Plaza factory collapsed in Dhaka, Bangladesh killing 1133 garment industry workers and injuring over 2500 others. Spurred on by this event the crew at Fashion Revolution have a mission they want to share with the world. A mission that believes in uniting fashionistas world wide to create an industry which values people, the environment, creativity and profits in equal measure, and that it's everyones responsibility to ensure that this happens.
The aim of Fashion Revolution Day is to create awareness throughout the entire fashion supply chain, asking the real question of 'who made my clothes', and to show the world that change is possible. There can be a bright and ethical future for the fashion industry.
Fashion Revolution Day asks you to be curious about your clothing. Start thinking about who made your clothing and where it came from. If you can't find out about the supply chain of your clothing then get in contact with the brand who made them. The folk at Fashion Revolution Org suggest taking a selfie with your garment on inside out posting it to social media and asking the brand 'Who Made My Clothes'? And sharing any answers you may get. There are lots of resources available on the website to help you find out more about your fashion and loads of suggestions on how to get involved.
I hear you ask 'why discuss Fashion Revolution day so early on?' Good question! For the month of April Sustainability in Style will be focused on exploring the question 'Who made my clothes?'
So stay tuned for plenty of fashion-related goodness in the upcoming weeks.
The photo above is from the opening ceremony (called a Puja) of one of the garment factories I had the opportunity to work in when I lived in India. To the right you can see a well decorated sewing machine and to the left some garment patterns.