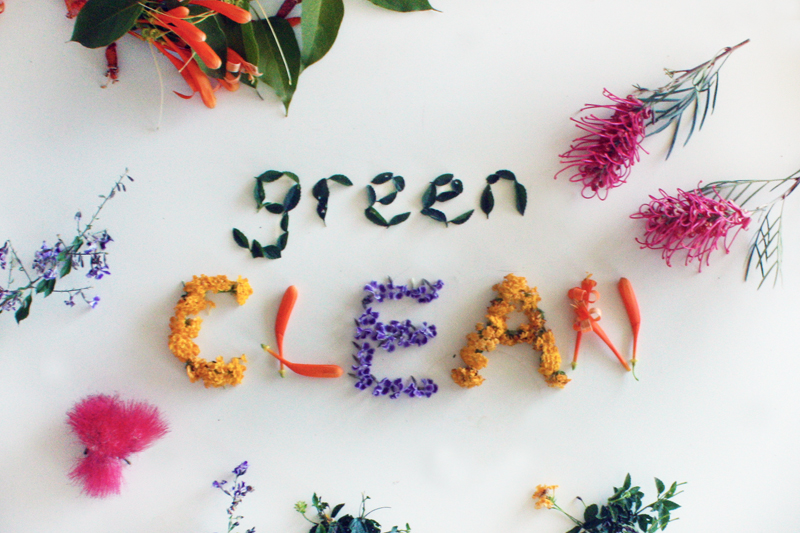 Cleaning Green 
Cleaning products are a tricky one.
The advertisements on television tell us that visitors judge us by how clean our toilet is and that our floors need to be spotless enough to eat off to ensure the health and safety of our family. While household hygiene is always a good way to win friends and influence people, there is a growing concern over the use of chemical based cleaning products and the effects they can have on your health. A quick look on Google Scholar is enough to scare most every day folk away from the heavy duty cleaning products with studies linking aggravated asthma to cleaning product use and further studies into the levels of air pollution of cleaning products and air fresheners that can contain ingredients that are recognised as carcinogens or reproductive toxicants. Scary stuff!
Health concerns aside many modern cleaning innovations are horrendously wasteful and expensive. Disposable floor mops, stainless steel wipes, antibacterial wipes, you name it, it exists! Most are chemical laden, end up in landfill, and in many cases are non-biodegradable. Even paper towel, while biodegradable, still requires resources to arrive at your home and sometimes comes plastic wrapped (sometimes even the recycled variety is plastic wrapped). These attempts to keep our houses germ free are making loads of landfill and use unnecessary chemicals.
Let's Chat Green Cleaning
Yes, cleaning probably isn't the most stylish of topics, but having a functional (and in my case pet-hair-free) home makes loads of time for more fun filled activities! I am by no means a cleaning expert or even very good at sticking to a cleaning agenda but when I find a time saving product that works without chemicals or waste I can't help but tell everyone I know about it.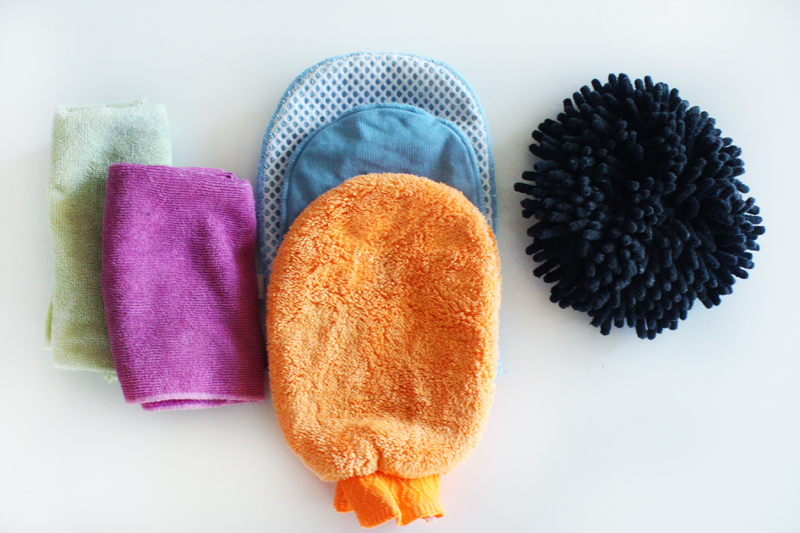 Synthetic or Natural?
One thing you may have noticed from the image of my cleaning goodies above that many of these items are made from non-biodegradable materials and yes, this is an issue that should be seriously considered when buying there products for the first time. You may prefer to opt for chopping up an old towel or sheet to use for dish cloths. However that yucky static feeling that happens when you wear synthetic clothing is the secret trick to why these synthetic products work so well. The static attracts the dust and pet hair meaning an effective and quick clean. You could easily get the same results with natural fibre products but it would be a whole lot more scrubbing, dusting and sweeping (a good way to build up your arm muscles).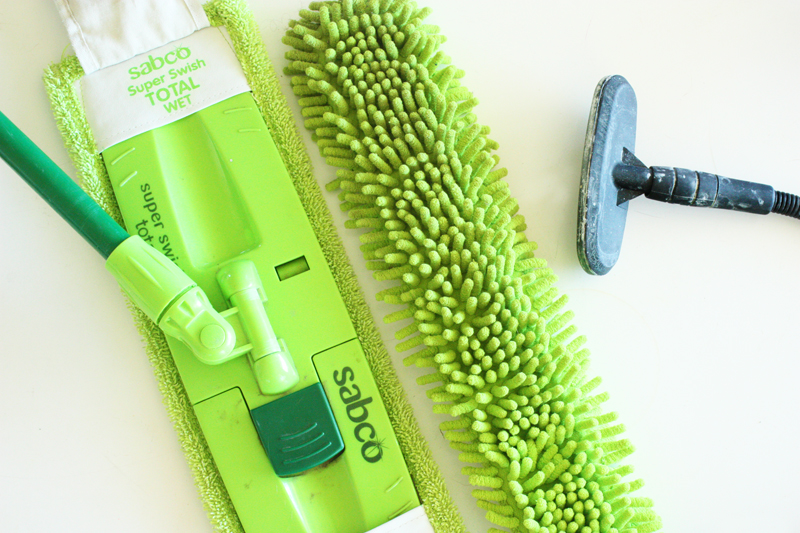 Weighing Up Your Options
This is where we look at a cost benefit analysis. If you are a busy person who has kids/a job/ an empire/ a secret superhero identity and you don't have time for cleaning, you might be more likely to find yourself reaching for the disposable wipes. If you purchased a collection of dust and dirt attracting synthetics that are an easy clean then you will (in my experience) easily seven years plus worth of use out them. The cost is a small initial outlay and a bunch of synthetic cloths and the benefit is you can clean quickly, avoid disposable and chemical laden cleaning products, wash and re use your items for years to come.
If you like to really get stuck into cleaning and/or don't want to buy anything special for cleaning purposes then you could easily opt for natural biodegradable options. Cotton cloths are great for cleaning and will attract dust and dirt especially if damp. Cotton cloths will hold food particles so if you are using them for dish cleaning cloths then be sure to wash them out and give them a good air in the hot sun to  kill bacteria. You will go though far more cotton cloths than you will synthetic but you can use old clothing and linen to replenish your supply. If you have too many cleaning cloths but still want recycle old linen and towels there are ten alternate ideas here . It will cost you more time to clean this way but it is recycling and you can compost your old cloths. There is an article here that discusses the ways to dispose of old cleaning cloths and also contains info for rags that have been used for more hazardous clean ups than your average spilt milk issue.  For those on a zero waste path there is a really good resource here on alternate solutions for household items including cleaning tools.
Another option would be to chop up your old synthetic clothing and sports towels and play around with getting a 'micro fibre cloth' style system that works for you. There are loads of DIY's out there on how to reuse your unwanted clothing and textile waste but I especially liked this up-cycled polar fleece as an alternative to  (eventually) disposable mop heads as anyone out there with a pooch or moggy will know how much polar fleece attracts pet hair!
Whatever option you choose there will be laundering involved with reusable cloths. As laundering is often one of the most CO2 intensive parts of a products lifecycle it's important to make sure that you launder thoughtfully. Wash your cloths in cold water, use an eco-detergent, and line dry.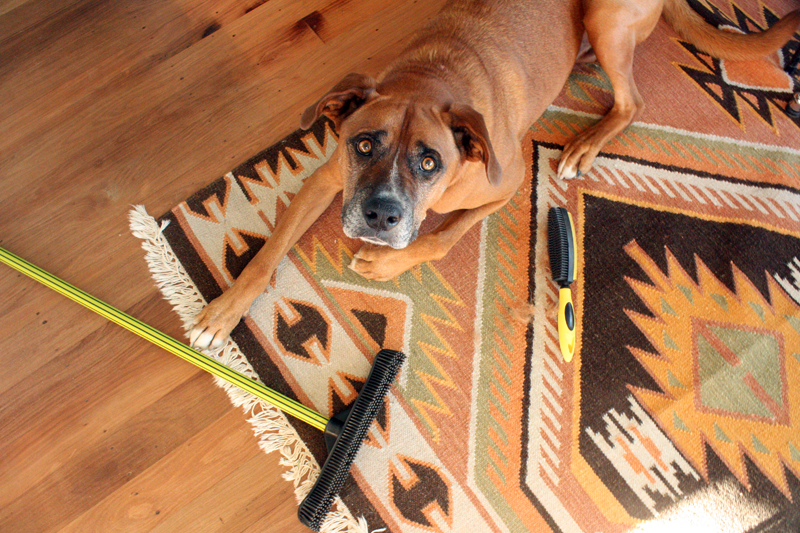 My Cleaning Options and Recent Purchase
I ended up with synthetic cleaning cloth options out of curiosity, frustration, and not really thinking much about product end-of-life. In my early 20's I was a cleaning novice and couldn't work out why everyone else's houses looked so much cleaner than mine or how my mum could make my bathroom so sparkly when she came to visit (you can't stop that woman from cleaning). I soon leaned about microfibre cleaning and slowly collected a variety of microfibre mitts, wipes, bathroom cloths, dish washing cloths, dusters, mops and glass cleaning wipes. The cloths, while non biodegradable and purchased before the notion of biodegradation had really crossed my mind, have been with me for years and make my life so much easier. None of them are showing any signs of retiring yet after years and years of rental house inspection cleans/ bond cleans/ and the 'oh shit we have visitors coming' cleans and I'm hoping to make a decade plus worth of use out of them.
I have read many posts that say these types of cloths loose their absorbency or cleaning capacity with washing, however as they are synthetics they aren't ever going to be as absorbent as a natural fibre and as long as you follow the instructions don't wash them with fabric softener in my experience, they seem to keep on keeping on! Another purchase I made a few years back was a steam cleaner. This uses fossil fuels and is made of plastic, but it was the only thing that EVER worked on getting years of soap scum and rust marks off the old claw foot bath in my previous rental house without the use of any kind of chemical based cleaning products. This steam cleaner has since been used for everything from cleaning walls for bond cleans to steaming the sofa and dog bed clean. It doesn't get used as regularly as other products but when it does it is well worth it's cupboard space. With the longevity of my speciality microfibre cleaning cloths and the functionality of my steamer in mind I recently opted for a rubber broom, and rubber lint brush. I'd been trying to keep things pet hair free with the old rubber glove trick but this takes a long time and isn't the most user friendly option for large floor rugs. Ouch! My knees!
Why rubber and does it work?
After just a few days of owning a rubber broom the house has the least amount of pet hair it has ever had. The seller of the rubber brooms mentioned they last up to 10 years of heavy duty cleaning but he has heard stories of 20+ years of household usage. Carrying the broom around the Garden expo we purchased them at resulted in random people kept coming up to tell us their stories of rubber broom ownership (who would of thought carrying a broom would be a way to meet so many people) with some saying it has been the best cleaning purchase they have ever made. I'm excited about my pet hair fighting purchases and hope that they last me a lifetime of cleaning. The issue with a rubber broom is that it is not bio degradable in the way that a straw broom is, but a straw broom isn't really a suitable tool for fighting sticky pet hair situations. We have a reasonably good pet hair vacuum but that uses fossil fuel power, is made of plastic and still leaves traces of pet hair on rugs and couches so it doesn't really do it's job 100% effectively. This rubber brush kicks the butt of the vacuum cleaner and will likely outlive it as well! The rubber lint brush is the most exciting purchase for a passionate fashion lover with a furry friend. It has hit the mark of eliminating the fur factor on clothing without the need for those horribly wasteful disposable lint rollers. Prior to this purchase I've just dealt with being a little hairy, or resorted to rubber gloves for removal. Now I am footloose and fancy free in my favourite black jeans with zero traces dog hair.
Wrapping it up
Anyways…. Sorry for the cleaning ramble. I was not paid by any of the companies above for my reviews. Just stupidly passionate about time saving cleaning and wanted to share what works at my home. At present the only cleaning 'products' purchased for our household are bicarb soda, lemon, and vinegar (which can be used for pretty much everything) and we refill our Kin Kin naturals laundry liquid and dish wash liquid at our local whole foods market. Which means the cash spend on keeping things clean is VERY minimal and saving money is always a good thing.  How do you clean? Is it green? Do you have any great cleaning stories your want to share? Please feel free to rant, rave, and/or shout from the roof tops about your favourite ways to clean green. Whatever way you choose to share your love for cleaning green please make sure you also let us know about it in the comments section below because sharing is caring.
xxx