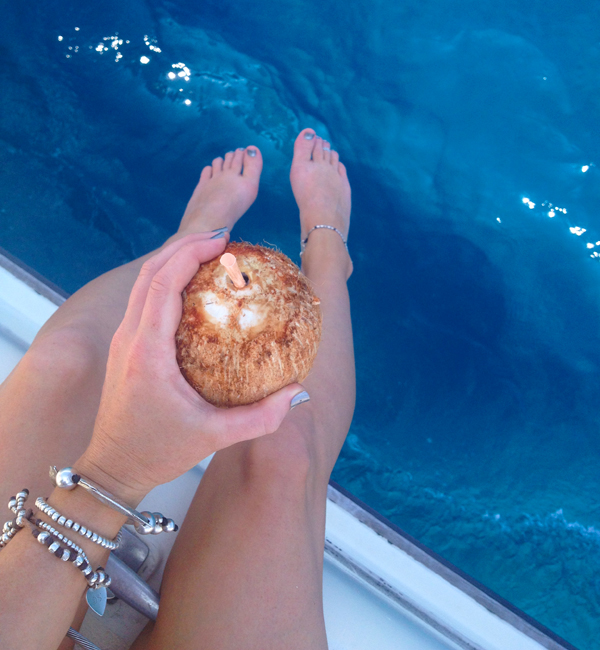 In a lot of cases being authentic or 'real' is best.
But when it comes to tans, faking it is totally acceptable if not preferable (unless you are willing to risk skin cancer and premature ageing). As someone who comes from a long standing family history of skin cancers and has recently assisted in a skin cancer research project I love a fake bake!
In the past I have used whatever has worked for my skin regardless of eco credentials (my all time favourite was Golden Glamour by Sugar Baby) but having not bothered with the fake bake in the last 4 years I decided to go on the hunt for a new eco-bronzing option prior to my recent holiday/elopement in Vanuatu. After reading good reviews about Eco Tan Invisible tan I snapped one up and applied it prior to departure. As promised it didn't smell 'tannish' at all which is one of the reasons I haven't fake baked in a long time as my man hates the smell. It also lived up to the dubious promise of  'not staining sheets' which I thought was a big call in tan land!
After one application I woke up looking naturally bronzed and totally streak free and was ecstatic to have a great tan before the holiday even began. You know your tan is good when random people start commenting on your 'holiday glow'.
Two days later I made the HUGE mistake of re-applying in a VERY dark bathroom. I rubbed the tan in as per normal but given my great results with the prior application got a bit slack about making sure I had rubbed my knees, elbows, and feet with a towel after application to make sure they didn't soak up too much tan. I also didn't have any bi-carb nearby to give my hands a scrub so I did a lazy attempt with the hotel soap and a face washer.
The next morning awoke looking like an oompah-loompa.
Totally freaking out about getting married with orange hands and feet meant a dash to the supermarket to pick up some bi-carb, and the pharmacy for a loofah. After a very serious scrub my limbs looked a little less orange and the freak out subsided… The rest of the holiday I remained beautifully bronzed.
So overall I would give this product a 10/10 as long as you aren't silly enough to slap on a hap-hazardous second coat in the dark (living on the edge I was). I am very glad to have found such a wonderful product that fits the eco-credentials.
*This post is an honest review of the product and I am in no way affiliated to Eco Tan other than their super kind repost of my bronzed legs on a catamaran. As they say sharing is caring and the more we know about products the less time, money, and resources we waste trying to find ones that work!