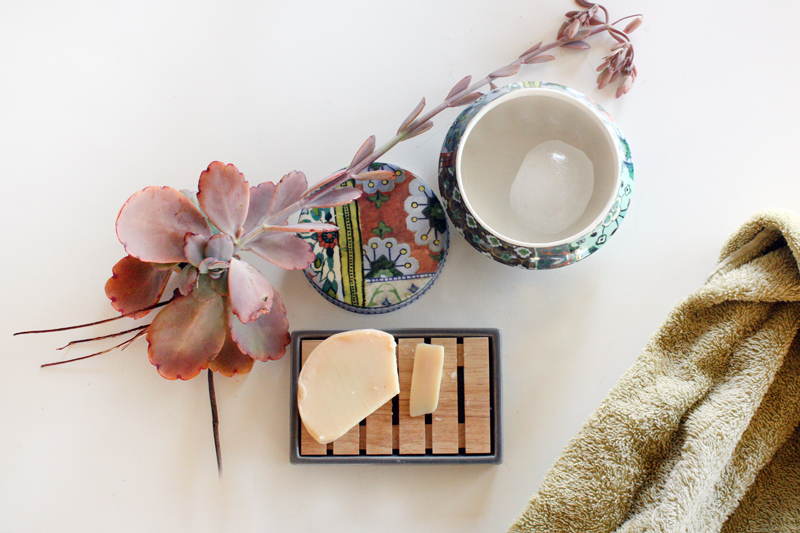 Who would like to clean up their act in the bathroom? Yes… you… with the hand up in the air waving excitedly at me. Good on you for wanting to be a clean, green, gorgeous gal or guy. In an effort to cut back on the amount of waste coming out of my bathroom I went on a quest to find a effective face wash option that works and doesn't cost the Earth. My quest lead me to the HerbaCraft Gypsy Rose Pawpaw, Carrot, and Orange Dry Skin Face Soap which at a small instalment of $15.75 AUD has been one of the best eco investments to date. The facial soap comes in a cardboard carton and the soap itself is wrapped in plastic. This may seem a bit dicey and un-environmental but the longevity of the product is MIND-BLOWING. I purchased this bar around 8 months ago and have chopped wedges of it off as needed and kept the rest wrapped. At the rate I'm going to be set for face soap for the next three years (as long as I keep it well wrapped and it doesn't go off).
I know what your thinking… Ewww….soap for your face. This is what I thought when I purchased it as I am usually a cream cleanser kinda gal. However the product is quite creamy and as long as you follow the instructions and don't rub it all over your face for too long and it doesn't seem to dry my skin out in the slightest. It also removes my mineral makeup and/or plant nursery dirt and grime with ease. Karen, maker of Gypsy Rose products suggests that there is no need for moisturiser but I personally prefer to use one and/or some rose hip oil in the evening.
Gypsy Rose products are hand made in Australia from 100% Biodegradable products (other than the plastic wrapper), and use cold pressed oils, 100% essential oils, vinegars, teas and rainwater. Their packs are hand labelled by Help Enterprises which is a Australian Disability Enterprise scheme that employs people with a disability in a safe workplace environment. Their products are not tested on animals and all are vegan aside form the 'Normal' facial soap mixture and the 4 Use Hairspray. They are proud of the super concentrate and long shelf life of their products and my bar of facial soap can certainly vouch for that! In fact I liked the soap so much I sent some to my dad who has since gone on to purchase more of it. There you go, a facial soap that has the D.A.D. (that's what he likes to call himself) seal of approval.
Also pictured is a salt crystal deodorant. You might remember that there was a time I went on a quest for a natural deodorant that works.  I shared here the one brand that I found that kicks stinky pitts and smells divine but have since moved on from it because the packaging wasn't recyclable in my area. After many failed attempts to make my own deodorant I got vocal with some friends and found out many of them didn't bother with deodorant. I've since learnt through trial and error (and forcing hubby to judge whether or not I stink) that the only time my armpits get stinky is when eating food that doesn't agree with me or when wearing synthetics. If garlic (which is death to me) or fried foods cross my path I whip out the rock crystal deodorant the following morning apply it to post-shower-pitts and get on with my day.  This salt crystal came in just a small plastic bag from a whole foods store so there is no direct link but if you google 'crystal deodorant' you should find one that suits your budget and packaging needs. They last a very long time.
Pretty amazing to think that if I told my early 2014 self that by mid 2015 you would wash your face with soap and think deodorant is optional that me 2014 would have baulked at the idea and thought 'you feral hippie'. But here I am 2015 stink free with clear and happy skin feeling damn fine about not polluting the planet.
Do you have any product suggestions?
Perhaps you want to tell us about your armpits?
Let us know all about them in the comments section below.