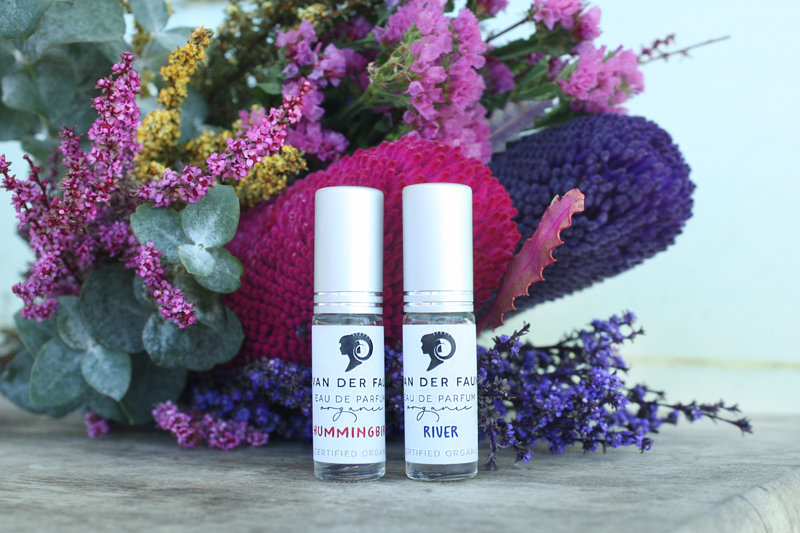 When the lovely Maria at Brisbane based perfume house Van Der Faun got in contact with me to ask if I would like to trial their fragrances I jumped at the opportunity. Many of you out there may know that finding the right fragrance for your skin is hard enough. Add into the equation finding the right fragrance without the added chemical nasties and suddenly the whole process seems daunting and you are likely to end up crying under a table somewhere into your green smoothie or bottle of vodka (depending on how bad the experience was).
Van Der Faun intrigued me with their modern, dreamy aesthetics and I couldn't help but loiter around the letter box waiting for my friendly postman (who for some reason every dog in the street dislikes) to deliver the goodies. As per request they arrived with minimal packaging, thank you Van Der Faun, and I was ready to go.
There are two fragrances to choose from at present. Hummingbird is described as a 'light, sweet and flirtatious scent' with a base of Patchouli and Amyris and the delicious blend of rose, honeysuckle, geranium, bergamot and palmarosa. As a lover of light and sweet scents this was my first preference for testing. Upon application the fragrance was quite strong so a little goes a long way. Unlike many natural scents I have tried this one had staying power and seemed to develop nicely as the day went on. After a few hours of wear the patchouli base had softened and I was left smelling of roses, honeysuckle and geranium. A nice way to see out the day and a successful fragrance trial!
River is the 'big sister' fragrance of the two. It is a 'warm, spicy scent with a fresh citrus overtone, soft wild flower notes and a solid earthy base'. With a mix of neroli, geranium, bergamot, sweet orange, patchouli, cedar wood and clove bud the aroma is strong, sensual and bewitching. I could imagine this fragrance being so beautiful on a powerful and seductive woman. Alas, as a woman who is regally described as 'nice, sweet, and cute' (despite my best efforts to dress like a bad-ass biker or Johnny Depp) River was too powerful for me. Not one to be wasteful there is a certain Leo lady in my life who is strong and powerful who would wear this one well so my River sample will be sent to my lioness of a mother to try out. Might see her swapping from her favourite traditional scents (namely Opium by YSL) to this organic beauty.
Overall I really enjoyed the experience of trialling these two fragrances and would recommend them for organic kudos, super pretty aesthetics, scent staying power, and the nicest customer service. If you lean more toward the lighter side of fragrance then opt for Hummingbird. If you are a strong fragrance lover (it reminded me of the power of the CHANEL coco mademoiselle fragrance I was gifted once) then you will fall in love with River. Look forward to seeing how things progress at the house of Van Der Faun and what delicious new ideas they may have in store for us in the future.
Thanks for the opportunity to test your beautiful products out Van Der Faun.
Note: Sample products for this post were gifted to me by Van Der Faun. The review is based on my honest personal experiences with the product and was not a paid review. This post was written with the intent to share advice on sustainable beauty products with the lovely readers of Sustainability In Style so they can feel assured they are making the right decision when purchasing beauty products. If you have any favourite organic or natural perfumes you would like to share with us please comment below.