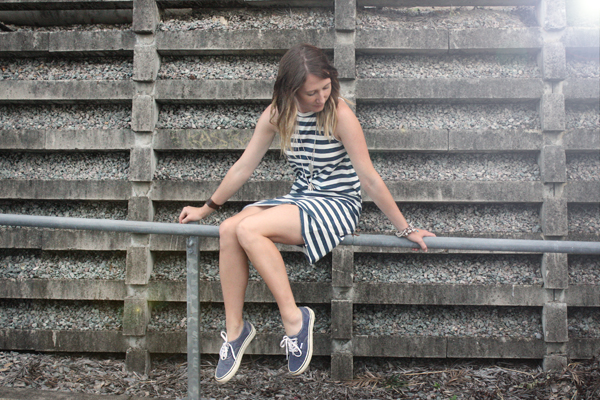 Having owned my post-Wardrobe-Workout Vege Threads basics for some time now I can safely say all have been well and truly tested.
The Australian company are committed to sustainability and social awareness. When I made my purchase their organic cotton, plant dyed basics were made in Indonesia with a percentage of proceeds of sale going to their sponsor foundation. Since then Vege Threads have been certified by Ethical Clothing Australia and produced their first Australian made collection using Australian made and dyed organic cotton and natural plant dyed tencel. Their small range of kids clothing is still produced in Indonesia and Vege Threads work closely with the manufacturers to support skill development in the communities they work with.
My closet is host to the following organic cotton Vege Threads items:
One striped dress (as seen above) in size Small
Two mens tees in a size Medium
Two ladies tee dresses in size Medium
A basic ladies tank in size Large
None of which are available on the website any longer as they are from last season but I thought I would share my experiences with the brand in case anyone is on the hunt for new basics.
From my personal experience I believe that Vege Threads clothing runs true to size. Being an Australian ladies size 8 the size small is a perfect fit on me. As  I live in a hot climate my tees and tanks are always bought oversized because I am convinced that no-one wants to see my sweat stains! The mens size medium tees work perfectly and have been worn just about everywhere; from camping trips and fishing adventures, to lazy Sundays and interstate flights.
Due to the natural dying process Vege Threads items need some special care in the wash. An 'eco wash' detergent ( I have used this DIY recipe on my Vege Threads before with great results) preserves the colours and  will ensure your threads aren't exposed to any harsh chlorine based cleaners. Once wet be sure to hang your garments somewhere shady to dry. Natural dyes can fade faster, so if you love it the colour it is, be sure to keep your clothes shady.
When my Vege Threads arrived I had an issue with one of my t-dresses where the colour had severely faded on the shoulder (my guess was sun exposure in the show room or store room). When I contacted customer service they were very apologetic and offered for me to send the item back for a full return but as it was the last one they couldn't replace it. Rather than waste two lots of postage I purchased an indigo dye (it was an indigo tee) and dyed over it with pretty good results.
The tank top was a lovely surprise gift from Vege Threads who had noticed my 365 Day journey and snuck it in as a congratulations when I purchased my basics. Unfortunately the colour didn't suit me but after a quick over-dye it has become one of my favourite tanks. The striped dress had a makeover when I shortened the hem (hubby said I looked too much like a liquorice-all-sort with it long). Still haven't decided what to to with the leftover fabric.
Overall my experiences with Vege Threads have been incredibly positive. Several months on and my items have aged well with a nice gradual fade and softening of the fabric.
Hope that this is helpful for anyone out there who is on the hunt for new sustainable basics.
Do you have any brand suggestions for basics or feedback on the Vege Threads Label?
This is an independent review and is in no way affiliated with Vege Threads. All items aside from the tank top were purchased with my own hard earned cash. The tank was gifted without any pre-tense for product promotion, the Vege Threads team were just being super nice about my Wardrobe Workout challenge ending.