SUSTAINABILITY
SIMPLIFIED
SIMPLIFYING SUSTAINABILITY
If you've found your way to this take action theme then you're probably interested in demystifying sustainability. Taking the great big wicked complex idea that is sustainability (real sustainability not the green-washed version you see in marketing) and working it from its abstract wicked-complex context, to simple values based actionable plans for your Sustainable Self to successfully enact.
The content we cover this month ties together the approach we take to guide your year of sustainable action in our Self-Coaching planner, with some of the free resources that exist on this website.
Join us now as we start with an exploration of what sustainability REALLY means (in its wicked complex glory), understand how your Sustainable Self fits into the picture, identify what your values are and how they can be used as a navigational system, and scale the wicked complexity back to simple, easy to implement actionable steps for sustainable living success. 
The outcome?
Your Sustainable action plan simplified!
Let's get started. 
This post is your part of our  'Sustainability Simplified' content. If you love it, click the 'back' button for more information about living life in Sustainable Style.
UNDERSTAND SUSTAINABLE SELF
This is the first of four stops on our path to simplify sustainability.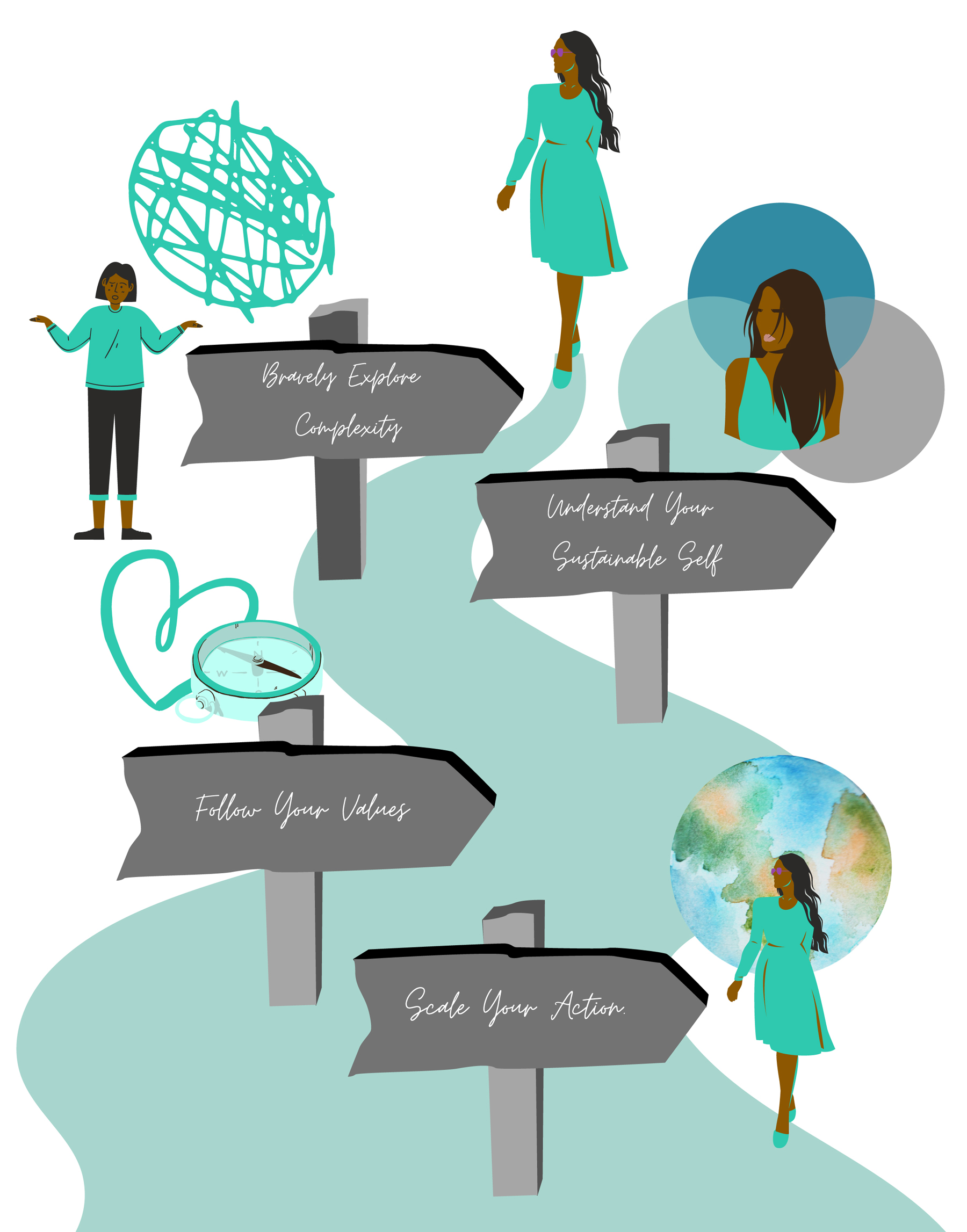 When we actively choose to live life in sustainable style we are often left wondering where to start. With an abundance of wicked environmental, social, and economic problems at the forefront of our global and local news it can be difficult to select what resonates and where we can make the most impact.

 

We might start to address a global issue like oceanic plastic pollution from the top down. Attempting to find ways to save our seas. Innovating, researching, and exploring. Pouring our all and resources into making this our personal mission to rid the globe of plastic waste. While a noble and totally valid cause. Scale and holism can cause us (and sometimes those around us) to suffer.

Sustainability is the balance of three pillars; environment, society, and economics. The place where three key parts of our lives and livelihoods as humans are in harmony. This, used from the larger (macro) scale has been a driving force for finding ways to solve humanities wicked (complex) problems. Many of us start our sustainability journey with this focus on the large scale, a scale where problems are so complex that world leaders or billionaires can't uncover solutions. We fight hard, learn, live, fail and get frustrated. We may dust ourselves off and keep trying but there is a constant battle to maintain momentum in the face of problems that won't quit!

To simplify sustainability we've adopted a fresh view of these pillars of sustainability opting for a micro (smaller) focus on sustainable self. The sustainable self is a holistic approach to taking sustainable action where we balance attention between environment (home, work, places of worship, recreation spaces, and local landscapes), economics (your time and financial budgets), and social connections and commitments (friends, family, online, acquaintances, colleagues, local community groups, religious congregations) to avoid spreading yourself too thin or loosing focus on what matters to you for truly sustainable (i.e., ongoing) success in Sustainable Style!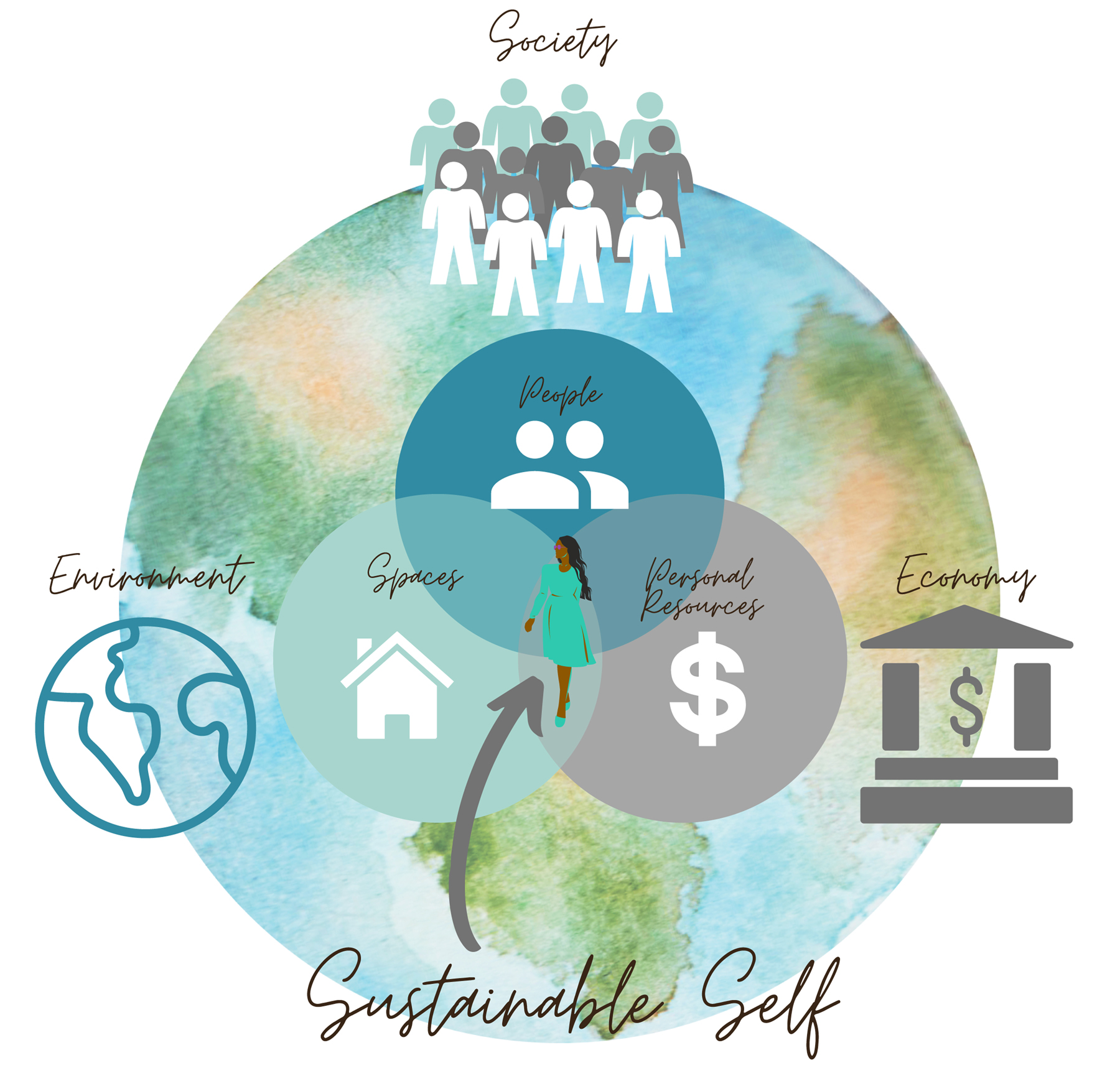 If you want to explore this in greater detail we have a whole take-action theme based on Sustainable Self.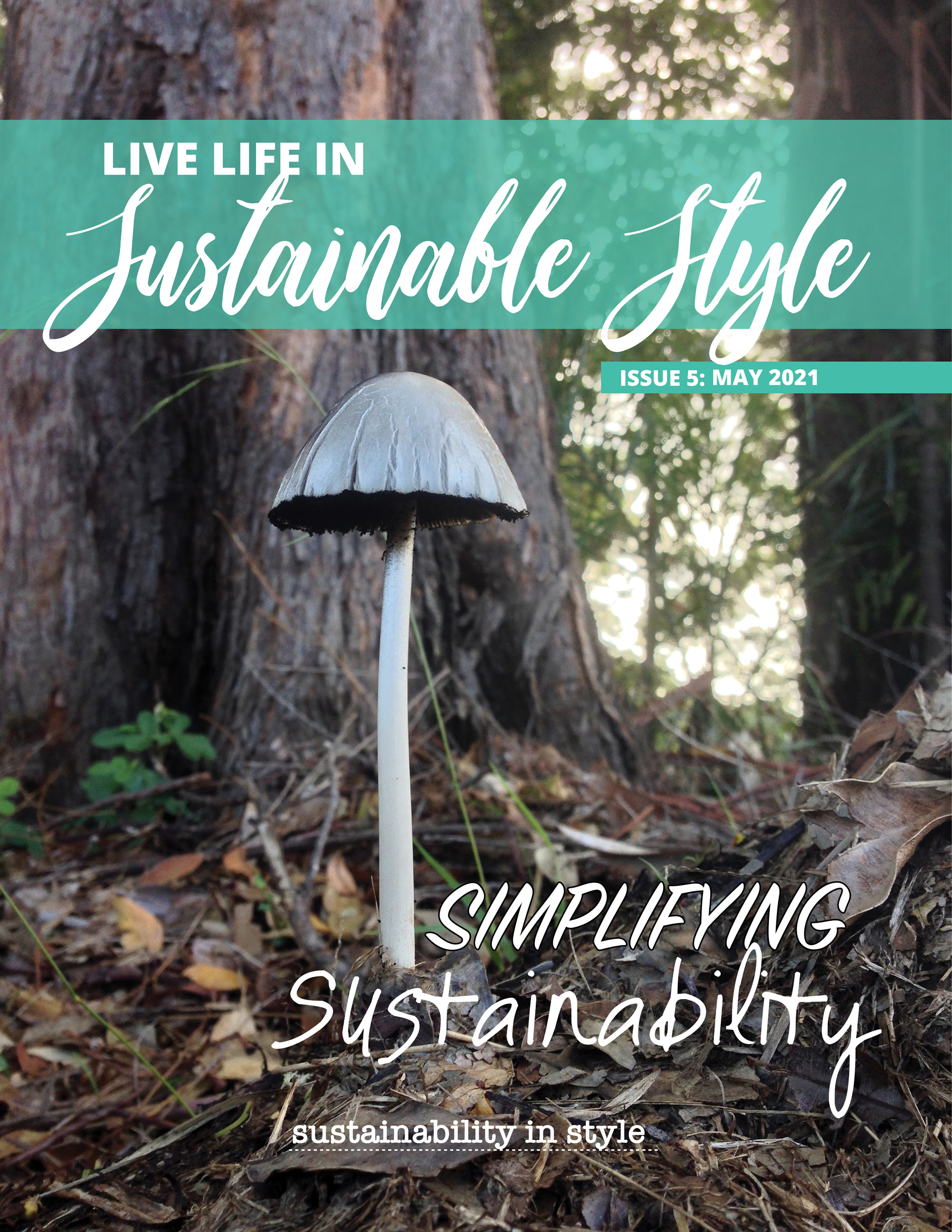 Have you seen our monthly magazine 'Live Life in Sustainable Style'?
It's the comprehensive monthly highlight of the suite of tools we have designed to help simplify sustainability so you can take action on the things you care about (minus the eco-overwhelm). The content ties together our 'Take Action' focus theme. In a fast-paced media-saturated landscape, we hope that this way of sharing will provide you access to all our useful tools, without feeling lost or overwhelmed. Each month the latest copy of the magazine and our most recent resources are sent to your inbox (you will only receive one email a month from us). You will get reminders via our social media channels of what content we're championing throughout the month.
We hope that you enjoy getting your Sustainable Style fix in this easy-to-read format and that it gives you a break from the abundance of social media updates and overflowing inboxes we now navigate daily
.
LOVE OUR CONTENT?
GET ON THE LIST