Love is the answer.
The fantastic new Autumn Issue of Peppermint Mag is now on the shelves at your friendly newsagent. This issue is packed full of eco and sustainable goodness with a specific focus on how love makes the World go around. This issue is super special for me, firstly because the lovely Peppermint team let me blab all about fabrics again and asked me to join in the fun of featuring my home town for their 'Village Green' feature, secondly because my dear e(co) friend Erin from The Rouge Ginger shares her zero waste story, and thirdly because it's all about love! And really…what could be better than love? The editors letter is a beauty as Kelley shares with us the magical story of how she met her prince charming in board-shorts, Glen. I've been fortunate enough to hear this story a few times over and in a World of tinder dates, a romantic 'boy meets girl on beach' story is a refreshing change. The feature on Lost in Paris bridal is a sneaky-peek one because as the issue went to print Kelley was walking down the 'isle' (or to put it more accurately a grassy knoll) in a vintage lace number from the label. I feel very fortunate to have been able to take part in this union of two amazingly humble and kind souls and enjoyed that they took time mid-cermony to invite their guests to join them in a 'loving kindness' meditation, sharing the unique love of the day with the rest of the universe.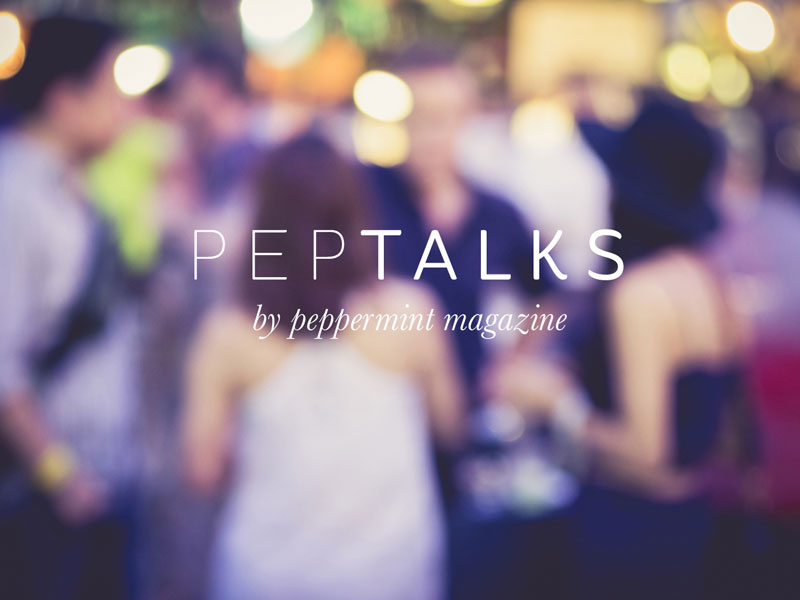 Peppermint Mag wants to share the love with you!
You know that buzz you get when you experience meaningful human connection? Peppermint Mag thinks we need more of that in the world, which is why they have created PepTalks – their latest series of events to inspire, inform and uplift. Each PepTalks event features speakers from the pages of Peppermint and beyond who are making a difference in the world – be it through food, fashion, farming, mindfulness, creativity, social enterprise or something else – and who are passionate about sharing their story, truth and wisdom with others. If you're in or near Brisbane, don't miss the very first PepTalks event at the fabulous Wandering Cooks in Brisbane on Tuesday 22nd March at 6.30pm, featuring a stellar line-up of inspirational women. On the night you can hear from Justine Flynn, the passionate co-founder of life-changing social enterprise Thankyou; Hailey Bartholomew, gratitude convert and maker of beautiful short films; and Shannon Sheedy, fair trade trailblazer and founder of sustainable homewares and lifestyle store The Dharma Door. There'll also be snacks from Sol Breads, Woombye Cheese Company and Loving Earth chocolate, and a drink on arrival. The kind folks at Peppermint are offering a lucky Sustainability in Style follower a double pass valued at $130 to join in the Pep talk fun! Just leave a comment below and let us know your favourite way to stay eco-motivated in a World where the media is saturated with doom-and-gloom. The lucky winner will be drawn on Friday night at 8pm (EST). If you miss out on the love filled freebie giveaway you can get your tickets here. Hope to see you at the event.
Join in the love-fest and share your favourite way to stay eco-motivated in the space below for a chance to win tickets to the PepTalk event.